Exclusive Wine & Food Journeys With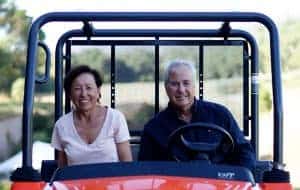 In the early 2000s, Michael and Charlie Havill had a dream of living in wine country. A few short years later, the enterprising couple left their corporate jobs and bought their own vineyard in Amador County!
At first, they revitalized the vineyards and biodynamically cultivated Primitivo, Zinfandel, Grenache, Vermentino, Grenache Blanc, Syrah, Petite Sirah and Mourvedre grapes to share with wineries. As they flourished, they began producing their own wines! This passionate couple is now excited to start a new adventure - traveling to wine regions around the world with their favorite members and friends!
Join the Havills and fellow Bella Grace members as they explore the wine regions of the world.