$8,295
Starting Rate Per Person
(Minimum 2)
Raise a glass to the world-renowned wine region of Champagne during this unforgettable journey to the storied region. Explore the ancient towns and historic hills that gave rise to the iconic sparkling wine, visit small-family growers and celebrated champagne houses, and indulge in the flavors and seasonal products of the distinguished local cuisine as you travel through the pastoral countryside and experience the best of Champagne.
"I only drink Champagne on two occasions: when I'm in love and when I'm not." - Coco Chanel
DAY 1. Arrival Paris

Land at Paris Charles de Gaulle Airport and transfer to the town of Reims

DAY 2. Reims

Morning walking tour of Reims, afternoon champagne tasting in town

DAY 3. Montagne de Reims

Exploration of Montagne de Reims sub-region and champagne house visits

DAY 4. Reims - Loisium

Open morning to relax and explore at your own pace, afternoon transfer to Loisium

DAY 5. River Cruise & Epernay

Afternoon canal cruise on the Marne with picnic lunch and a flute of Champagne on board

DAY 6. Vallée de la Marne & Côte des Blancs

Exploration of Aÿ-Champagne vineyards and champagne houses

DAY 7. Loisium

Unwind and discover at your leisure during our open day

DAY 8. Departure Paris

Transfer to Paris Charles de Gaulle Airport for return flights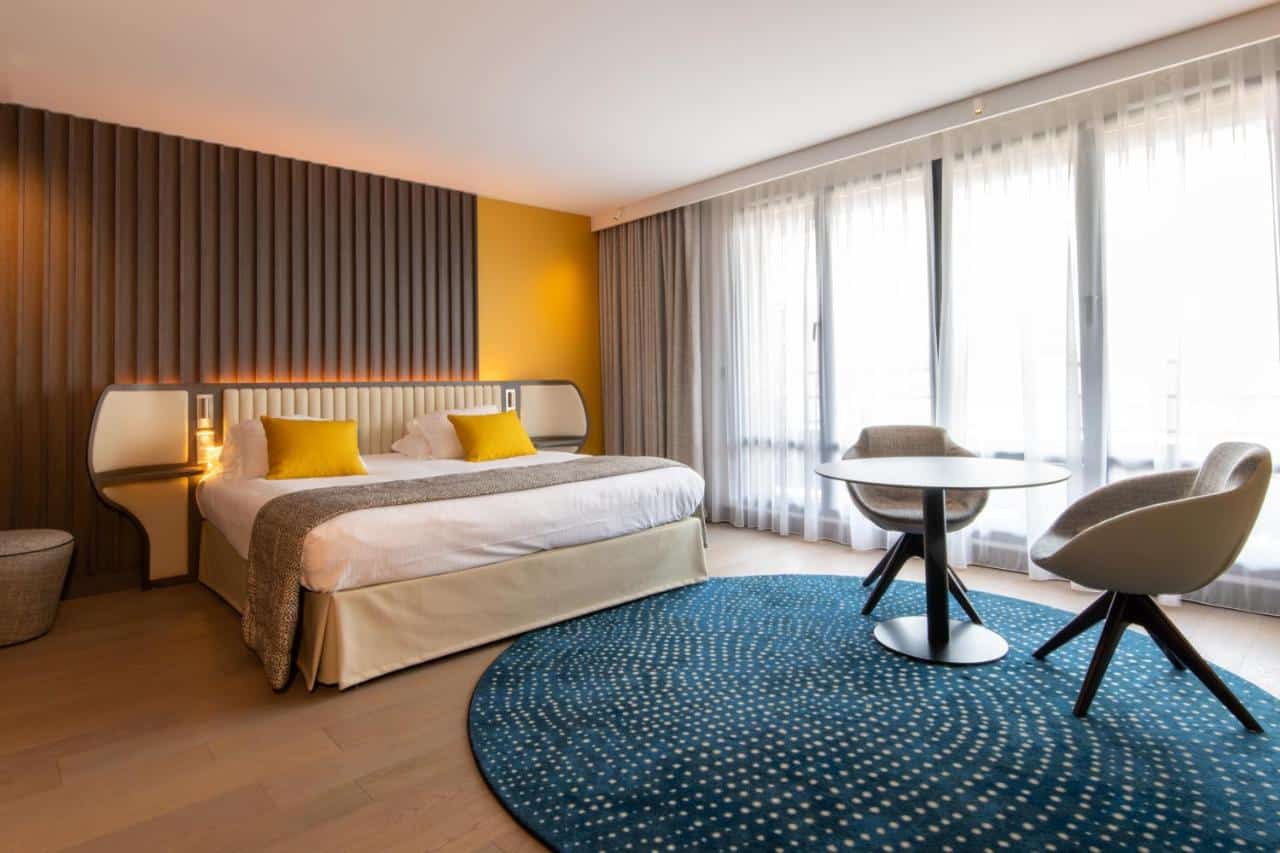 Hotel de la Paix (Reims)
Family-owned and operated for over a century, this distinctive property is situated in the heart of Reims, a short walk from the cathedral that served as the coronation site of most of France's kings through the 19th century. The hotel features a restaurant and bar with a private terrace, fitness center, indoor heated pool, sauna, and steam room. Rooms offer complimentary Wifi, minibar, coffee maker, toiletries, bathrobe, and hairdryer.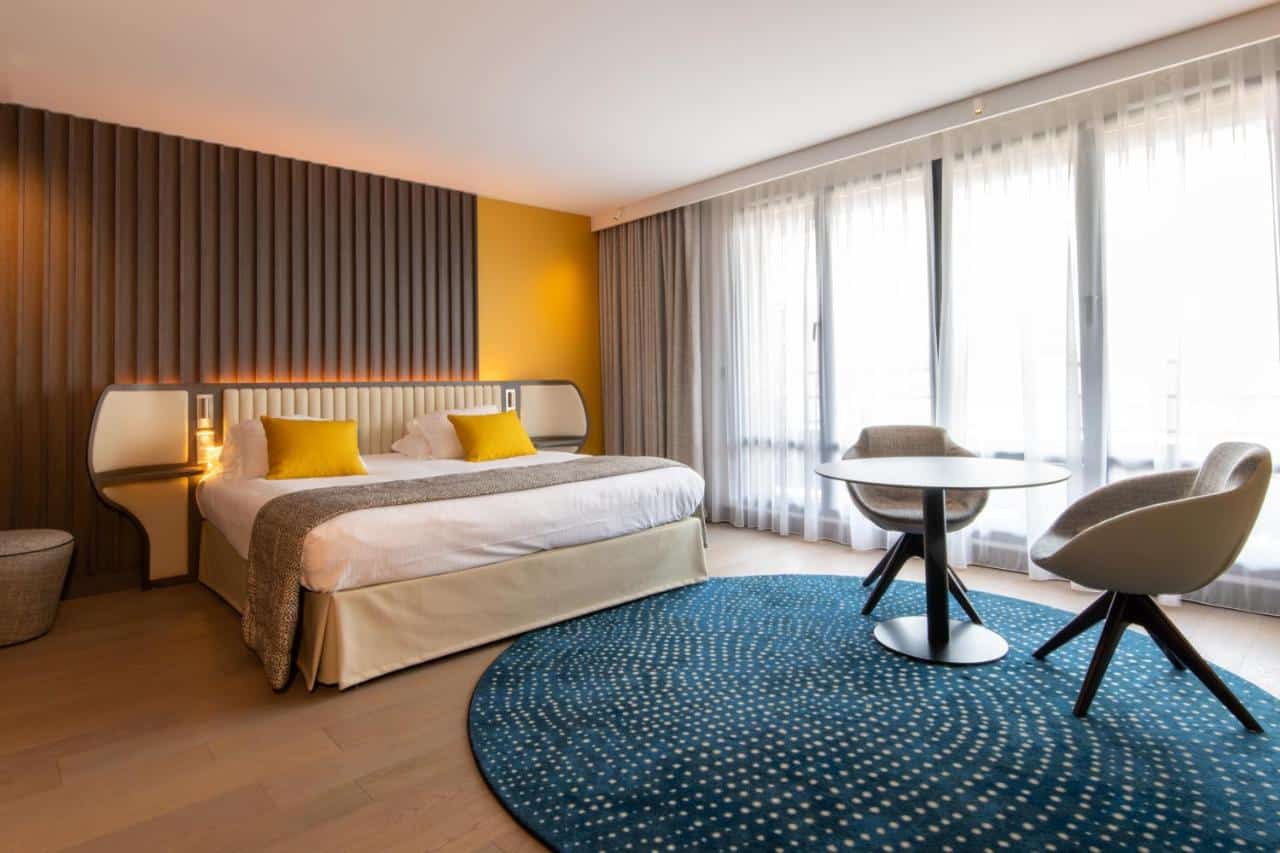 Loisium Wine & Spa- Mutigny
A short drive from Epernay, this hotel sits on a scenic hill overlooking the picturesque vineyards of Champagne and provides an ideal base for exploring the region. The property features a restaurant and bar, spa & wellness area with an outdoor pool, fitness center, sauna, garden, and terrace. Rooms are equipped with complimentary Wifi, tea/coffee maker, minibar, toiletries, bathrobe, slippers, and hairdryer.
"Champagne is the wine of celebration, the wine of joy, the wine of romance." - Michael Broadbent
Details
Included
Accommodations during program dates, including all taxes and fees
All activities and private excursions described in the itinerary along with services of local guides, entrance fees, and private transportation
Meals as detailed in your itinerary, including pre-arranged drink pairings
Private airport transfers with porterage on the first and last scheduled days of the program
Not Included
Airfare to/from arrival and departure cities
Travel insurance
Additional alcoholic beverages beyond what has been arranged by Experi to pair with the included major meals
Gratuities for drivers, local guides, porters, and included meals
Travel Insurance
Learn more about travel insurance and how it can help you prepare for the unexpected at https://experi.com/travelinsurance/
Travel Terms & Conditions
Reservation process
Step 1:
Complete the form above indicating:
the number of travelers in your group
your preferred travel dates
the best way to reach you
Step 2:
We will contact you to discuss your preferences.
Step 3:
Based on our conversation, we will check availability, confirm pricing, and provide you with a detailed proposal.
Step 4:
To confirm the services and accommodations for your private departure, a non-refundable 30% deposit of the total trip fee is required.
Frequently Asked Questions (FAQs)
How a Private Departure Works:
A Private Departure is a program that our destination specialists have meticulously crafted and curated to highlight the best of a particular destination. While we offer a few options to personalize your journey, the main framework of a Private Departure itinerary has been set. If you are seeking to make changes in the schedule or activities, a Custom Program may better suit your needs.
The first step is to complete the website form indicating the number of travelers in your group, your preferred travel dates, and the best way to reach you. Next we will connect with you to discuss your preferences. With these in mind, we will check availability, confirm pricing, and provide you with a detailed proposal. When you are ready to confirm arrangements, the final step is payment of a 30% non-refundable deposit. [Note: The deposit percentage amount may vary depending on the program.]
The earlier you begin planning, the more flexibility you will have on dates and availability of accommodations and experiences, particularly if you are seeking to travel during peak times. We recommend contacting us as far in advance as possible before your desired departure date. While we can assist with last-minute travel planning, availability may be limited.
Final payment is typically due 90 days prior to departure although this time frame may vary depending on the specific program. In general, trips canceled more than 90 days before departure incur a Cancellation Fee of the deposit amount. Trips canceled 90 days or less before departure incur a Cancellation Fee of the full program price. (For full details, see our Terms and Conditions at: https://experi.com/agreement/). We highly recommend travel insurance to safeguard against unexpected circumstances such as family/medical emergency.
We highly recommend travel insurance to protect your investment in your trip and help safeguard against unforeseen personal events. A range of coverages are available. Please note that certain coverages (such as "Cancel For Any Reason" coverage, which offers the most flexibility) must be purchased within a short window of time following your initial reservation deposit. We do not sell travel insurance, but if you are looking for more information, visit our website at: https://experi.com/travelinsurance/.
Destination-Specific Information - Champagne:
This trip appeals to wine lovers and bubbly enthusiasts seeking an immersive experience amidst the world-renowned vineyards. History aficionados will be drawn to the region's rich heritage, exploring medieval towns, and famous champagne houses with centuries-old cellars. Additionally, travelers seeking picturesque landscapes, rolling vineyard-covered hills, and charming French countryside will appreciate this idyllic destination.
We recommend traveling between April to October. In spring, you'll witness vibrant landscapes with blooming vineyards and milder weather. Summer is warmer but still enjoyable and less crowded. While in the fall, the grape harvest is a busy time of year but offers the opportunity to experience the production process firsthand.
Your trip rate covers accommodations, airport transfers, private transportation for all day trips and excursions, guided tours with knowledgeable local guides, exclusive access and activities, concierge services, and meals as detailed in your itinerary. The trip rate does not include airfare.