The Best Food Markets in France, Italy, and Spain
Food markets, Sunday markets, outdoor, and open air – whatever you call them, they shouldn't be missed on any food lover's journey through Europe. France, Italy, and Spain have an abundance of these gloriously colorful and enticing markets, filled with the very best local produce, regional cheeses, snacks, baked goods, and of course, a variety of wines. On our trips, we love connecting guests with local guides to tour these open-air markets. It allows travelers to get a real taste of living and shopping in each city. Chat with farmers, sample unique goods, and grab a bundle of fresh lavender like a market regular.
Read on to learn about our favorite markets in France, Italy, and Spain, covering not only the largest and most popular ones, but the hidden gems.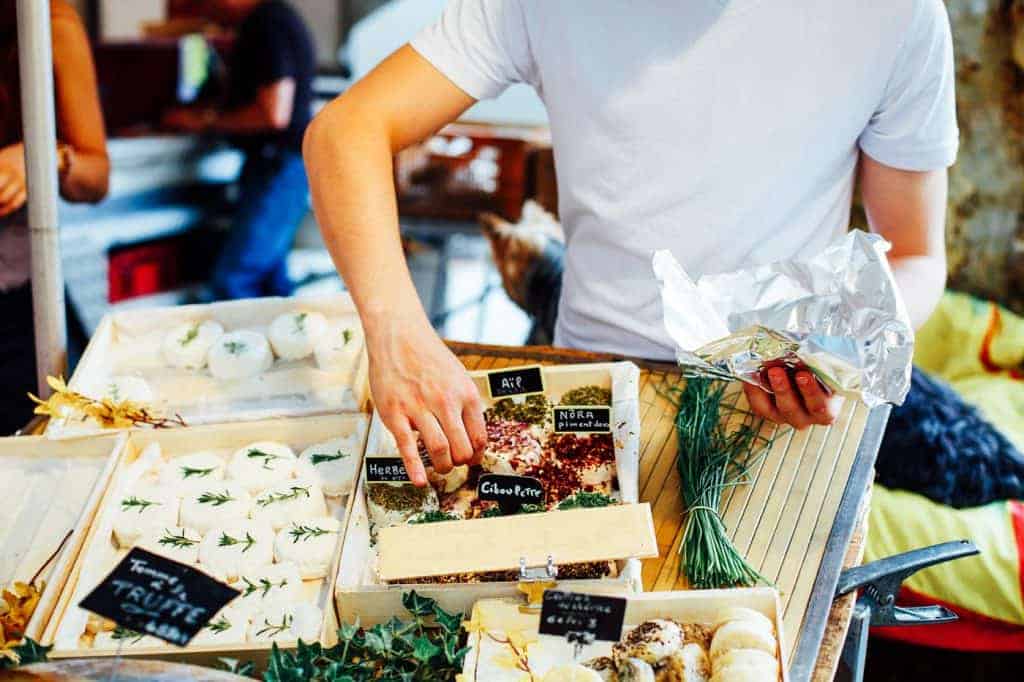 France — Uzés' market in the Place aux Herbes
Provence is our favorite region for French food markets because of the plentiful produce, regional cheese, and delicious wines. We have a definite soft spot for Uzès, a charming town just West of Avignon in Provence. The Uzés' market is an absolute gem, held in the historic center of Place aux Herbes. Enjoy wandering the cobblestone streets to the stalls featuring an array of delicious treats. This market is open two days a week. Wednesdays are devoted to regional products (produits du terroirs), such as local olives and wine, freshly harvested fruit, regional breads, and cheese like Banon. The Saturday market features a wider variety of products, like abundant flowers, clothing, and crafts, in addition to produits du terroirs. Visiting the Uzés' market is a wonderful way to sample all flavors of Provence cuisine, and when you need to rest, simply take a seat at one of the cafes lining the market and watch others do their weekly shopping. Stroll this market yourself during our trip to Provence.
Also checkout:
Lourmarin's outdoor market
L'Isle-sur-la-Sorgue's Sunday market
Italy — Catania's fish market
The Sicilian town of Catania has several fantastic open-air, food markets, but our favorite is La Pescheria, the famed fish market. Open every weekday morning, this market is located by the Piazza del Duomo and is sure to satisfy all your fresh fish cravings. You'll find everything here, from living sea urchins and big prawns, to just-caught swordfish. It's an amazingly noisy and exciting market amid Catania's Baroque architecture and medieval streets. If you don't want to prepare any of the seafood yourself, simply pop into any of the seafood restaurants lining the market for a delicious lunch. Join us in Sicily, and experience delights from the sea.
Also checkout:
Lecce's food market
San Lorenzo market in Florence
Spain — San Sebastián's traditional food market in Old Town
When the best local chefs shop at a town's food market, you know the products are great. This is the case for San Sebastian's Mercado de la Bretxa. Located in Spain's Basque Country, San Sebastian is a gorgeous coastal city on the Bay of Biscay and close to the French border. Mercado de la Bretxa, arguably the city's best open-air food market, features a variety of produce and meat sourced right from countryside farms just outside San Sebastian. Head to Spain's Basque Country, and meander through flavorful stalls with us.
Also checkout:
Madrid's Mercado de San Miguel open-air market
La Boqueria in Barcelona