Complete Guide to Salamanca — La Dorada
Known also as La Dorada, or "The Golden One," the city of Salamanca in western Spain is full of elegant architecture and is located in a delightfully hilly area near the Tormes River. Salamanca is notable for many things: as the capital of the Province of Salamanca, a UNESCO World Heritage Site, and home to some mouthwatering specialities like the meat pie called hornazo. But one of the first things you might notice about Salamanca is that it appears to glow. This is due to the many buildings throughout Salamanca that were built with golden-colored sandstone. So whether you're seated by the Tormes River or resting in Plaza Mayor, you'll be able to sense the warmth of the city. Read on to learn about the major stops, sights, and tastes of this ancient Spanish city.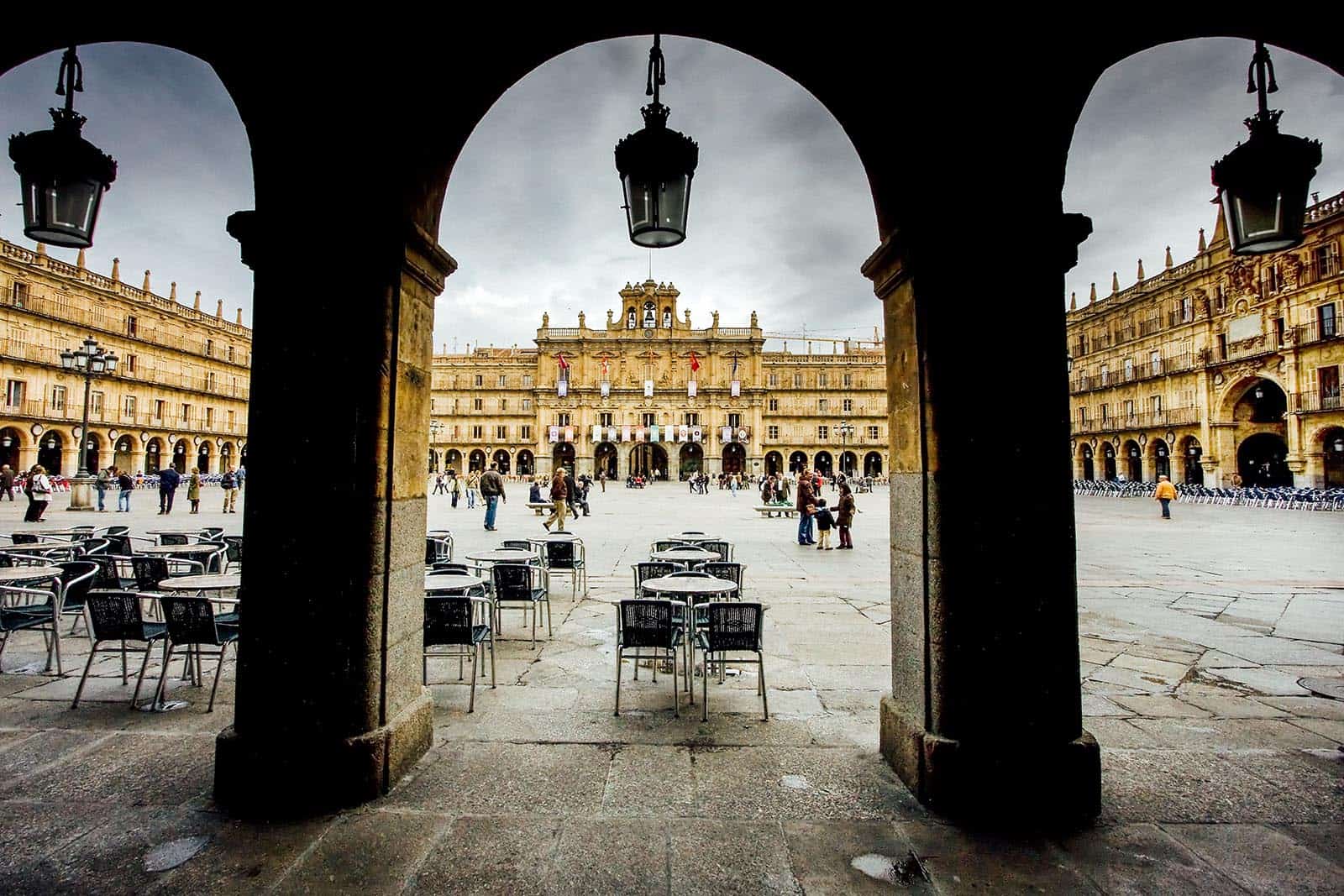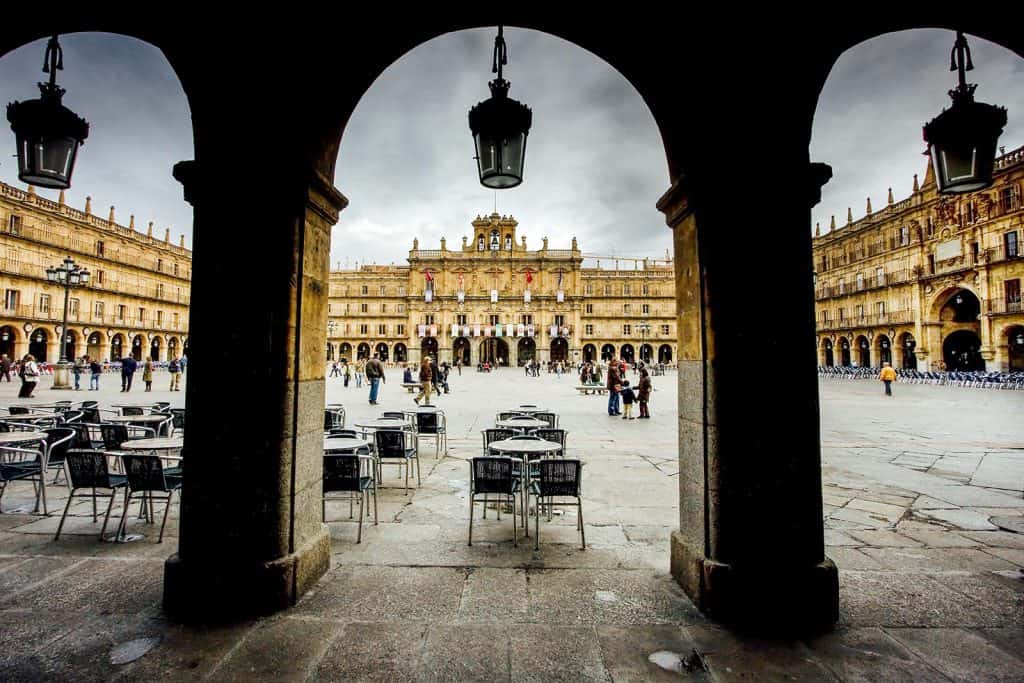 Plaza Mayor
One of the most beloved spots in all of Salamanca is Plaza Mayor, a Baroque-styled public square located in the center of the city. Lining the square are a variety of shops, from restaurants to small boutiques to pharmacies, as well as city hall. The plaza took forty-five years to materialize, from King Philip V's initial idea in 1710 to its completion in 1755. Over these decades, many architects were involved, including Alberto de Churriguera, Andrés García de Quiñones, Nicolás de Churriguera, and José de Lara de Churriguera. The important architectural, historical, and cultural influence of the Plaza Mayor no doubt helped Salamanca's Old City receive the status of a UNESCO World Heritage Site in 1988.
Fun fact: Plaza Mayor was built by King Philip V for bullfighting.
Casa de las Conchas
Translating to the "House of the Shells," Casa de las Conchas is a wonderfully unique building. A prime example of late Gothic Isabelline art, Casa de las Conchas is noteworthy for the 300 scalloped shell ornamentations decorating its exterior walls. These shells were a symbol of the Order of Santiago, a religious and military order in which the architect, Rodrigo Arias de Maldonado, held the title of knight. Casa de las Conchas was built in the fifteenth century and is home to one of the city's public libraries today.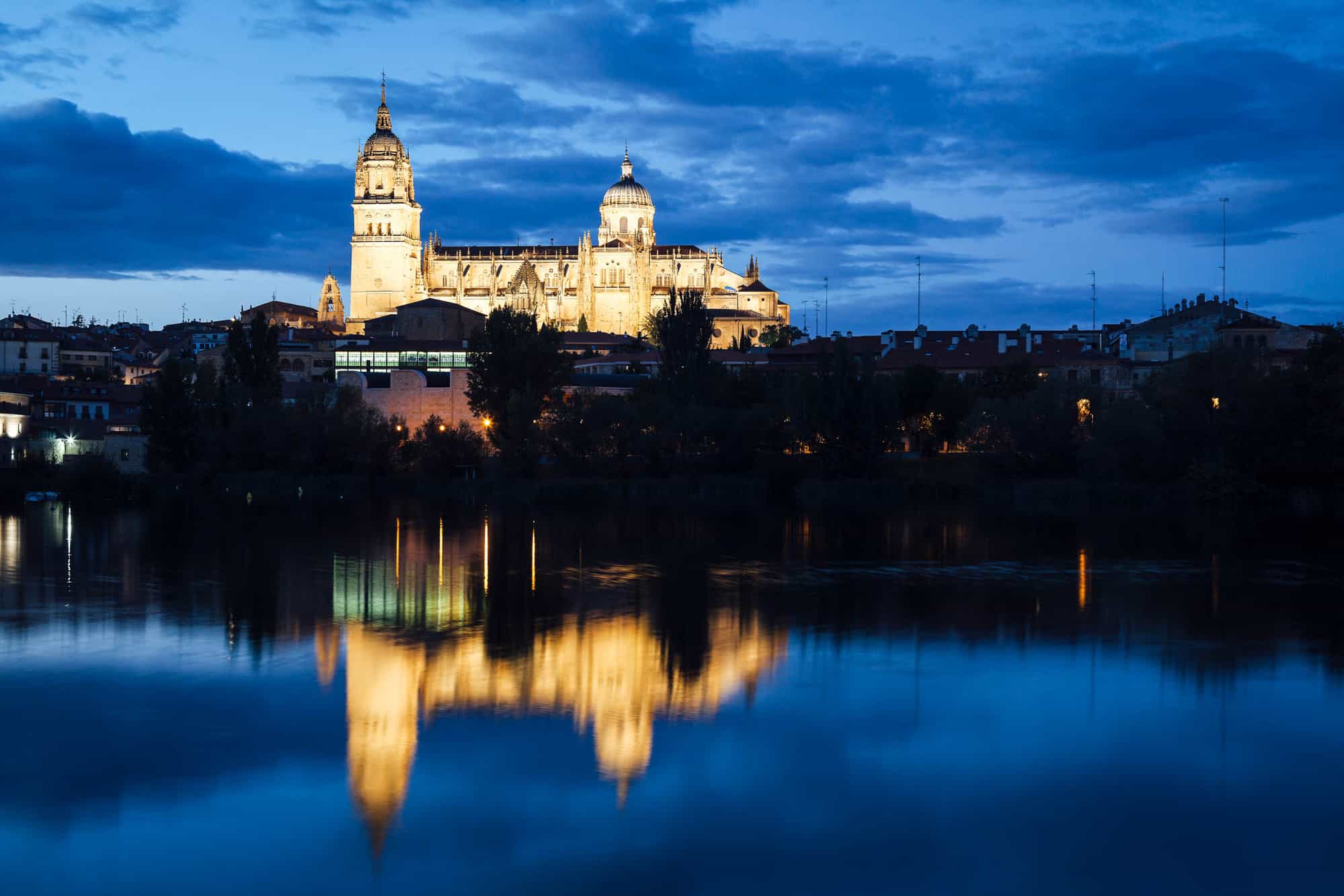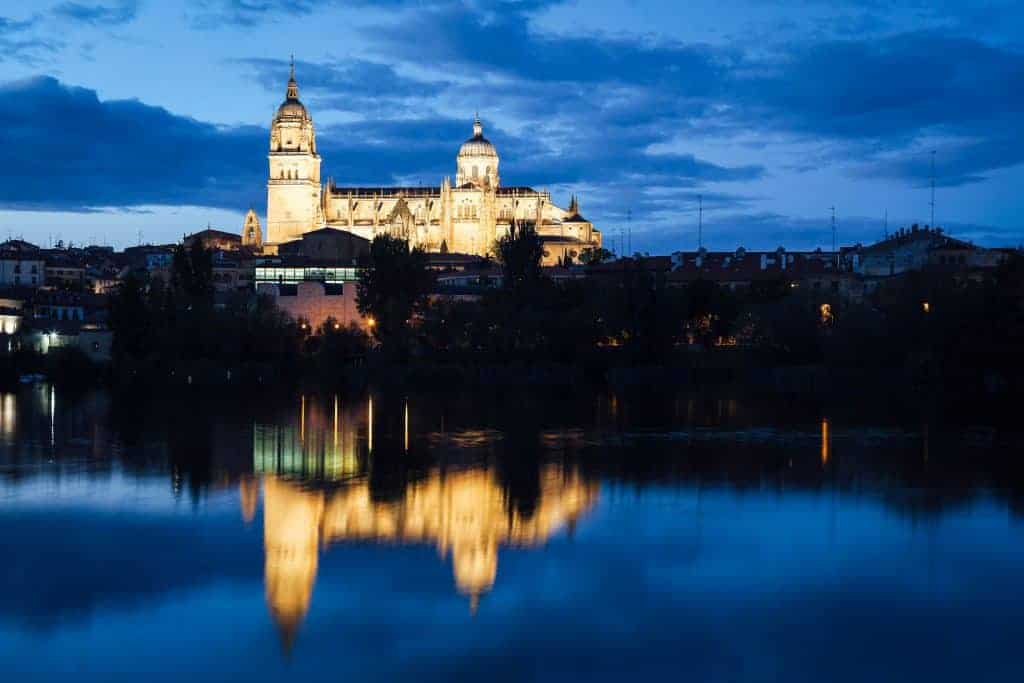 The Old and New Cathedral of Salamanca
The joined old and new cathedrals of Salamanca (Catedral Vieja de Santa María and Catedral Nueva respectively) make the Salamanca skyline gorgeous. The Old Cathedral was completed in the 14th century with a combination of Romanesque and Gothic styles. The New Cathedral took two centuries to complete (between the 16th and 18th centuries), and features distinct late Gothic and Baroque designs and details. This New Cathedral was commissioned by Ferdinand V of Castile. 
Fun fact: During a restoration of the New Cathedral in 1992, one of the stoneworkers was given the go-ahead to add modern carvings to the ornate facade (a general tradition among cathedral restorers). Jeronimo Garcia, an artisan working on the project, was allowed to carve several more contemporary images, including an astronaut, a crayfish, and a dragon eating an ice cream cone.
Casa Lis
Also known as the Museu Art Nouveau Y Deco, Casa Lis is an eye catching art nouveau-styled building. Iron grates and blue and green stained glass panels dominate the exterior and beckon onlookers to come inside. Casa Lis was originally built as a personal mansion for a local businessman named Don Miguel de Lis in the 19th century. It then changed ownership several times before being abandoned and almost forgotten. Thankfully, the city of Salamanca began preserving and restoring Casa Lis in the 1980s and turned it into the now popular museum in 1995. Here you can find amazing examples of Art Nouveau and Art Deco styles, including glassware, ceramics, jewelry, dolls and more.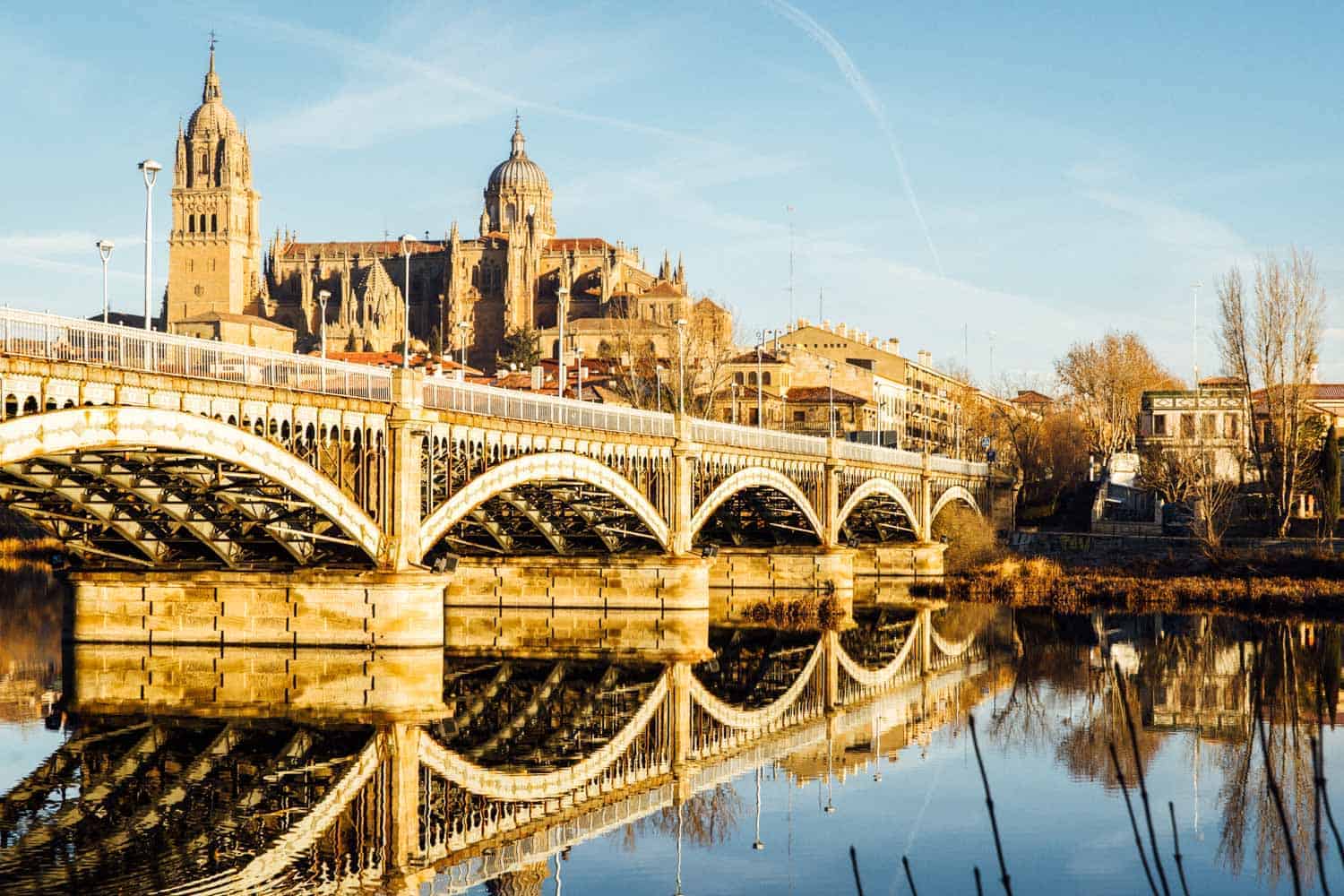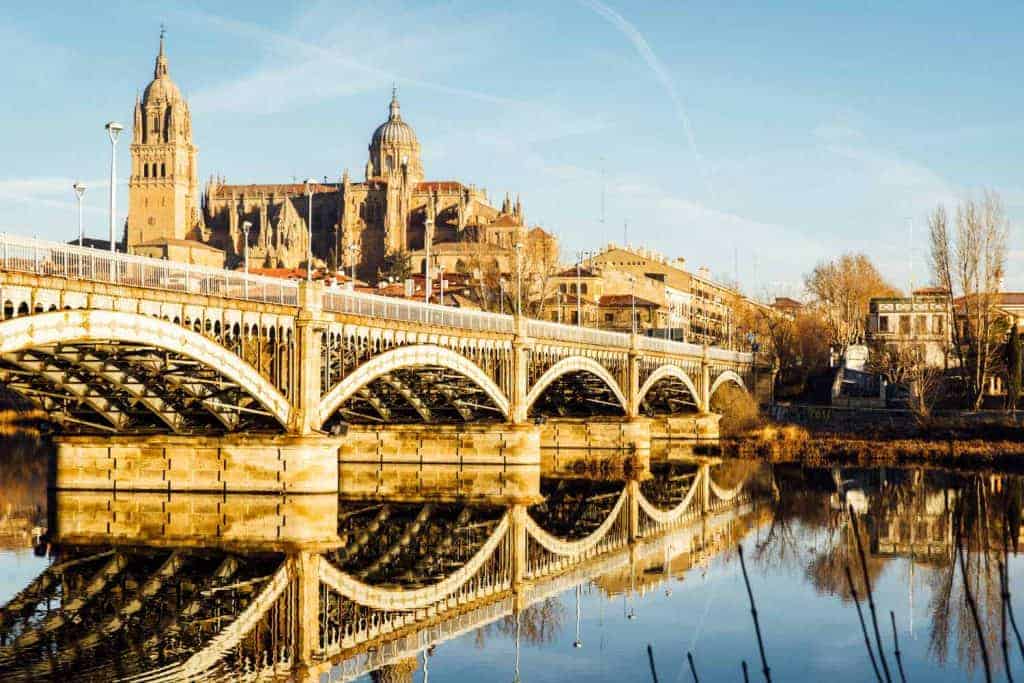 The Tormes River and The Roman Bridge
There's nothing quite like finding the convergence of nature and civilization whenever you're traveling, and Salamanca is no exception. Here you can take in the views of the winding Tormes River, passing through the southern part of the city, and also experience a piece of history. The Roman bridge of Salamanca, or Puente Mayor del Tormes, has crossed the Tormes River since the first century A.D. It's an especially picturesque bridge, complete with twenty-six semicircular arches on the bottom. For a special treat, traverse the bridge in the evening when it's illuminated.
Salamanca University
Visiting Salamanca University, or Universidad de Salamanca, is a must, not only to view the beauty of the Plateresque-style buildings, but also because of its influence in Salamanca. The university is located in the Old City, and was founded in 1218 and then given the official title of University in 1254 by King Alfonso X and Pope Alexander IV. Salamanca University is one of the oldest universities in the western world. Today, it's still educating thousands of students each year, and specializes in language studies.
Fun fact: One of the most beloved carvings on the facade is that of a frog on a skull. It's popular to play a game of spot the frog when touring the gorgeous architecture.
Gastronomic Specialities
Hornazo
Hornazo is a hearty meat pie filled with layers of chorizo sausage and pork loin. Hard-boiled eggs, ham, and other cured meats can also be used. Hornazo has long been a traditional holiday dish to be shared among families after Easter and after the Lunes de aguas festival. Today, however, hornazo is widely available and there's no judgement about consuming it on non-holidays. Simply find a local bakery in Salamanca or even a grocery store, and you'll be sure to find it. 
Farinato
While spicy chorizo is delicious and very well known, a more iconic sausage from Salamanca is farinato. Known for its very distinctive flavor, farinato is made from pork fat, breadcrumbs, flour, onion, paprika, anise, and brandy. Did you notice, there's actually no meat in this sausage? Farinato has long been called "the sausage of the poor," but more recently, its reputation has risen to gourmet as more are appreciating the unique sausage as a true symbol of Salamanca gastronomy.
Fun fact: One of the most popular ways to eat farinato in Salamanca is with fried or scrambled eggs.