Discover the Wine Regions of Tuscany
Every wine-seeking traveler inevitably finds themselves in Tuscany, the hilly land of winding roads lined with sculptural cypress trees and vineyards surrounding romantic hilltop towns. The wines here are famous, as is the rich landscape and food. As one of the most prolific wine-producing areas in Italy (and even in Europe), it's no wonder Tuscany has many dedicated and regulated wines, including 42 DOC (Denomination of Controlled Origin) and 11 DOCG (Denomination of Controlled and Guaranteed Origin), the later of which is reserved for only the best Italian wines. Read on to learn more about some of Tuscany's most beloved wine regions, as well as some that have flown under the international radar. And, of course, check out "Top 5 Tastes: Tuscany" so you don't forget the food pairings with your wine!
Brunello di Montalcino
There are so many beautiful landscapes and luscious grapes to cover when talking Tuscany wine regions, but starting with Montalcino makes perfect sense. After all, the Brunello di Montalcino red wine is one of the country's most beloved DOCG wines. Produced only in the vineyards around the town of Montalcino, Brunello di Montalcino is made up of only Sangiovese grapes. Meaning "little dark one," the Italian word Brunello (from the word "bruno" for brown) is used to describe the Sangiovese Grosso grape that is used in this wine. As per DOCG regulations, all Brunello di Montalcino wines must be comprised of 100% Sangiovese grapes and aged for a minimum of four years, two of which must be in oak. The dry, warm climate and sloped hills around Montalcino produce a wine that is deeply colored, full-bodied, quite tannic, and is notable for its berry aroma with notes of vanilla and a little spice.
Carmignano
In the world of well-known Tuscan wines, it's refreshing to learn more about the lesser-known regions and the wines they produce. Cue Carmignano. Though granted DOCG status in 1975, this region has been known for producing high-quality wines since the Middle Ages. In fact, a document from 1369 shows that Carmignano wine was sold for four times the price of other wine during that era. Today, 270 acres around the town of Carmignano produce dry red wines that are a blend of Sangiovese grapes (50%) Canaiolo Nero grapes (20%), Cabernet Sauvignon grapes (10-20%), and Cabernet Franc grapes (10-20%). While similar to Chianti wines, Carmignano is said to be even deeper in color and fuller-bodied.
Bolgheri
Unlike Carmignano, with its long history of winemaking, Bolgheri is practically a newcomer on the Italian wine scene. That doesn't mean it's failing on quality though. Wines produced around the town of Bolgheri truly take on the uniqueness of the landscape, with its location being so close to the Tyrrhenian Sea. These coastal vineyards that slope toward the sea produce a variety of wines, including Bolgheri Rosso, Rosso Superiore, Rosé, and Bolgheri Bianco. For Bolgheri Rosso red wine, it can be comprised exclusively of Cabernet Franc, Merlot, or Cabernet Sauvignon, or it can be a blend of either of those three with some additional Sangiovese or Syrah grapes. The Bolgheri region is also home to the Sassicaia wine, one of the Super Tuscan wines. To learn more about the related Super Tuscans, check our out feature, "What Are the Super Tuscan Wines?"
Chianti Classico
For the ultimate experience in Tuscan wines (and elaborate wineries and tasting rooms), there's nothing like the central Tuscany region where Chianti Classico is made. Fun fact: this was actually one of the earliest wines to ever be exported from Italy. You may be picturing a short bottle of red wine in a straw basket. This is called a "fiasco" and is the historical way chianti wine was bottled. Chianti Classico is the beloved medium-bodied red wine that is so easily paired with any meal and includes notes of nuts, violet, and fruity cherry. The blend for Chianti Classico was actually created by Baron Bettino Ricasoli, who later became the Prime Minister of the Kingdom of Italy. This recipe calls for a majority of Sangiovese grapes (about 70%), Canaiolo grapes, and Malvasia bianca grapes. There have been some modern edits to this blend, allowing for international grape varietals like Merlot and Cabernet Sauvignon.
Vino Nobile di Montepulciano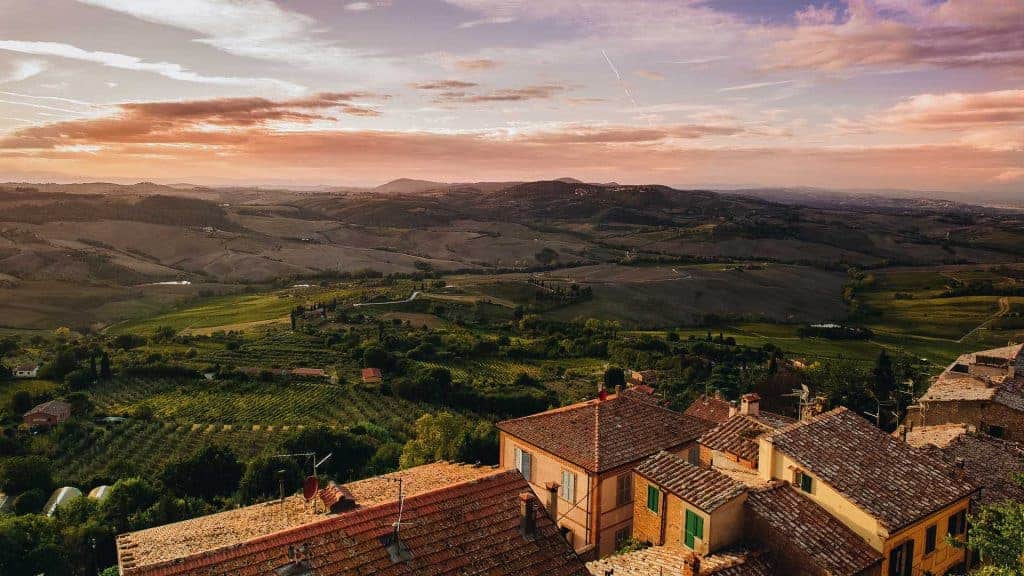 Vino Nobile di Montepulciano, produced around the hilltop town of Montepulciano, has long been considered an Italian classic. In fact, winemaking in this region dates back to the Etruscans and was beloved by Sienese aristocracy and Pope Paul III. While its popularity dipped slightly in the 19th century, the emergence of the DOC and DOCG regulations in the 1960s brought new light to the subtle differences that make Vino Nobile di Montepulciano stand out (it received its DOCG classification in 1980). DOCG rules regulate the grapes must come from vineyards growing on the sloping hills around Montepulciano that reach an altitude of 820 to nearly 2,000 feet. The show-stopping grape variety here is a kind of Sangiovese called Prugnolo Gentile, which must account for 80% of the Vino Nobile di Montepulciano wine.
Isola del Giglio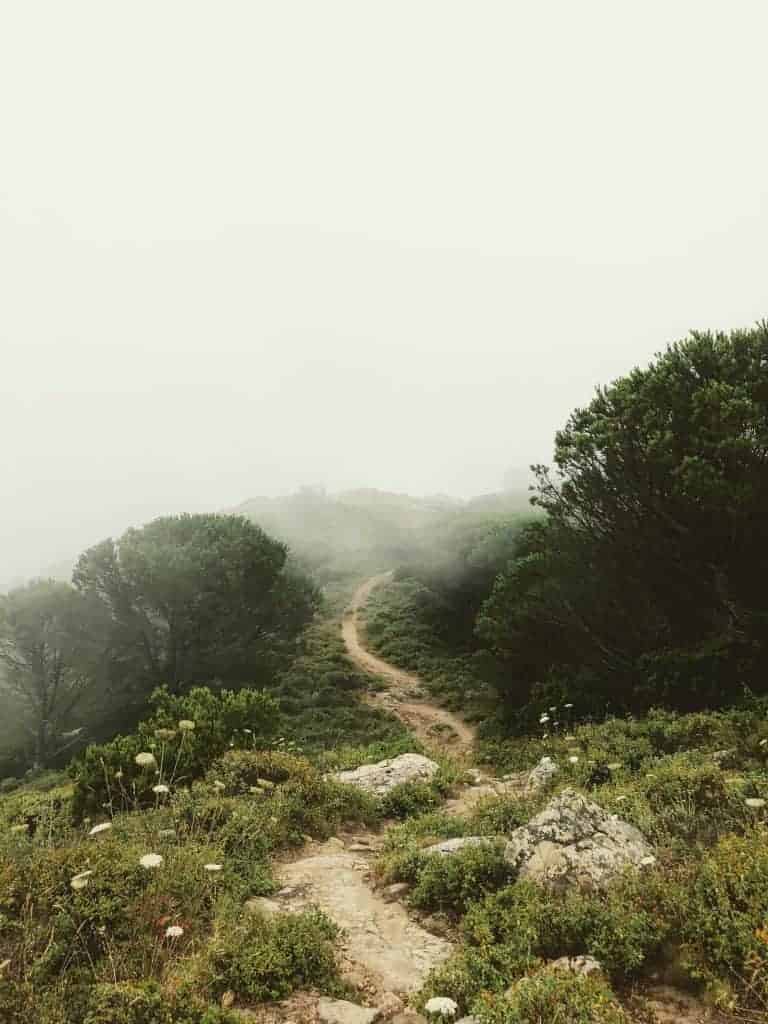 Isola del Giglio, meaning "Lily Island" is located just off the coast of Tuscany, and it's here that the delicate Ansonica grapes are grown. The rare Ansonica wine produced is an amber-colored white wine with citrus and pepper notes, perfect to pair with seafood or chicken and with fresh cheeses. The wine is comprised almost entirely of Ansonica grapes (90%), with the remaining 10% coming from Biancone, Procanico, Malvasia, and Moscatello grapes. Due to the steeply sloped island, the vineyards are grown on levels of terraces that can't be reached by machines, so all vineyard work and harvesting is done by hand. This results in a small yield of Ansonica wines, so if you have the chance to taste or even take a bottle with you, you're lucky.
Vernaccia di San Gimignano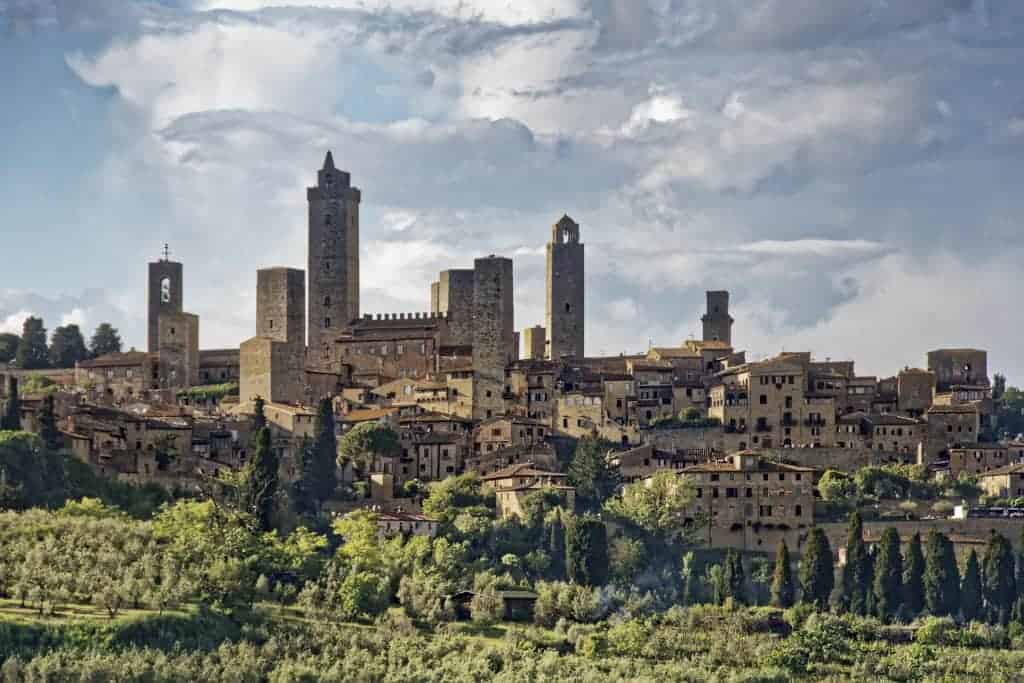 The Vernaccia di San Gimignano wine is Tuscany's only white wine to reach DOCG status, which is quite a feat! As you can imagine, it's a wildly popular, high-quality wine with a long history. In fact, San Gimignano records show mentions of the Vernaccia grape varietal since 1276 and it was even mentioned in Dante's Divine Comedy. The wine is made up almost exclusively of Vernaccia grapes, although small amounts of Riesling and Sauvignon Blanc are allowed. The resulting wine is a true reflection of its terroir, taking on the flinty notes from the vineyards' sandstone soils. Expect an amber-colored white wine that is full-bodied, highly acidic and crisp, with floral notes.
Travel to Tuscany
Now that you have an overview of the Tuscany wine region, contact us to plan a journey to experience the wine and food of Tuscany firsthand!