Hiking the Hills of Cortona
We woke early in the morning and set out for the trails that meander through the woods of Cortona. Our guide, Dino, was waiting for us at the corner of Strada Provinciale Umbro Cortonese near the Church of Santa Margherita. Dino was the portrait of a quintessential Italian outdoorsman. Decked out in impeccable hiking gear, an Italian leather backpack, and walking stick, we knew we were in capable hands.
Dino was accompanied by his wife Laura, an American who had studied in Cortona while attending the University of Georgia. It's no surprise that she now calls Cortona home. After introductions we headed down Torreone, a paved road. On our right, Dino pointed out Frances Mayes' home, Bramasole, from Under the Tuscan Sun. Soon, we took a sharp left down a dirt path — the ancient Roman Road — into the pine forest. We stopped to pull out our cameras and enjoy the panoramic views of the Val di Chiana.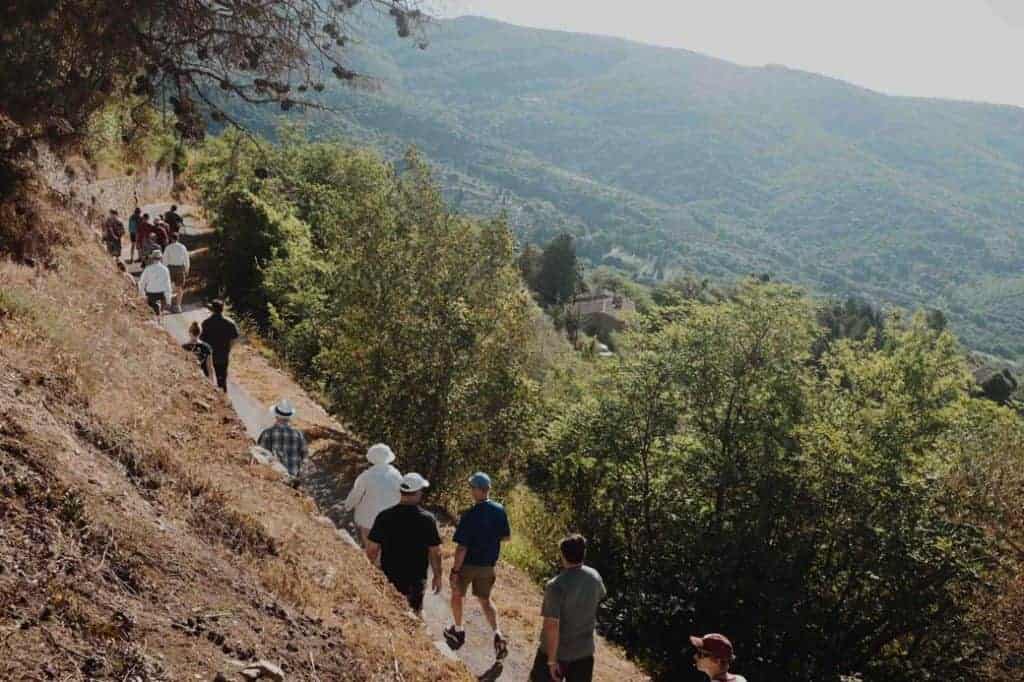 Dino is a local authority and avid hunter. Aside from personal stories of boar hunting in the nearby woods, he shared with us the interesting history of the ancient Etruscans. The Etruscan civilization dates back to late 700 BC until around 100 BC when it was absorbed into the Roman Empire. Little is known about the Etruscans, but our guide provided insight into their ancient culture. We learned about their settlements, which were built upon steep hilltops surrounded by thick stone walls. Passing by huge blocks of stone, it's hard not to marvel at the Etruscans ingenuity, which enabled them to transport enormous stones to the very peak of Cortona. Olive groves, stone homes, and ancient buildings dotted the path as we continued on our trek. At some point it struck me me — we're walking the same route that the Etruscans and Romans walked, viewing the same valley, smelling the same pine forest, and our feet hitting the same rocks. It was an awe inspiring moment.
Nearly one hour later, we hit the hardest part of our hike. Thankfully, Dino had warned us ahead of time. Walking up the steep, rocky terrain, we stopped to help one another pass over large, exposed roots. Our path was met by a babbling brook, which we were able to cross thanks to the help of  some massive rocks that served as stepping stones. Finally in the clear, we walked downhill through an olive grove. Dino had one last surprise for us — a stop at his house.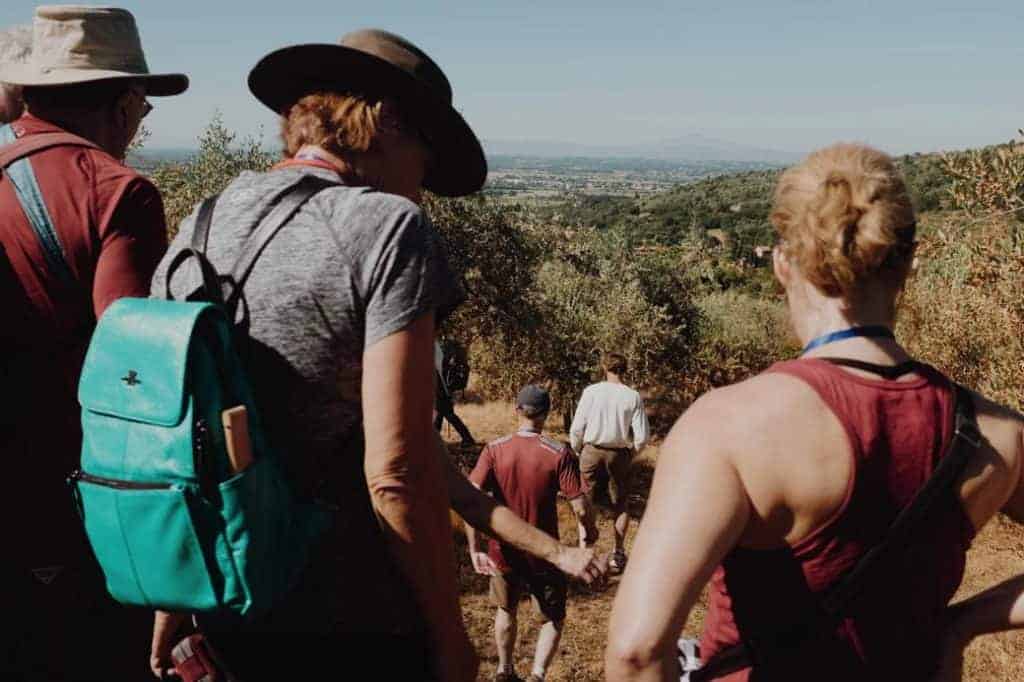 Dino's home is conveniently located right off the hiking route. A long table set with charcuterie, cheese, and water waited for us in the yard. A fellow Italian was waiting for us with freshly sliced pieces of salami. Dino and Laura's home was beautiful, complete with expansive views framing the Val di Chiana. We all were grateful for the hospitality of our hosts and a place to rest our feet, (and a little jealous that we didn't live in this lovely home, eating salami and cheese every day).
Trekking through the steep hilltop paths through the woods of Cortona was a memorable experience. The knowledge, generosity, and hospitality shown to us by Dino and Laura have given those memories vivid color and meaning. The benefits of traveling with local guides has never been so clear.