Croatian Cuisine: Must-Try Tastes of the Dalmatian Coast
Croatia's Dalmatian Coast boasts a cuisine all its own. At first bite, its cuisine resembles the simplicity and natural flavors of Mediterranean fare with a slightly Slavic slant. But dig a little deeper and Croatian cuisine will reveal a diverse multicultural roots that date back from centuries of occupation.
In addition to olive oils, artisan cheeses, cured meats, fresh fish, shrimp, octopus and world renown island-raised spit-roasted lamb, Croatian cuisine has strong Italian, Germanic and Turkish influences. Once a Roman province, Dalmatia offers a breadth of homemade pasta dishes and baked goods reminiscent of those you might find across the Adriatic Sea in Italy. Granted to the Emperor of Austria in 1815, Dalmatia is also known for its strudels and crêpes, both savory and sweet.
Read on to explore a sampling of delectable Croatian cuisine from the Dalmatian coast, starting with starters.

Starters
Pršut & Pag Cheese
One of Croatian cuisines's most popular hors-d'oeuvres, dry-cured pork pršut and Pag cheese is a must try. The key to fantastic pršut is in the lengthy preparation. After washing, salting and being flattened by rocks, the ham is hung out to dry in the cold north-eastern bura winds for a minimum of one year. Yet its paper-thin slices disappear within minutes over a glass of wine. Dalmatia is also the birthplace of award-winning cheeses, like Paški sir, cheese made from free-grazing sheep that feast on aromatic herbs and grass from the island of Pag.
Goveđa Juha
Goveđa Juha is a hearty beef soup served as appetizer year-round. Croatians love to start a meal with this Slavic-influenced dish.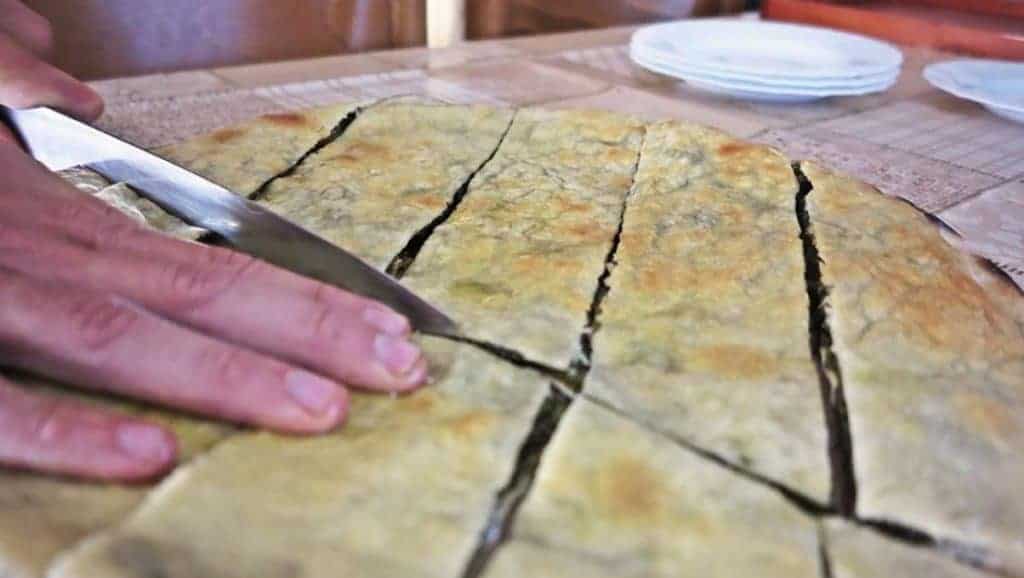 Soparnik
Resembling pizza, and a fine companion to red wine, Soparnik is a savory pie filled with blitva (Swiss chard), parsley and garlic. The most famous specialty of the Dalmatian region Poljica (between Split and Omiš), the recipe for Soparnik has remained unchanged since Turkish rule.
Pogača
Similar to focaccia, Pogača is a baked bread filled with salty fish, tomatoes and onion. Pogača is a specialty on the island of Vis, but can found throughout Dalmatia.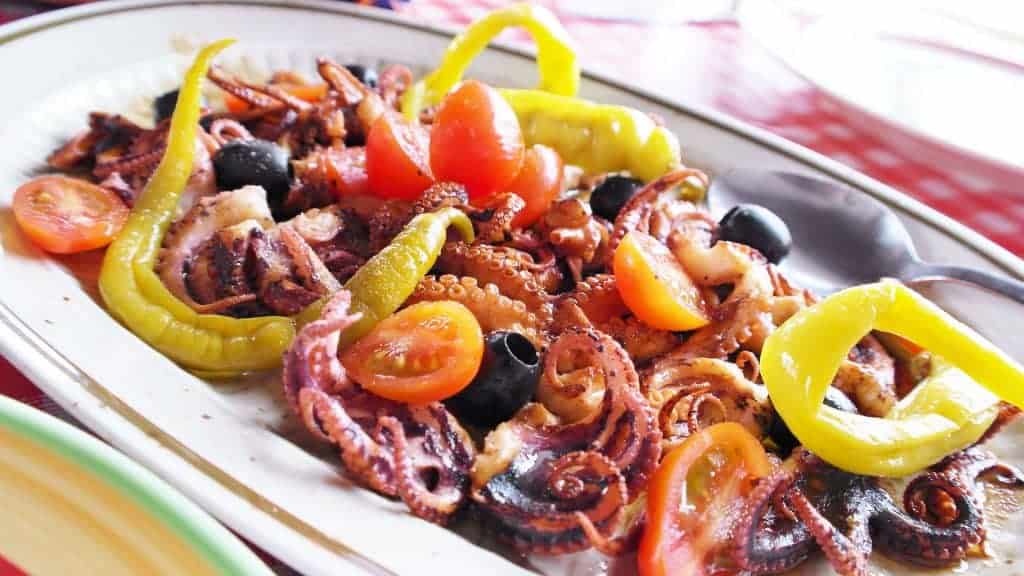 Octopus Salad
Light, refreshing and readily available, fresh Adriatic octopus salad is a coastal favorite. The octopus is boiled, cut into bite-sized pieces, and tossed with olive oil, garlic, vinegar, salt, pepper, lemon, tomatoes, onions and parsley. Simple and delicious.
Burek
A popular snack found in almost any Dalmatian bakery, Burek is a flaky baked filo pastry filled with a variety of tasty treats.
Mains
Peka
Ispod peke (meaning under the bell) is a must-try traditional Croatian dish made of lamb, veal or octopus and vegetables, seasoned with rosemary and sage, and cooked slowly over an open fireplace under a cast-iron bell covered with live embers. Peka is a treat to savor at least once while in Croatia.
Pašticada
Originating in Dalmatia, pašticada is a stewed beef dish served over gnocchi or homemade pasta with a special sauce made of bacon, carrots, onions, parsley, nutmeg, prunes, and prošek dessert wine then slow-cooked for at least 6 hours—often more.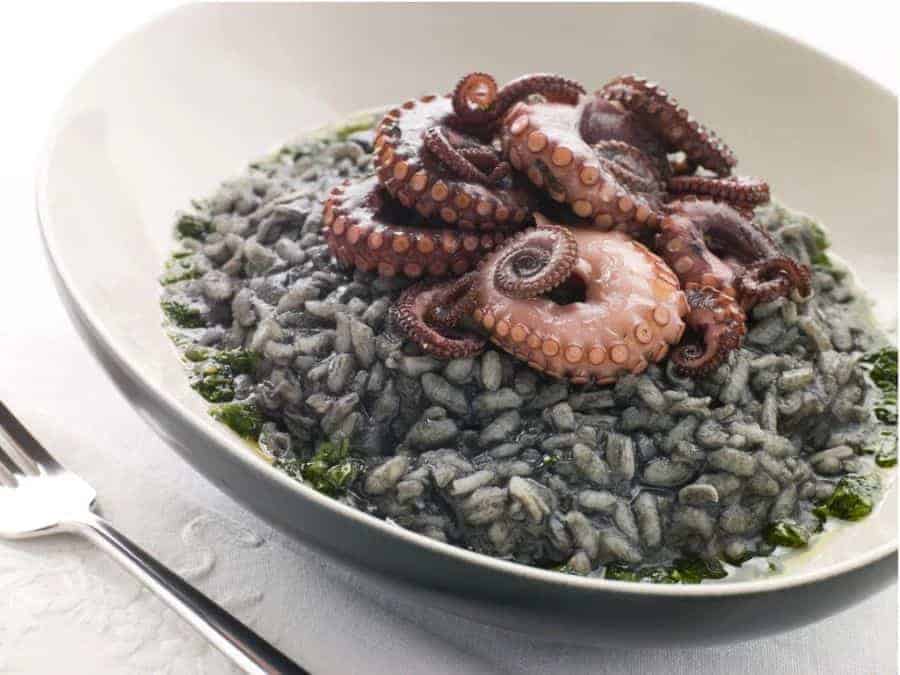 Crni Rižot (Black Risotto)
With its Arabic origins tracing all the way back to the Middle Ages, crni rižot (black risotto) is now a favorite Dalmatian dish. Prepared with cuttlefish and squid, the risotto is mixed with cuttlefish ink creating a deep, dark hue. Grate on a dash of parmesan and pair with red wine for a fine (and filling) coastal feast.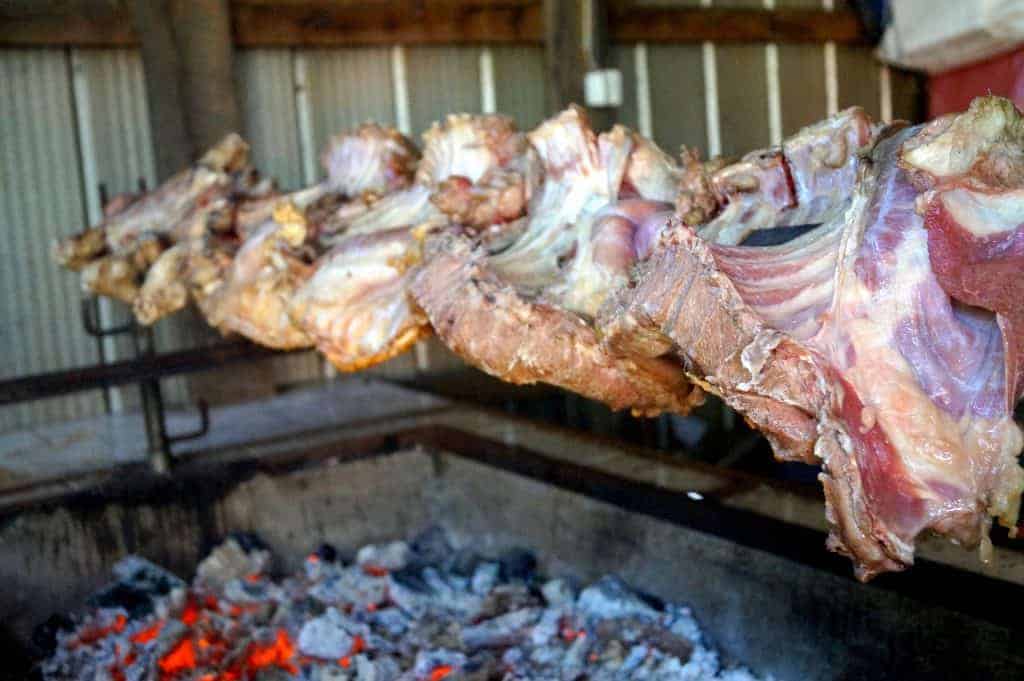 Spit-roasted Lamb
Spit-roasted lamb is a must for any big occasion in Croatia, and has been for thousands of years. Janje na ražnju' (lamb on a spit) is slow cooked with world-renown lamb from the islands of Cres and Pag. It is often served simply with bread and spring onions.
Škampi Na Bazure
Simple, delicious and readily available on the coast, Škampi na buzaru is a fantastic meal of shrimp cooked in garlic, tomato and a white wine sugo. Dobar tek (bon appetit)!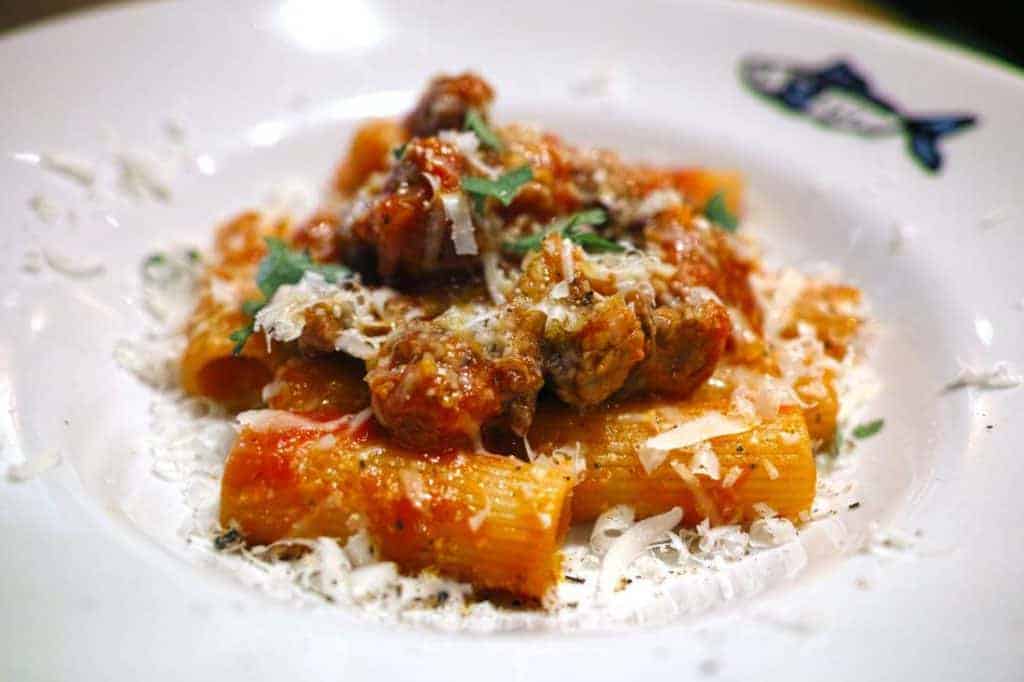 Šporki Makaruli (Dirty Pasta)
Šporki Makaruli (dirty pasta) is a famous dish in Dubrovnik. Poured over pasta, the rich beef sauce features a blend of special spices with a sweet cinnamon flavor. Dating back to the days of aristocracy in Dubrovnik, the nobles would eat all the best meat then mix the remainder with macaroni to serve their servants at celebrations.
Punjena Paprika (Stuffed Peppers)
A hearty homemade dish, Punjena Paprikaare peppers stuffed with a mix of meat and rice in zesty tomato sauce. Perhaps a more rare find, when you do spot it on a menu, definitely give it a try.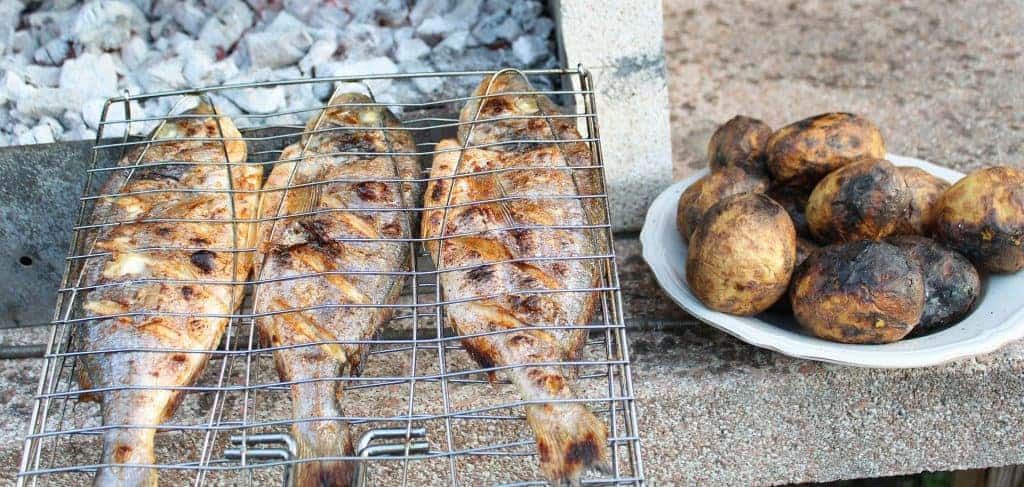 Fresh Grilled Fish
It almost goes without saying, but the Adriatic is famous for its fresh grilled fish. Try it in many-a-tavern or konoba "Dalmatian style," meaning cooked over a wood fire with olive oil. Simple and delicious, grilled fish is often served with blitva (chard) and potatoes, and paired with a glass of Plavac Mali.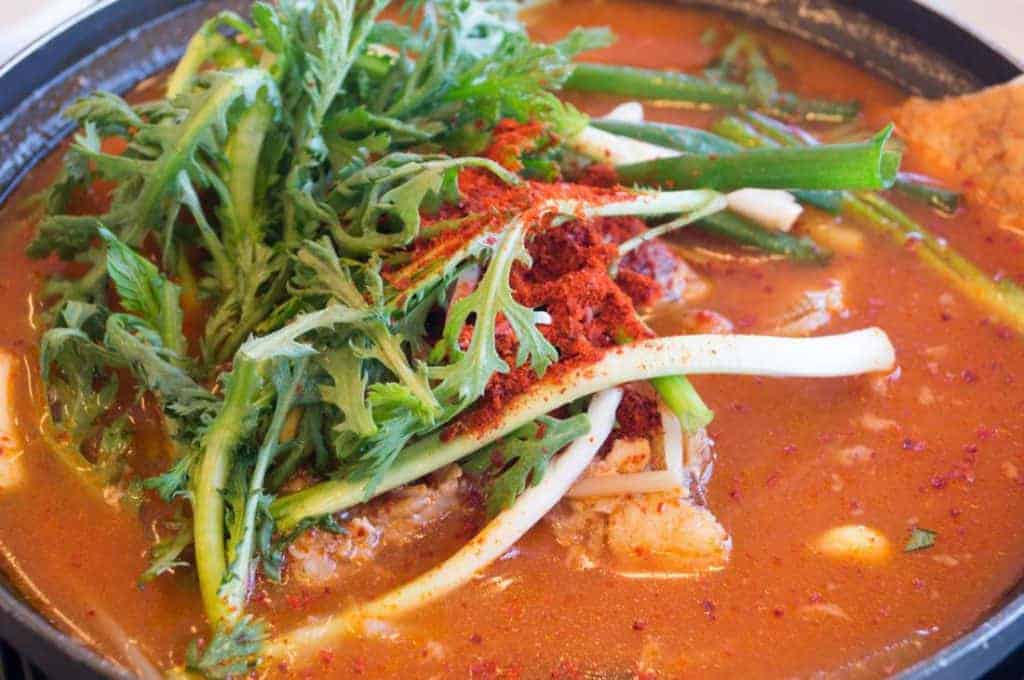 Brunet
Brudet is a rich seafood stew enriched with wine and served with polenta (to soak up the tasty fish broth). The secret ingredients of this dish are said to be passed on through the generations, from father to son.
Desserts
Kroštule
Kroštule are traditional ribbon-shaped deep-fried pastries found in Istria and Dalmatia.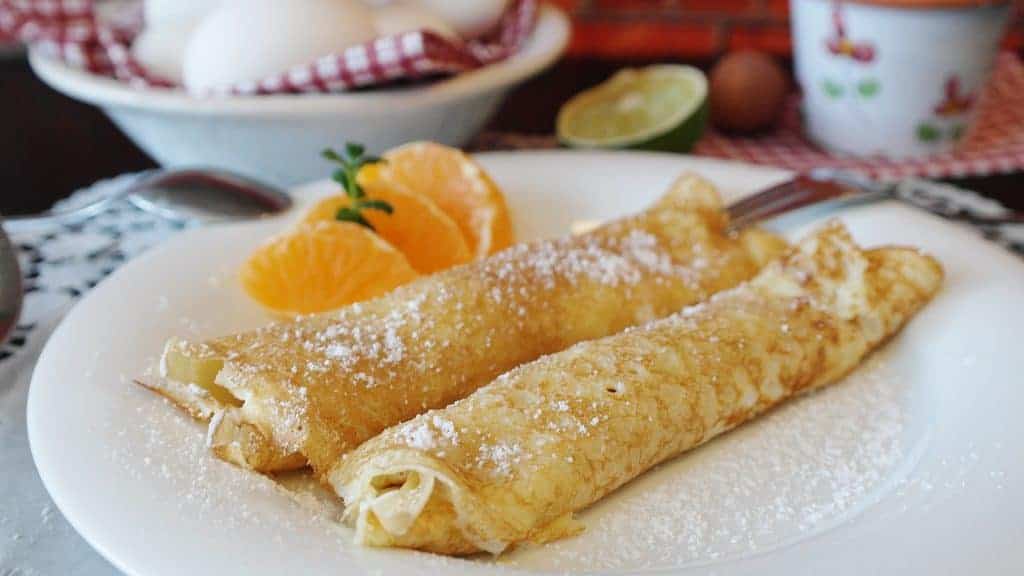 Palačinke
Palačinke (crêpes) are a favorite after-dinner deserts in Croatia. Found on most menus and in stands around town, these little pancakes are filled with everything from chocolate, ice cream and jam to lemon and sugar. Pick your flavor.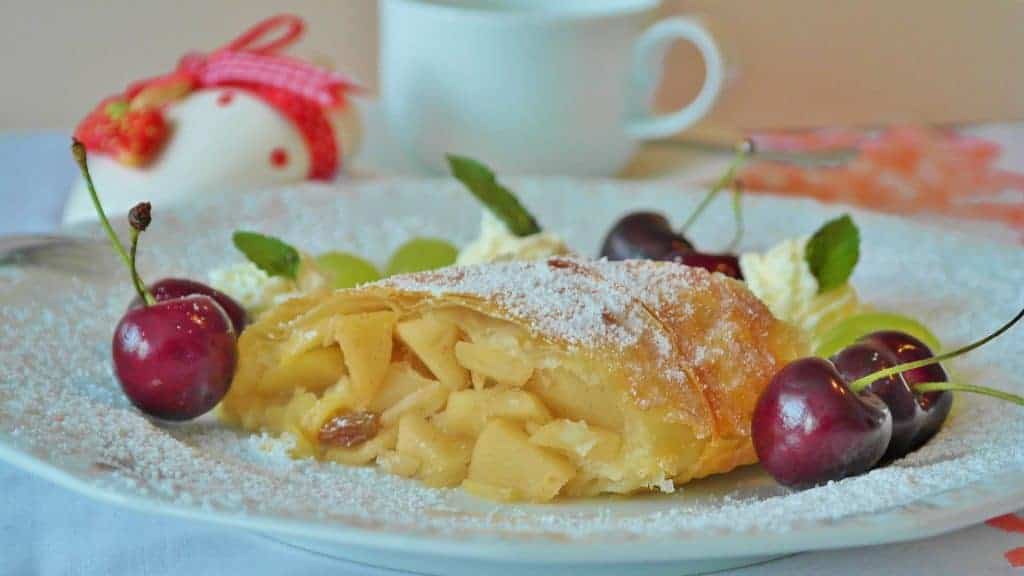 Strudel
During its Austrian occupation, Croatia became quite adept at making Germanic baked goods. Cherry or apple strudel is a fine find in Dalmatia. In fact, it's so popular, Croatia made the Guinness Book of Records for the longest strudel ever at 4,852 feet (just short of a mile long).
Fritule
Made with apples, raisins or coated with chocolate sauce, Fritule are adorably tasty little Croatian doughnuts found at coastal stands and market stalls. You simply cannot eat just one.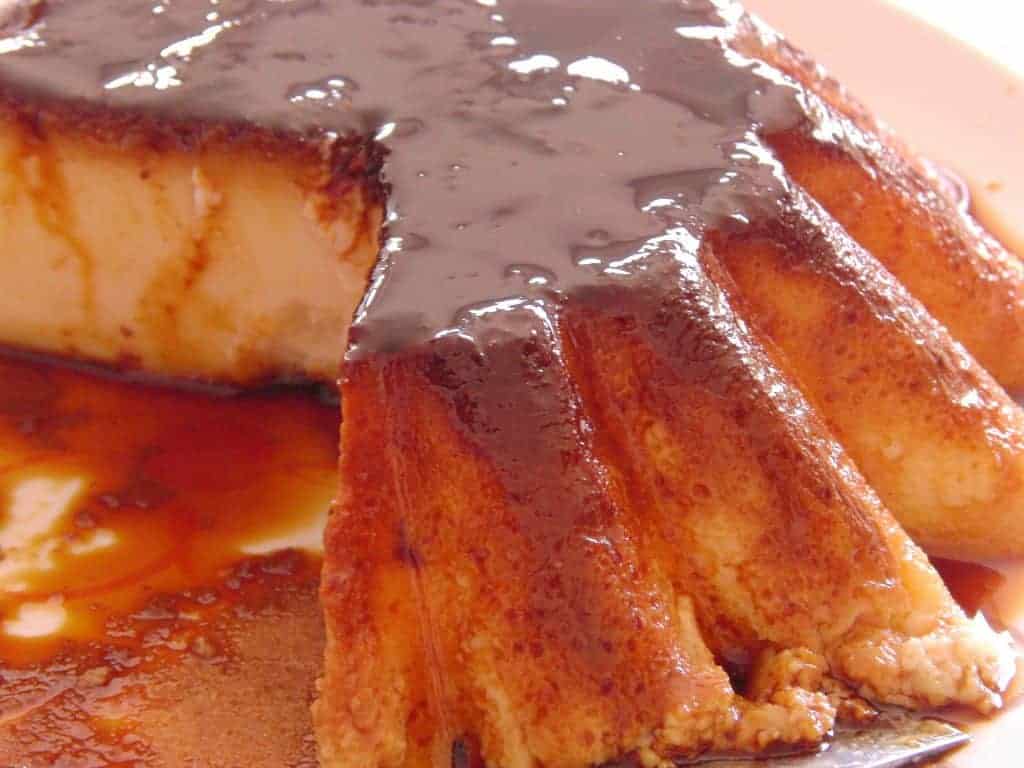 Rožata
Originating in the area around Dubrovnik, Rožata is a custard pudding similar to flan and crème brûlée. Named after rozalin (rose liqueur), this popular dessert has a unique flavor and aroma.
Breskvice
Breskvice are peach-shaped cookies filled with jam and walnuts then rolled in sugar.
This sampler simply scratches the surface of Croatian cuisine, (more specifically Dalmatian cuisine). Do not miss trying these and many more delicacies in this up-and-coming food and wine destination.