Snapshots from Barcelona: Eat, Drink, Stroll, Repeat
Christina is a friend of Experi and a fellow Pacific Northwestern food lover. A native of Seattle, she developed her penchant for food and travel young, learning about cooking through her mother's catering business. She travels every chance she gets, touring all of Italy, France, Argentina, India, as well as some of the best gourmet spots in the United States. She documents her travels, recipes, and foodie lifestyle on her blog, foodie with a life, and on Instagram. Her blog has become a collective of recipes, travel notes, insider tips, and advice for anyone wanting to eat well, travel widely, and lead a full life. Check out her other guest post 7 Restaurants Less Traveled: Italy.
---
Barcelona is an overwhelming cultural entity all its own, with a strong artistic backbone and fierce love for the unexpected. With so many "must-experience" adventures to be had, it's best to devote a day to the Gothic Quarter and El Born neighborhood, ripe with food, art, and history from sunrise to nightfall.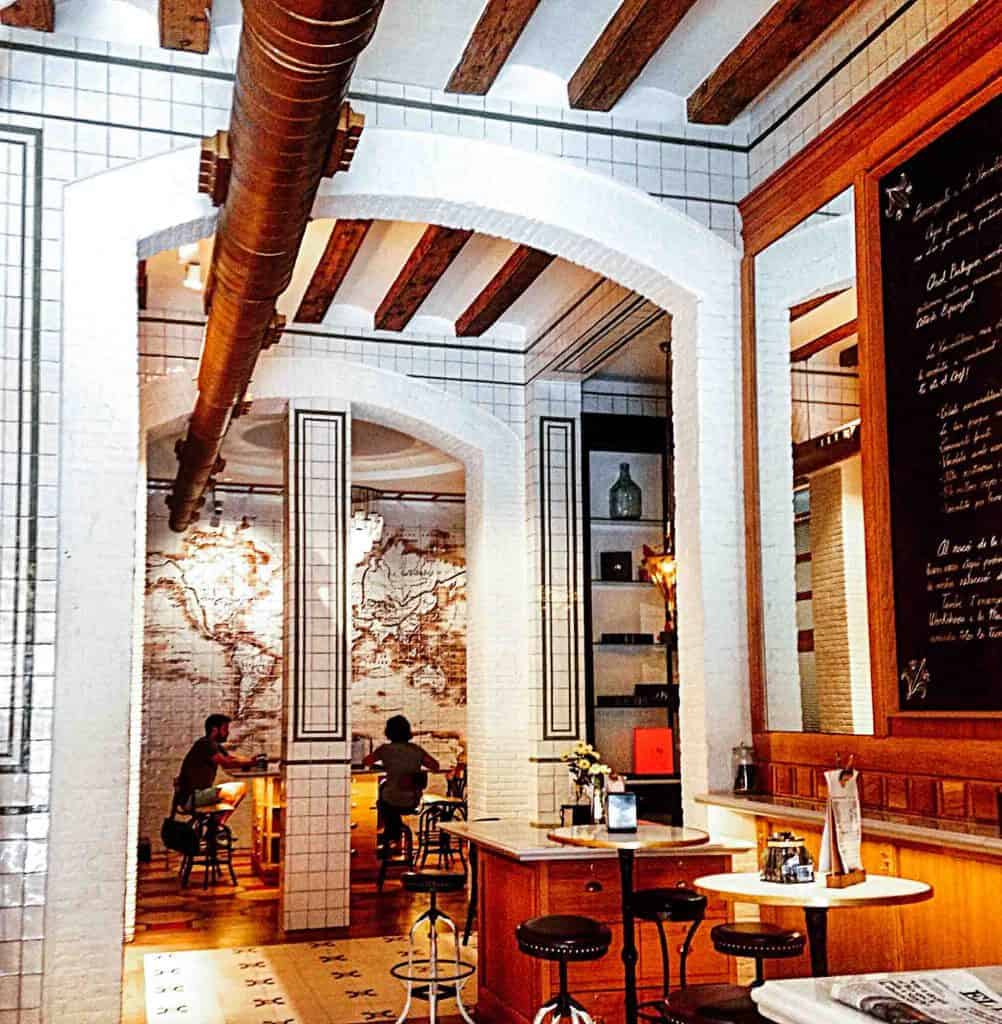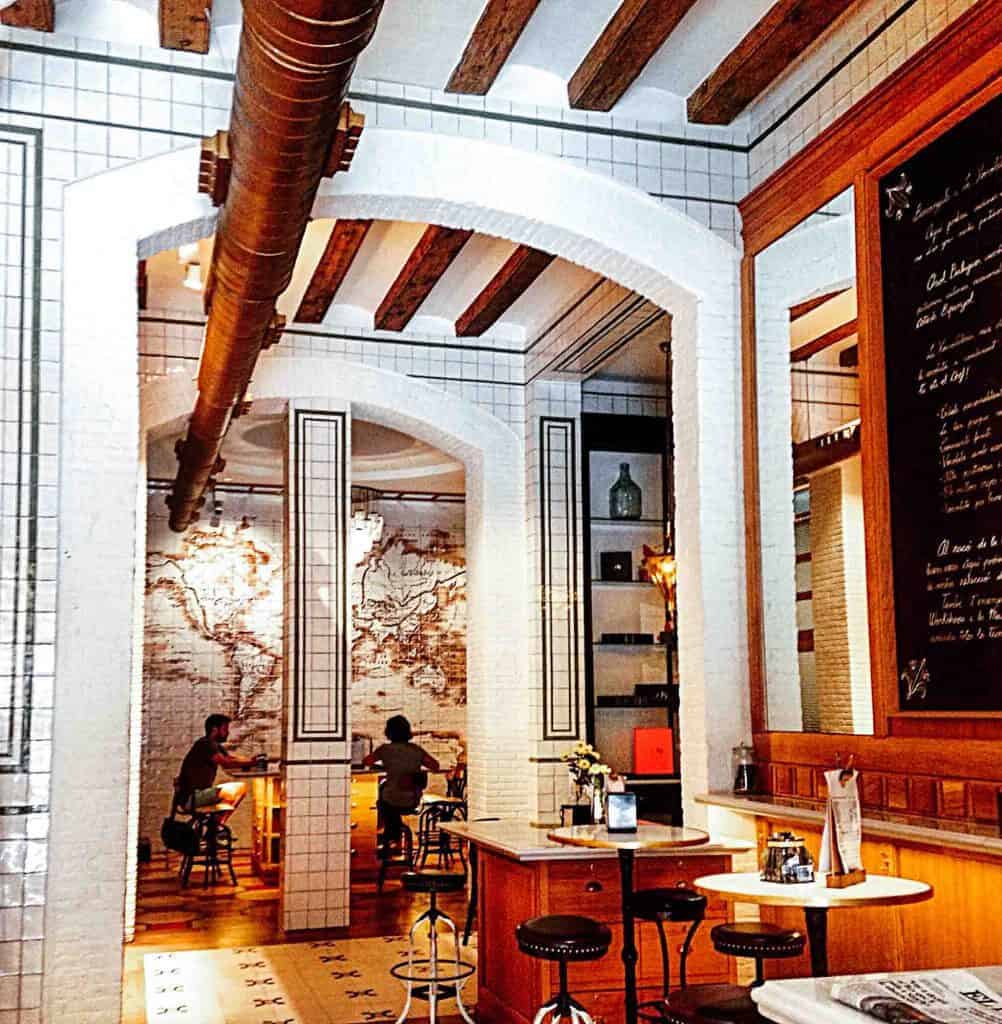 La Xocolateria by Oriol Balaguer
Your first stop in Barcelona must be La Xocolateria for an espresso and a treat. The pastry variety is inventive and vast, from crème brûlée or buttery apple croissants to fresh fruit presented with warm artisan chocolate for dipping. Dark, milk, or white sipping chocolate satisfy any sweet tooth, while freshly squeezed orange juice refreshes and rejuvenates. Enjoy a croissant, awarded the best in Spain, in Balaguer's glossy bronze and white café studded with wood beams, gleaming white tiles, and murals of world maps.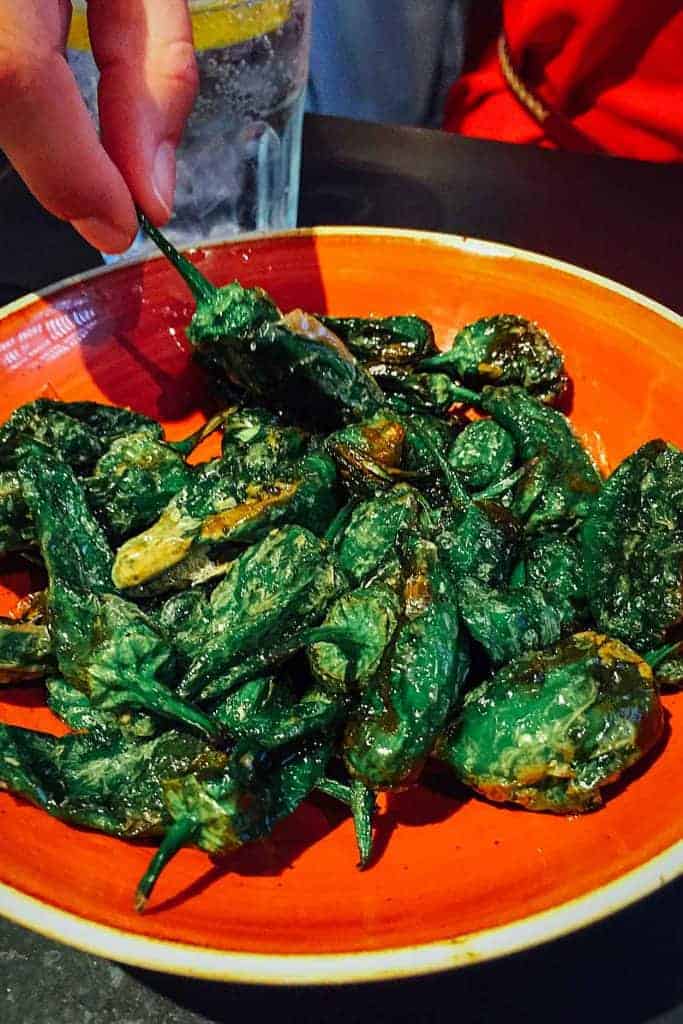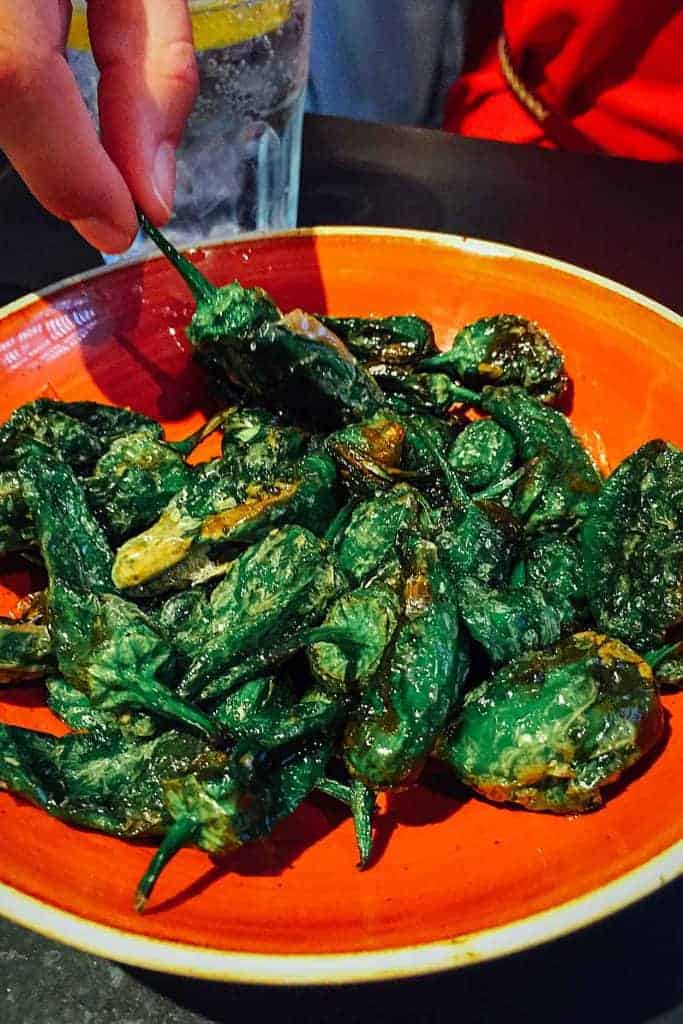 Mercat Santa Caterina & Cuines de Santa Caterina
Arrive hungry to peruse Mercat Santa Caterina's many stalls of fresh fruits, local vegetables, native seafood, and eggs so local they're sold in small plastic bags. Pick up seasonal produce and cheeses for a later snack, but you'll crave the flavors dancing before your eyes so it's best to wander into the adjacent restaurant, Cuines de Santa Caterina. Sit at the Mediterranean themed bar to try pickled treasures like anchovies wrapped over tangy pearl onions or house-cured salmon. The smell of fresh juice concoctions scent the air of Cuines de Santa Caterina, specialty cocktails are well-dressed with fresh ingredients, and a full menu offers specialties such as blistered padron peppers flash fried and sprinkled with salt, or clams in a smoky broth.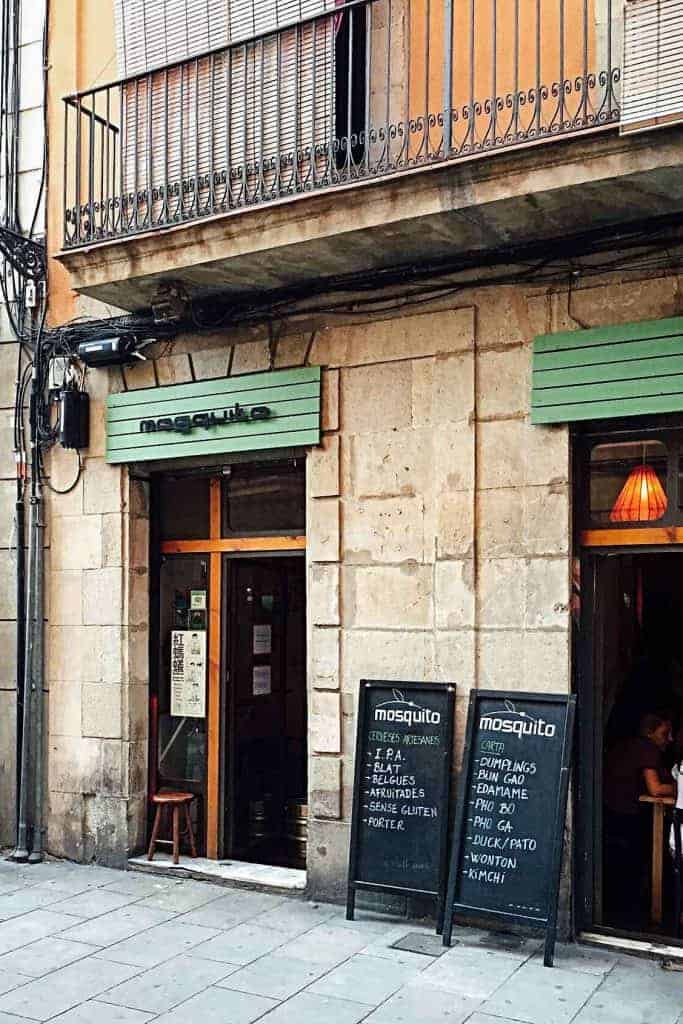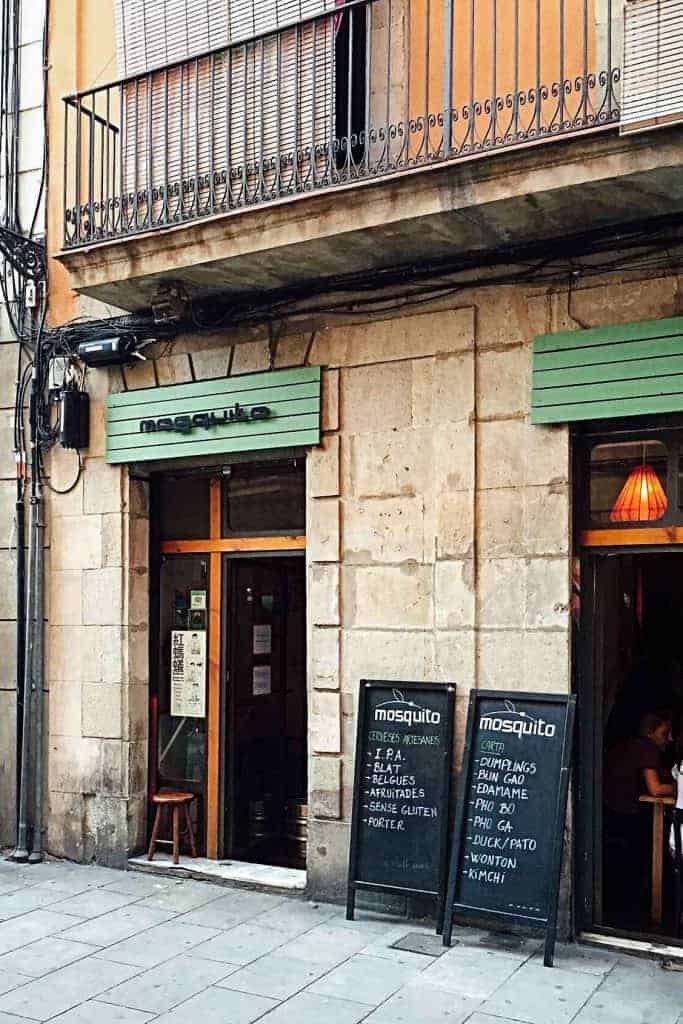 Mosquito
Barcelona is a town for foodies in search of international flavors. Put your name on the waitlist at Mosquito and wander El Born neighborhood, decorated with outdoor seating, strolling artists, and a plethora of variously themed cocktail bars. Once you sit at Mosquito your window for ordering is tight so first things first: make drink and food decisions. The menu is set up tapas style, which lends to sharing multiple plates of well-designed comida. You'll need to try the smoked fried duck and, at the very least, a variety of dense and flavorful dumplings. Compliment your dinner with a craft beer from the ever evolving selection. The vibe is lively and fun, and it'll feel like you've been let in on a local's secret.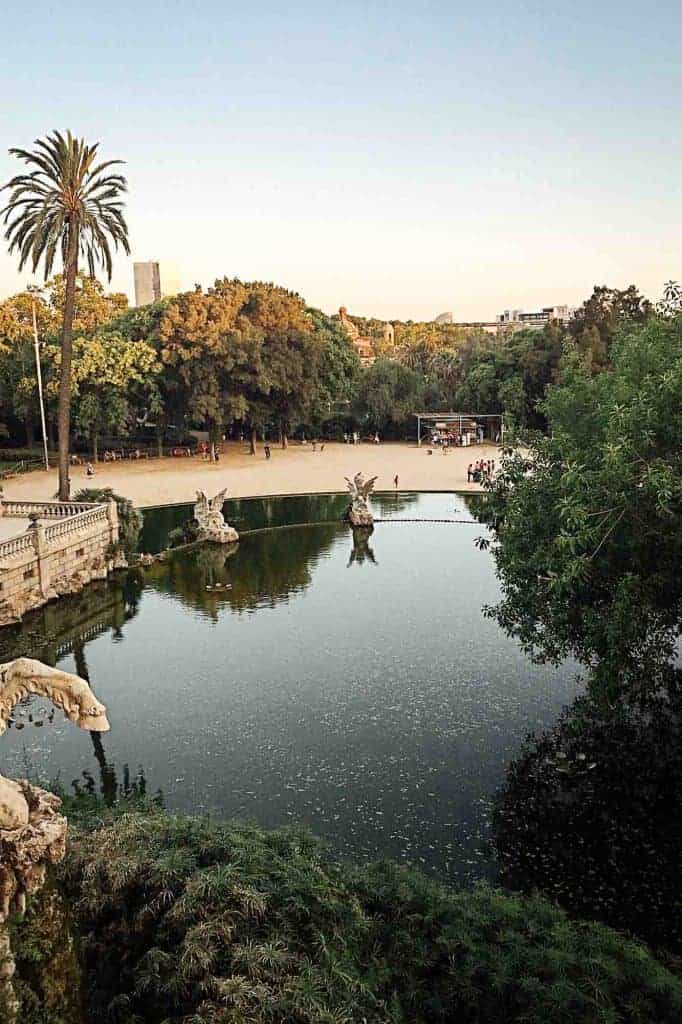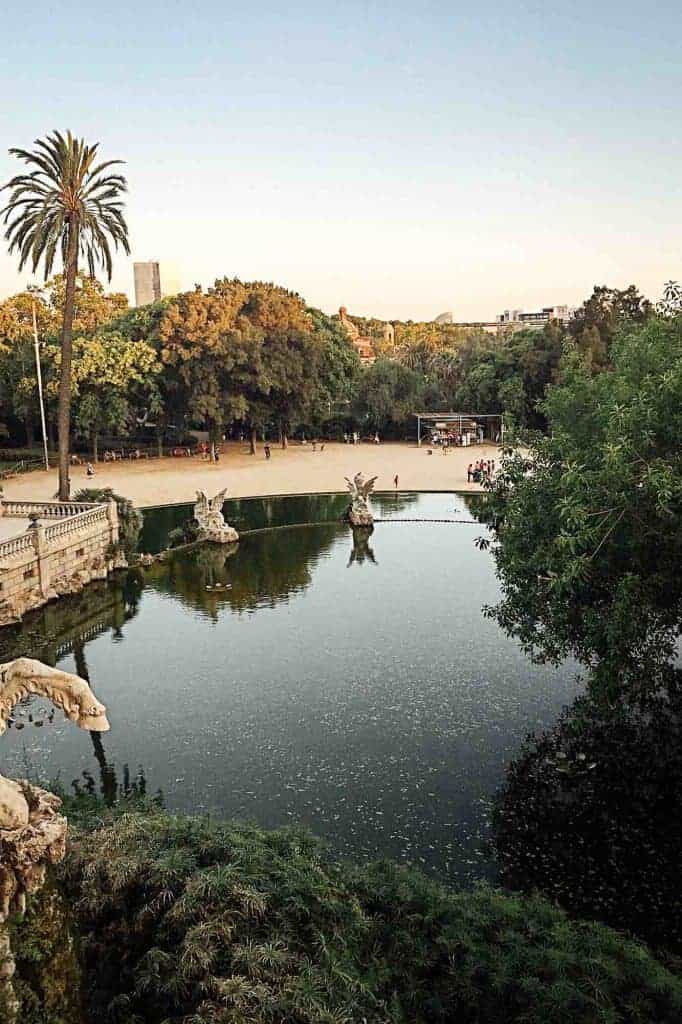 Parc de la Ciutadella
Barcelona in the evening is fully alive! Once the summer sun subsides, a jog through Parc de la Ciutadella at 9pm opens the window to Spaniards in their communal and joyful habitat. Groups of friends gather beneath bushy trees of orange and green, children play soccer, and a yoga instructor directs a class of flexible students in the grass. Wander through foliage-lined paths that reveal tango music thundering for a group dance lesson for the enjoyment of hypnotized onlookers. Join a ping-pong tournament or grab a beer and blend into the scene.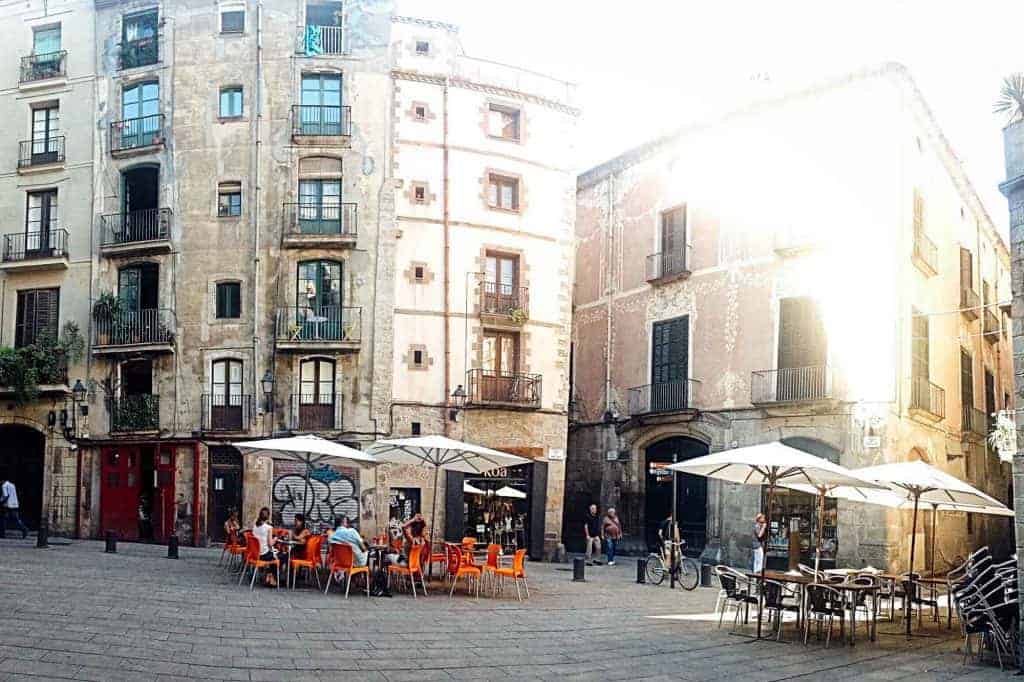 Santagustina
Santagustina is a cozy Spanish tapas and wine bar offering classic recipes and reinvented dishes. Start your meal with a light tuna tartar atop chunky avocado paired with a glass of carefully curated wine. The menu is divided into divine eats and classic tapas, a blend of the two presents a delicious and just-rich-enough satisfaction. The Santagustina experience is best enjoyed at a leisurely pace with recommendations from your server. If you arrive just before 8:30 pm you'll beat the initial crowd and have your pick in the rustic and sexy dining room, or sit outside to people watch in a quieter atmosphere.