The Best Winery Events and Experiences of Napa Valley
In the mid 1970's, only 25 wineries lined the valleys and hills of the Napa and Sonoma wine regions. That number has now blossomed to more than 400. This leads to a unique challenge for Napa wineries to create fantastic experiences to stand out and attract guests and club members. To see how top wineries in Napa have responded, we explored some of most popular winery events and experiences of the region.
Travel the World with Stag's Leap Wine Cellars
More than 50,000 guests are expected to visit world-renowned Stag's Leap and sample their Estate Collection this summer. To build relationships with their guests, Stag's Leap hosts multiple trips to wine regions abroad every year.
For example, in 2020, Stag's Leap will be visiting Sicily, Tuscany, and Croatia (you can learn more about those trips here). A recent traveler on the Stag's Leap May Tuscany trip loved the experience:
"The best part was seeing the beautiful country around Tuscany and the magnificent sites [of] Rome. All of the visits to the wineries, cheese maker and olive oil mill were fantastic."
By offering immersive, experiential wine trips for their guests, Stag's Leap offers a standout benefit that few wineries offer.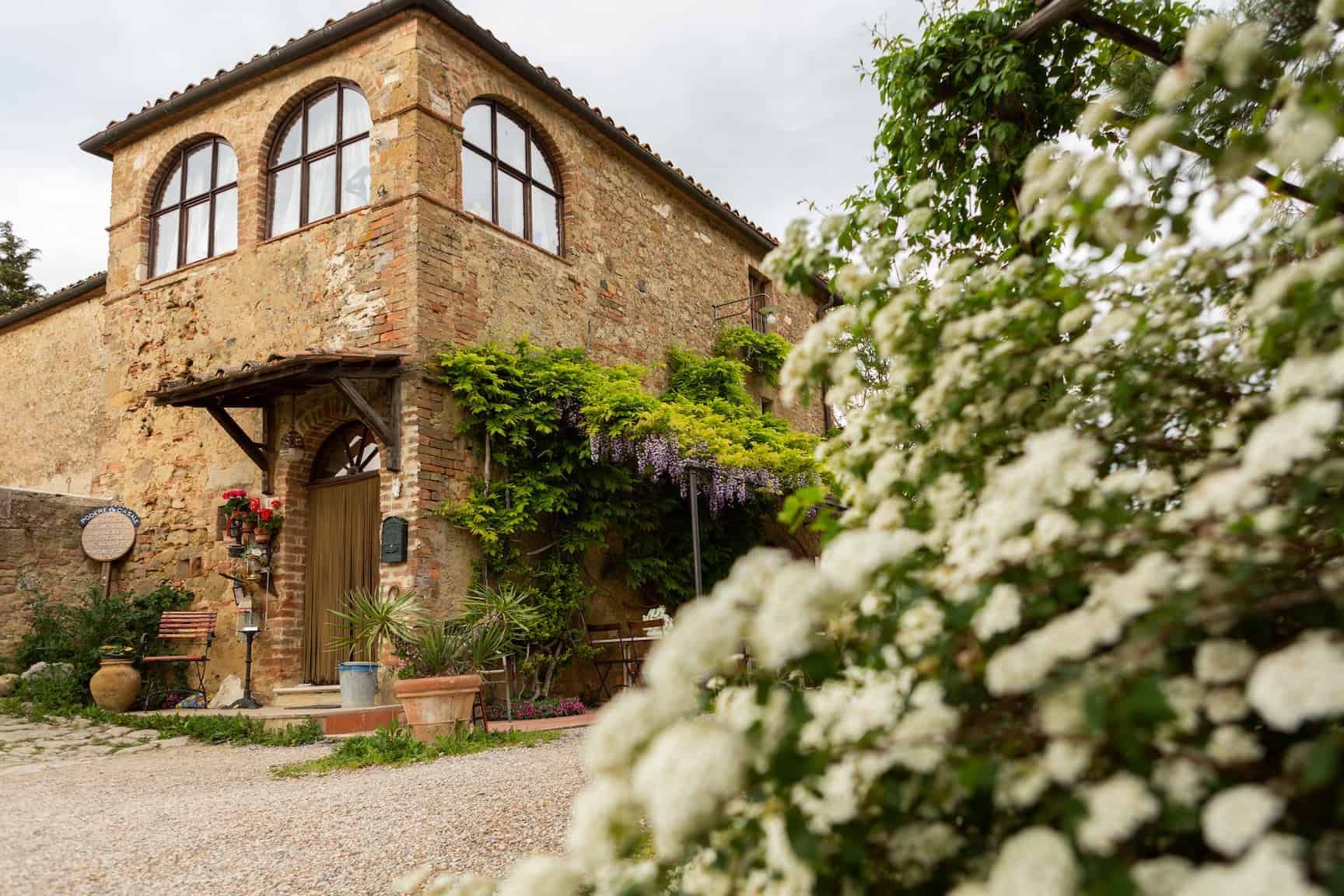 Savor Alpha Omega's ERA Weekend
Robin and Michelle Baggett founded Alpha Omega in 2006. The team views winery events as an opportunity to extend the hospitality of a thriving family-owned winery to valued guests. As Chris Carmichael, Director of Wine Clubs for Alpha Omega, put it,
"Our members are the lifeblood of our winery. We try to make sure that when they visit the property they know they are a part of our Alpha Omega family."
Alpha Omega shows their appreciation every April by hosting ERA Weekend. The event is an exclusive two day gathering for club members and customers, and is a team and guest favorite. The gathering includes two Saturday parties and an exclusive ERA Elite Club experience, such as this year's blind tasting hosted by Alpha Omega's winemakers, on Sunday. Afterwards, guests enjoy an elegant sit-down lunch on the Vineyard Terrace. At lunch, the winery team pairs each course with exclusive wines, sometimes sharing yet-to-be-released vintages.
Like Stag's Leap, Alpha Omega also invites their guests to join them abroad. Last year, AO owners hosted members on a Mediterranean cruise with a special visit to Perinet, the Baggett's winery in Priorat, Spain.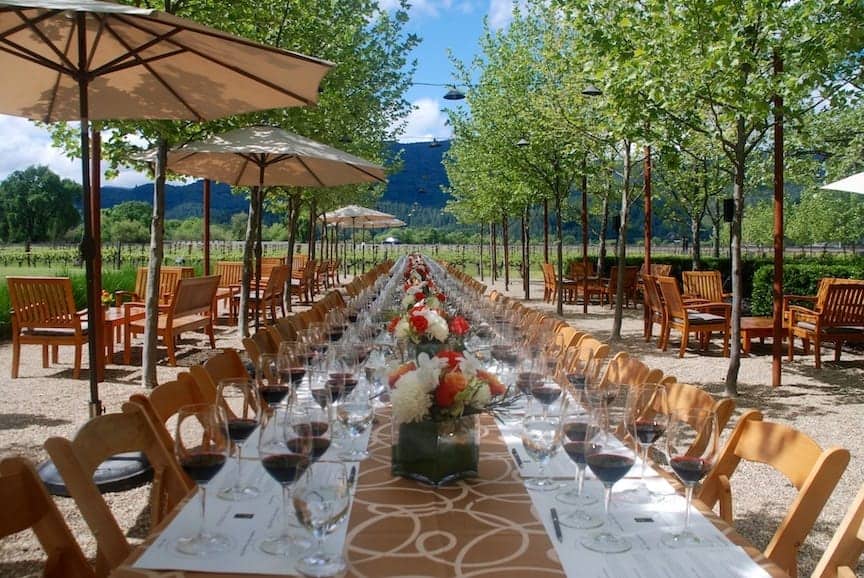 Pair Lobster and Sparkling Wines at Mumm Napa
Mumm Napa is known for a rich legacy of crafting sparkling Californian wines with nods to their French heritage. To share their stunning vineyards with guests, Mumm hosts an annual Lobster Dinner on the Vineyard Green. Guests love the event so much that it often sells out shortly after it is announced.
Napa Winemaker Tami Lotz sees the value in combining the elegance of the sparkling wines with the good spirit of a communal lobster dinner,
"The Lobster Dinner is part of the Mumm Napa experience of relaxed elegance and a great pairing with sparkling wines."
During the dinner, guests don bibs and sit at long rows of picnic tables upon which lobsters, wine, and other accoutrements all commingle. The winery event is a playful ode to both the elegant and fun-loving spirit of Napa.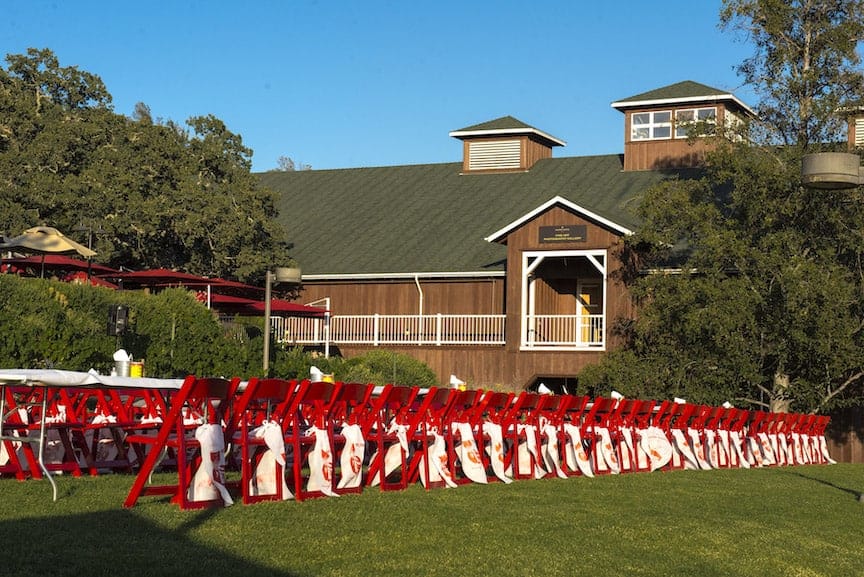 Taste Across the Board at Brasswood Vintner's Vanguard
Brasswood Estate, located in St. Helena and known as both a wine and food destination, boasts a one-of-a-kind facility and concept. Besides being a winery with an impressive 17,000 square feet of wine caves, Brasswood also offers dining experiences for guests. The Brasswood Bar + Kitchen restaurant and Brasswood Bar + Bakery (plus a bottle shop, tasting areas, venues, and an art gallery).
Brasswood uses their caves to make their own boutique brand and collaborate with premium winemaker clients. Each year, they host the Vintner's Vanguard gathering to embrace their "unique ability to produce wine for amazing winemakers such as Philippe Melka, Rosemary Cakebread, and Angelina Mondavi." Assistant Estate General Manager Michelle Mathai views the winery event as one of a kind:
"It showcases all the wines produced at Brasswood - not just the Brasswood label."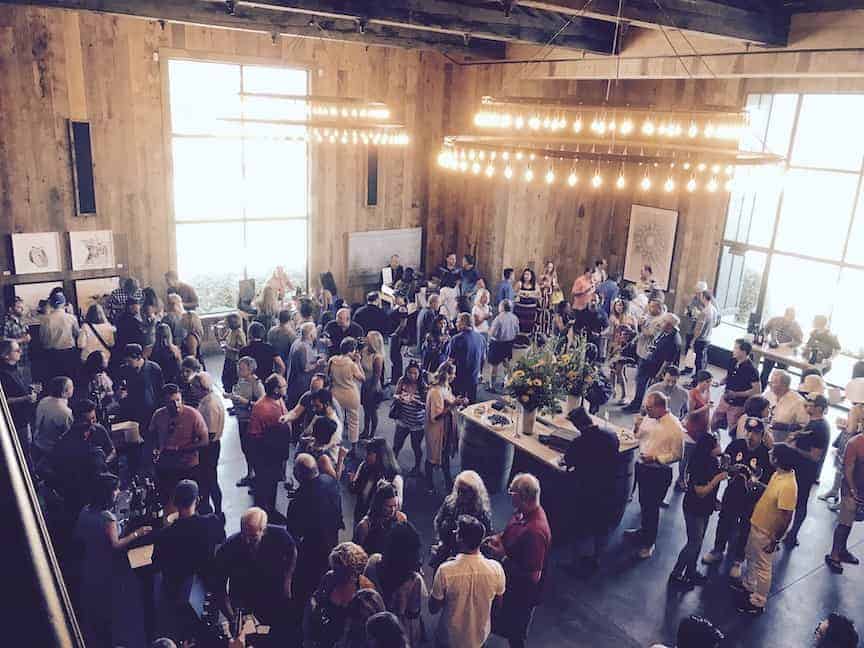 Enjoy A Day of Duckhorn
Duckhorn Vineyards, located in St. Helena, features wines that often top charts. In 2017, Wine Spectator ranked their 2014 Merlot Three Palms Vineyard wine number one in the world. To meet the demand of their eager visitors and members, Duckhorn offers a full schedule of engaging winery events and experiences.
One of their most popular experiences is their Day of Duckhorn - a full day of indulgence spanning two Napa wineries for groups to enjoy. The Duckhorn Vineyards wine educators love the experience:
"The experience is ultra-VIP. The wow-factor is off the chart! The ease and flow of the tasting works really well, and the guest's enjoyment is felt by all."
The day starts at Paraduxx Winery, along the Silverado trail. There, guests explore the vineyards and experience a guided tasting and blending experience and lunch al fresco. Afterwards, guests head to Duckhorn Vineyards. There, they enjoy private tastings of a wide selection of Duckhorn wines from their 41 years of production.
The Importance of Winery Events
When visitors plan a trip to wine country, especially Napa, they now have hundreds of wineries to choose from. By offering unique, unforgettable winery events, wineries create opportunities to build relationships, differentiate their brand, and create lifelong members.
Experi is a travel company that specializes in operating wine and culinary trips to wineries and their guests and club members. If you're interested in learning more about traveling with one of our winery partners or offering a great event or experience for your winery or organization, please contact our team at partners@experi.com.