Complete Guide to Provençal Cuisine
The region of Provence in southeastern France has so much to love: the French Riviera, lavender fields, epic landscapes like the Massif des Calanques, and the historically rich cities like Avignon and Marseille. And then there's the food! Provençal cuisine is famous for its powerful flavors and simple farm-to-table ingredients. Provence's warm, Mediterranean climate influences its cuisine, allowing for a variety of quality produce, herbs, and seafood. While traveling through the region, you'll be sure to see plenty of dishes featuring olives and olive oil, seafood like sea urchins and sardines, and plenty of fresh fruits and vegetables. It's a cuisine that is both complex and comforting, and that's exactly why we love it. Read on to learn about some of the quintessential dishes of Provence, and once your appetite has been whetted, click here to plan an unforgettable journey to experience the flavors of Provence.
Bouillabaisse
Originating in the port city of Marseille, it should be no surprise that bouillabaisse is a fish stew. The word bouillabaisse comes from the Provençal Occitan (a romance language) word bolhabaissa, meaning "to boil" and "to simmer." So what's in this stew? Traditional recipes use at least four varieties of fish, mussels, and crab all sourced from the Mediterranean. For added flavor, plenty of vegetables and aromatics are also included like onion, tomatoes, carrots, fennel, leeks, white wine, potatoes, thyme, parsley, and basil. What's extra unique about this dish is the way it's traditionally served in Marseille. The strong and flavorful broth is the first to be served, along with toasty croutons slathered in rouille (a spicy spread made of olive oil, breadcrumbs, garlic, saffron, and cayenne pepper). After, the fish and shellfish that were cooked in the broth are served separately. The history of bouillabaisse goes back to 600 BC, when fishermen in Marseille would prepare it as a hearty meal after returning to port using shellfish and rockfish that were inadvertently pulled up with their nets. Today, some of the fish and shellfish used in a bouillabaisse include red rascasse rockfish, monkfish, conger eels, slipper lobsters, velvet crabs, and even sea urchins.
Daube
On the topic of stews, we'd be remiss if we didn't include daube in our roundup of classic Provençal dishes. Unlike a fish bouillabaisse, a daube is a beef stew, flavored with onions, carrots, mushrooms, olives, garlic, and herbes de Provence, all within a red wine sauce. This stew is traditionally cooked in a braising pan called a daubière. There are plenty of variations of this stew, which include ingredients like prunes, nutmeg, orange peel, and even brandy. Some even make daube with lamb instead of beef, and in these instances, white wine is substituted for red.
Escabeche
Escabeche can mean a lot of things in a lot of different regions, as it's the name for a variety of dishes, both along the Mediterranean and in Latin America. In Provence, however, it means one thing: sardines. Escabeche is made of fried sardines that are then marinated in vinegar flavored with onions, carrots, garlic, coriander seeds, thyme, and a bay leaf.
Pissaladière
It seems every culture and cuisine has its own version of pizza, and Provence is no exception. In this region, there is delicious pissaladière, a specialty of Nice. Pissaladière differs from most Italian pizzas in that it's made with bread dough (not pizza dough) and isn't topped with tomatoes or tomato sauce. Instead, a traditional pissaladière that you'll find in most bakeries in Nice and its surrounding areas is a bready crust topped with caramelized onions, local black olives called caillettes, and pissalat, which is a salty sardine and anchovy paste. Typically, pissaladière is served as an appetizer before a meal.
Ratatouille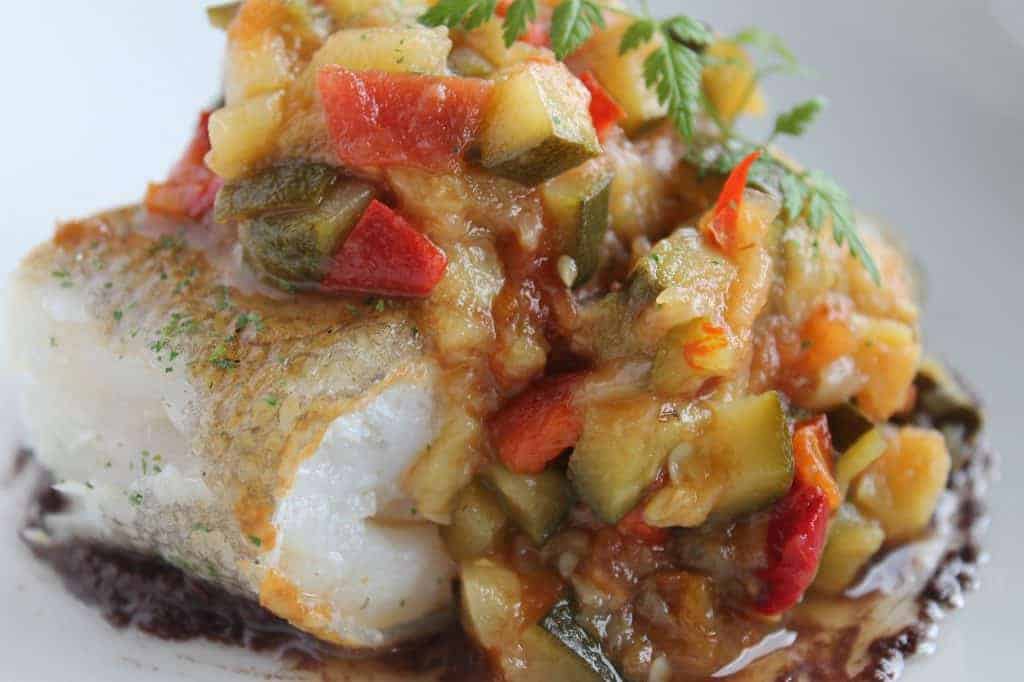 Sometimes called ratatouille niçoise because it originates, like pissaladière, in the town of Nice, ratatouille is a Provençal dish of stewed vegetables. Actually, ratatouille is what is called a ragout, a French cooking term that means a slow-cooked stew to be eaten as a main dish. The classic ingredients for a delicious and texture-rich ratatouille are eggplant, zucchini, bell peppers, onion, fennel, garlic, and herbs like thyme, basil, and herbes de Provence. What might surprise you is that this beloved dish from Provence hasn't been around for that long. It's origins go back to the 1870s, and a recipe for what we know consider to be a classic ratatouille wasn't printed until the 1930s.
Omelette aux Truffes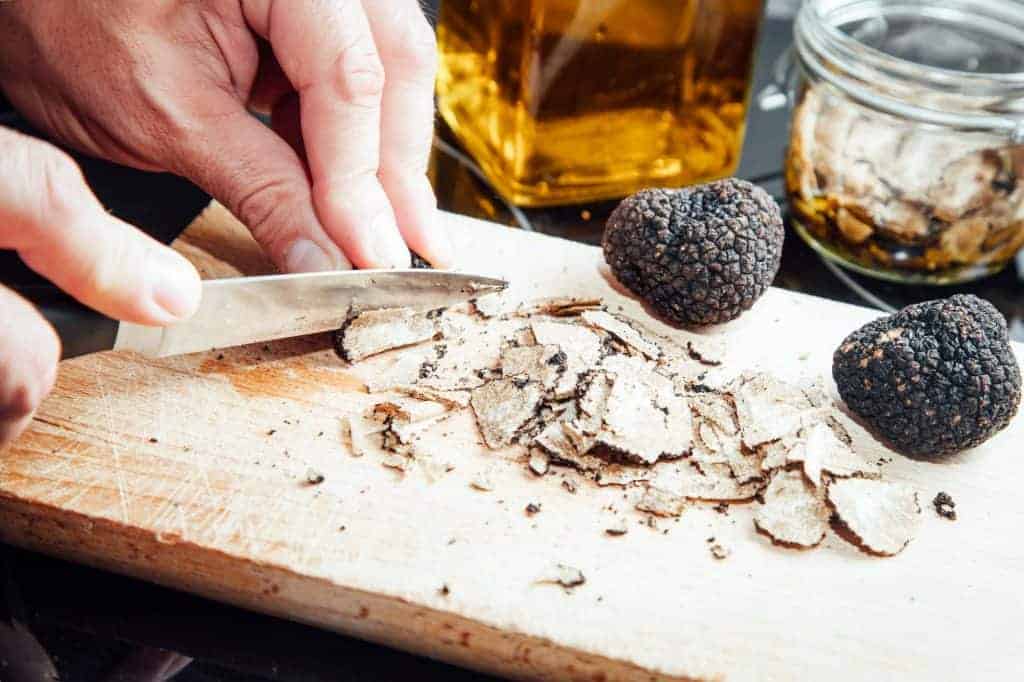 You can't experience Provence without tasting (and maybe hunting for) black truffles. These round, dark brown mushrooms grow underground near the roots of trees and smell of wet earth, fruit, and cocoa. The particular mushroom we're talking about goes by many names – Tuber melanosporum, black truffle, Périgord truffle, or Diamant Noir (meaning black diamond). Black truffles from Provence are truly a delicacy and have even sold for as much as $1,200 per pound. Check out our feature "A Taste of Provence: Black Truffles" to learn about how you can hunt for them when in France. Black truffles are used in many Provençal dishes, including omelette aux truffes. Made with just large farm eggs, heavy cream, butter, and truffles of course, it's a rich and luxurious breakfast to start any day in Provence.
Brandade de Morue
Brandade de Morue is a salty, warming appetizer, often eaten during the cold winter season. While Brandade can also be found in Spain and other Mediterranean regions, Brandade de Morue is specific to the French version. This thick spread made of salt cod, olive oil, milk, and garlic, is served with good bread, toasted and cut into triangles.
Tarte Tropézienne
Not much can be better than traveling along the French Riviera and taking in the sunshine of Saint-Tropez… except the addition of dessert! In the coastal town of Saint-Tropez, the dessert speciality is Tarte Tropézienne. A Polish baker named Alexandre Micka opened a bakery in Saint-Tropez in the 1950s and wanted to create a new pastry featuring the beloved French brioche, as well as a bit of influence from one of his grandmother's recipes. He ended up with a brioche, encrusted with sugar crystals, and filled with vanilla and lemon cream (as a nod to his grandmother). It was actually Bridget Bardot's idea to name the pastry after the town after she was introduced to it while filming "And God Created Woman." It's grown in popularity ever since.
Travel to Provence
Now that you have a preview of the gastronomic highlights of the region, start planning a journey to experience the food and wine of Provence firsthand.