Discover Puglia — The Adriatic Coast
With summer just around the corner, we're all looking for the best global spots to take full advantage of the sun. Puglia's Adriatic Coast makes the list every time. This hot-climate region of Southern Italy (known as Apulia in Italian) boasts 500 miles of gorgeous coastline along the Adriatic and Ionian Seas. Miles and miles of coastline feature pristine beaches, cities full of Romanesque and Baroque architecture, natural cave systems, thermal baths, and diverse marine life that feeds a world-class seafood-based cuisine. The coastline of Puglia is a delight, varying from sandy beaches to impressively wild and rocky cliffsides breaking in vertical drops to the sea. There's only one problem: you won't want to leave. Read on for our favorite sites, experiences, and natural monuments that make Puglia a standout destination.

Gargano National Park
The Parco Nazionale del Gargano (or Gargano National Park) is a breathtaking and massive park in Puglia's Foggia province. Located near the town of Vieste, the 460-square-mile park includes Mount Gargano headland, a large wooded preserve called the Foresta Umbra, as well as the Tremiti Islands archipelago. The Gargano Promontory (or headland) is often referred to as the spur on Italy's boot heel, and some have even suggested the natural beauty here rivals the Amalfi Coast. The park is really defined by its diversity, both in geography and in the flora and fauna. Features include protected rocky coasts, low-altitude woodlands, flowering valleys, and pine trees over 500 years old. You'll spot roe deer and a great number of woodpecker varieties flying between the trees. The wonders of this park can't be seen in just one day.
Fun fact: Gargano National Park is the best spot in all of Europe for orchids, as it's home to 56 species and 5 subspecies. 

Castellana Caves 
If you want to experience something truly ancient in Puglia, you have to check out the cave system known as Grotte di Castellana located in the small town of Castellana Grotte. Wandering through this karst cave system is like going back in time – 90 million years to its formation. The system stretches for over two miles, and travelers can walk this distance on a guided tour, gazing upon delicate stalagmites and stalactites, as well as fossils and caves that open to incredible heights. Like many other cave systems, the Castellana Caves are naturally temperature controlled, and always maintain a refreshing 60-65 degrees. While there are so many natural wonders and unique stone formations in Grotte di Castellana, the stand out attraction is definitely La Grave. Meaning "The Grave," this is the only part of the cave system that accesses the outside world. It's a natural pantheon, a massive cave with a circular opening to the sky, and this opening allows sunshine to beam down into its 200-foot depth. Truly a sight to see.
Fun fact: The White Cave (or Grotta Bianca) is aptly named as it's made of white alabaster, a shiny rock that reflects light gorgeously even in this cave environment.

Salento Peninsula Beaches
Historically it was called Messapia or Calabria, and today it's referred to as Terra d'Otranto and Salentu, but you might know of the Salento Peninsula as the heel of Italy's "boot." This narrow peninsula, bordering both the Adriatic and Ionian Seas, is a treasure trove of immaculate beaches and coastal towns and cities. Our favorite seaside gems are Lecce, full of baroque architecture and Greek influence, and Santa Maria di Leuce, home to some of the world's best beaches. But you can find sandy oases all around this region, like Blue Flag beaches in Torre Dell'Orso and others around Roca Vecchia and Torre Sant'Andrea.
Fun fact: A special dialect of Sicilian is spoken throughout the Salento Peninsula. It's called Salentino.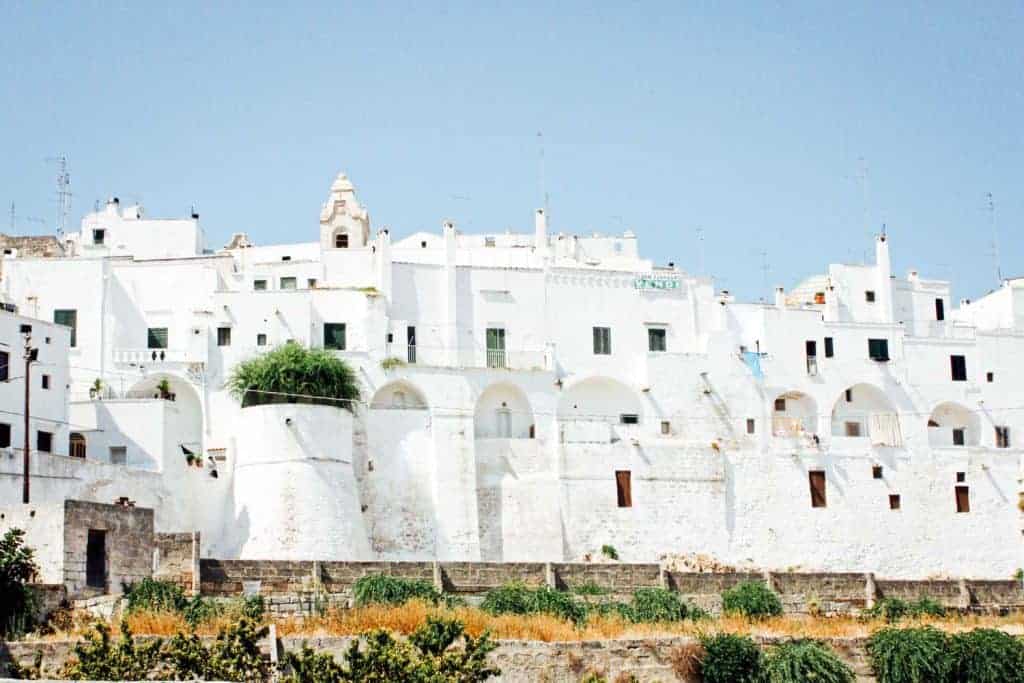 The white-washed city of Ostuni
Located in the Brindisi province, and only five miles from the sea, Ostuni is memorable for its ethereal white buildings. Houses, staircases, alleyways, churches – nearly all white-washed. The city has a true vacation atmosphere, and when the white buildings break for a view of the sea, it looks even more blue in contrast to the light stone. Ostuni is a large producer of olive oil and wine, so you'll never miss out on flavor when eating and drinking here. Check out some of our favorite wines from Puglia here. As for sightseeing, there are plenty of monuments with fascinating histories to learn about, like the late-Gothic Ostuni Cathedral, the Column of Sant'Oronzo, the Church of Santo Spirito, and the surrounding defensive city walls, just to name a few.
Fun fact: During the summer season, the Ostuni population more than triples in size because it's such a perfect warm weather destination.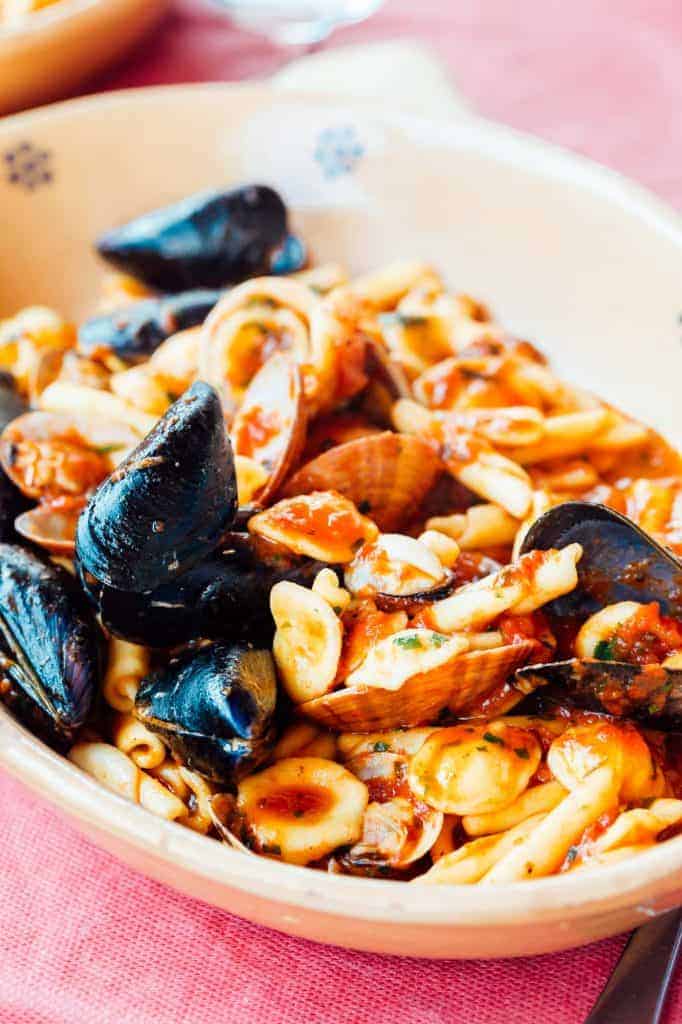 Seafood-centric cuisine
Some have called Puglia Italy's most overlooked food destination, so it's time to turn the tables. The regional cuisine is full of seafood-heavy dishes, no doubt because of the bounty found right in the coastal waters. Think oysters, mussels, clams, octopus, prawns, and many kinds of fish, including sea bream. Some noteworthy dishes are salted cod called Baccalà and a layered dish made of slow-cooked rice, potatoes, and mussels called tiella. Along Puglia's Adriatic Coast, you can enjoy these meals while looking out onto docks full of fishing boats that helped catch your dinner ingredients. 

Thermal baths of Santa Cesarea Terme
The town of Santa Cesarea Terme is found in the Lecce province (right on the "heel") and is most known for its natural thermal baths or hot springs. These baths, which are fed from caves, have been used for relaxation for centuries. In fact, there are four distinct thermal baths – Feidida, Solfurea, Gattula, and Solfatura – that provide soothing heat at about 85 degrees. The waters are full of healing minerals like sulphur, sodium chloride, and iodine. It's clear why the town has a reputation for being the best spa destination in the entire region. Imagine floating in the heated springs while looking out across the Adriatic.