When it comes to wines from Puglia, Italy's heel region, the reigning varietals are fruit forward and red. But that doesn't mean there isn't plenty of variety and value, too. Puglia is where you can find some of the best quality wines made from rare grape varieties at highly competitive pricing. Known for its dry, sunny, Mediterranean climate that is perfect for olive growing, Puglia's fertile lands are also ideal for grape vines, while sea breezes help in moderating the temperatures for the vineyards. For more than 2,000 years, grapevines have thrived in the region, with the most noteworthy varieties being dark-skinned grapes like the Negroamaro and Primitivo. We adore the full-bodied, earthy, deep-red wines from Puglia and the citrusy, mineral white ones as well. Read on to learn about five Puglia wines we love and some of the delicious local dishes that pair well with them.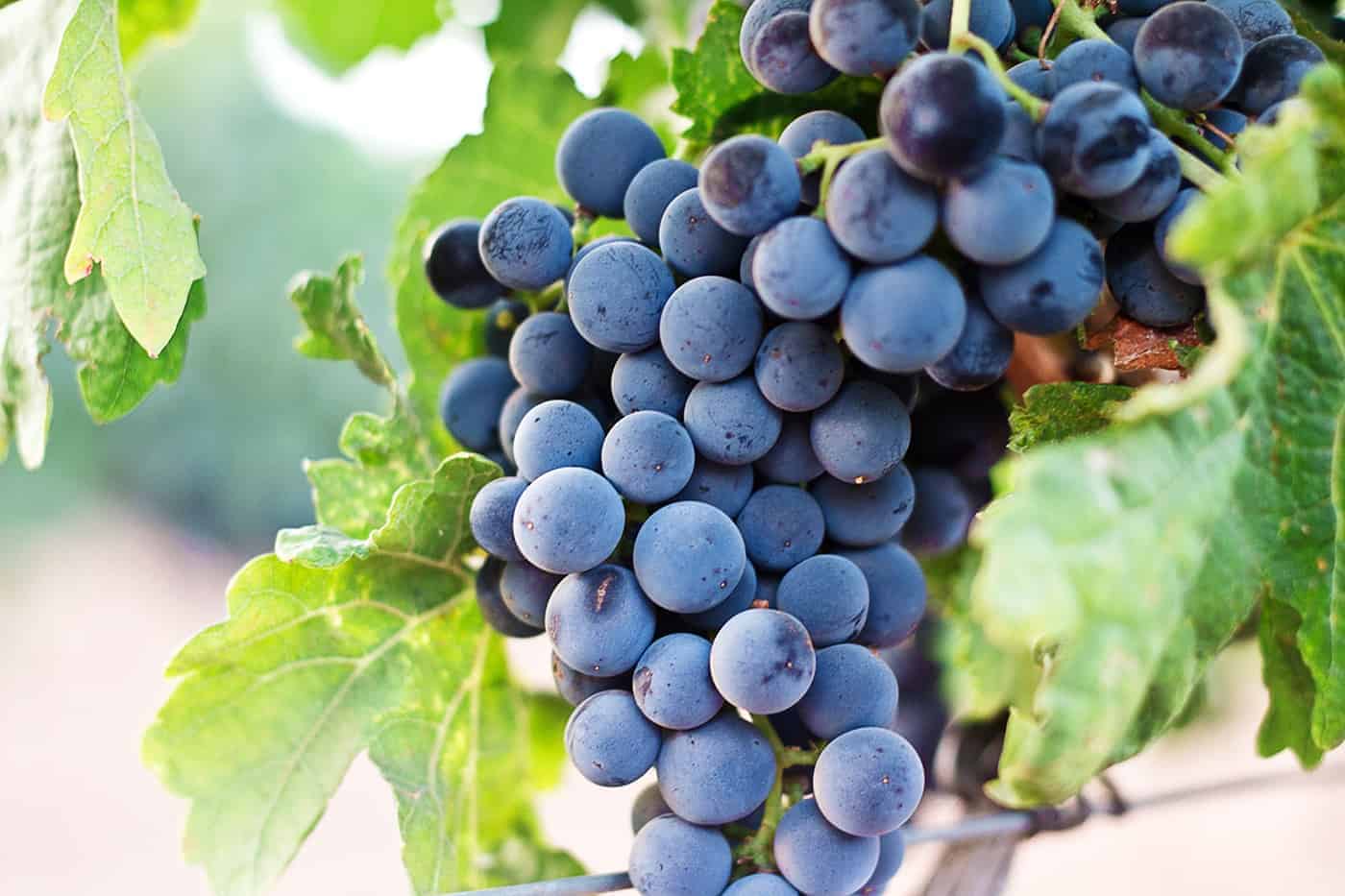 Salice Salentino Rosso
Don't let the word "value" stop you from trying and enjoying Salice Salentino Rosso. The generally low price tag of this red wine is not a reflection on its quality or complexity. In fact, Salice Salentino is one of the most popular wines from Puglia and is widely available. It's named after the Salento Peninsula, the heel of Italy's boot, where the diverse clay-limestone soils and dry climate produce high-quality wines.
Salice Salentino is made almost entirely from the Negroamaro grape (or else blended with Malvasia Nera), which has been grown in the region since the sixth century B.C. Negroamaro means "black bitter" in Italian, and as you might expect, Salice Salentino is full-bodied, dry, and mostly deep in color with a rim of ruby. Plum and raspberry flavors mix with notes of cinnamon and anise, creating a fruit-forward, rugged wine. We think it's so beloved because of its long history in the region, but also because of its balance — not too acidic or tannic. Salice Salentino Rosso received its DOC status in 1976, and those rules and regulations were modified in 1990 and 2010 to allow for white (Salice Salentino Bianco) and rosé (Salice Salentino Rosato) wines, although the vast majority of Salice Salentino produced is still red.
Primitivo di Manduria
Desiring dark, fruit-flavored wine? Look no further than Puglia's Primitivo di Manduria. Tasting of blueberries, blackberries, and ripe figs, Primitivo di Manduria is another full-bodied, dark red wine that pairs perfectly with the rich dishes of Southern Italy (think Puglian spit-roasted lamb). As for its moniker, Primitivo di Manduria gets its name because the Primitivo grapes ripen and gain a lot of sugar early in the season, therefore needing a premature harvest and creating robust and naturally sweet wines. From Italian, Primitivo literally translates to "early one." While there are many wines made with the Primitivo grapes, the Primitivo di Manduria DOC is made entirely with Primitivo grapes and isn't a blend. Be warned because this luscious red has an especially high alcohol by volume percentage of 14–16 percent.
Fun fact: Recent DNA research has discovered a genetic link between the Primitivo grape, the Californian Zinfindel, and the Croatian Crljenak Kasteljanski.
Verdeca wines
While Puglia is most known for its red wines, there are plenty of white varietals worth exploring — like Verdeca! Not to be confused with the Tuscan Verdea variety, Verdeca is a somewhat rare white grape grown almost entirely in the Puglia region. It's commonly utilized in vermouth production because of its neutral flavor, also it can also lean toward the herbal. Outside of vermouth, its commonly found in Pugliese blends like in the wines of the Locorotondo DOC, Martina Franca DOC, and Bianco d'Alessano. The Verdeca grape produces a wine with high acidity, minerality, citrus notes of pineapple and bergamot, as well as vegetal notes. Because of its bright characteristics and acidity, Verdeca wines are best paired with light cheeses and seafood of the region like clams and calamari.
Fun fact: José Vouillamoz, the acclaimed ampelographer (someone who studies and classifies the origin and parentage of grape varieties) believes Verdeca grapes may be the same as the Greek Lagorthi grape.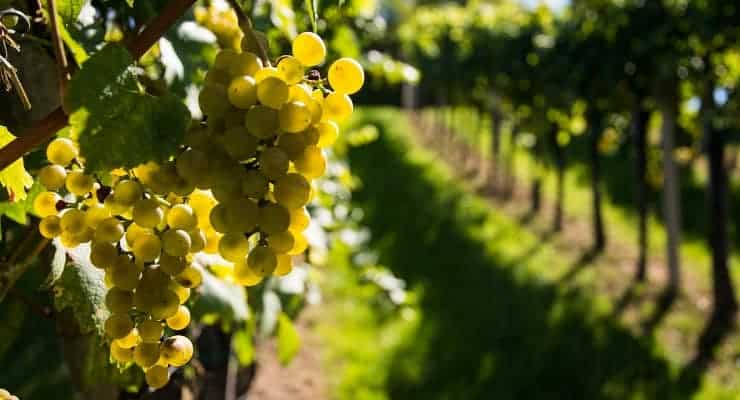 Fiano
We'd be hard-pressed to choose between Verdeca and Fiano for our favorite white wine from Puglia because they're so different. Our advice, try both. Fiano is a white-wine grape variety mostly used to make varietal wine. Fiano grapes are a little nutty and a little floral, but also have notes of fruity pineapple, honey, and some spice. Grown in the Campania and Puglia regions, Fiano vines love volcanic soils and easily take on the particular flavors of their terroir, sometimes leaning toward the mineral, sometimes toward the nutty. The traditional name of the Fiano grape is "Vitis apiana," meaning "the vine beloved of bees" in Latin, and this is because its sweetness often attracts bees. The history of Fiano grapes in these regions is long, with the first mention of the grape dating back to the 13th century. Most of the Fiano vines were lost in the 19th century when the phylloxera crisis destroyed many vineyards in Europe, but thankfully, this grape variety was rediscovered and championed in the 1970s.
Uva di Troia wines
Uva di Troia, Nero di Troia, Sumarello, Troiano — if you can believe it, these are all names for the same grape. Found only in Puglia, Uva di Troia is an ancient grape (hence the many historical names it has gone by) that is purple-skinned. This variety is named after the town of Troia in Puglia, and it produces large, thick-skinned clusters of grapes. Wines made from Uva di Troia grapes are structured and tannic due to the thick skins of the grapes. When tasting these full-bodied wines, take note of the dark berry flavors, like cherry and raspberry, as well as more complex notes of licorice. Uva di Troia can be found in both single-varietal wines and blends, most often in combination with Sangiovese, Bombino Nero, and Montepulciano grapes. Uva di Troia grapes are rarely grown outside of Puglia, probably because they can be so difficult to grow. These vines love the heat of the Mediterranean climate, making Puglia their perfect home. Pair a Uva di Troia wine with aged cheeses for a memorable afternoon snack.