Top 5 Tastes: Northern Italy
Home to the King of Cheeses, cured meats, and varying landscapes, Northern Italy is the perfect place to relax and indulge. Large and historic cities dot the northern part of the boot, including terracotta-colored Bologna, Genoa, Milan, Turin, and Venice. Smaller, but still famous, cities include Modena, Parma, and Verona.
While influences and cuisine vary from town to town, you'll find many similarities across Northern Italy, including a love of white wine, stuffed pastas, and rich meats. While this may not be the healthiest cuisine, it's definitely flavorful. In fact, the city of Bologna is known as "La Dotta," meaning the fat one. Read on to learn about our Top 5 Tastes of Northern Italy.
1. Parmigiano-Reggiano Cheese
Parmigiano-Reggiano cheese is called the "King of Cheeses." It's a hard, unpasteurized, cow's milk cheese coming from the Italian provinces of Parma, Reggio Emilia, Modena, Bologna, and Mantua.
Throughout the world, and especially in the United States, many people refer to Parmigiano-Reggiano, or any similar cheese, as Parmesan. However, this generic term is prohibited by European law from being used on cheeses traded in the European Economic Area. Why? In Italy, products are regulated to preserve their authentic ingredients and production methods. These regulations are known as protected designation of origin (PDO) products, which is a certification given to Parmigiano-Reggiano cheese. Its PDO status stipulates that authentic Parmigiano-Reggiano cheese can only come from one of the five provinces listed above.
One of the reasons why Parmigiano-Reggiano is so popular in Northern Italy is because of its variety of uses. It's perfect shaved over pasta, grated over salads, cut into chunks and eaten on its own, or added to soups, risottos, or polenta dishes. Nearly whatever Northern Italian dish you make will be better by this strong, nutty cheese.
2. Polenta
There are two ways to prepare plain polenta and both are great. Polenta is made from boiled cornmeal, which can be kept hot and stirred into a porridge-like consistency or left to cool and formed into a loaf, of which slices can be fried or baked. Before the European exploration of North America, polenta wasn't eaten in Italy because there was no maize. Instead, similar porridge-like meal was made out of finely-ground spelt, chestnuts, or farro. Once maize was introduced to Italy, polenta quickly became a staple in peasant cuisine. Today, polenta is enjoyed widely throughout the world. In Northern Italy, it can be prepared simply with butter and cheese or served with fish from Lake Como or Lake Garda.
3. Stuffed Pastas
While all sorts of pastas are enjoyed in Northern Italy, stuffed pastas rule. Tortellini, larger tortelloni, casoncelli, and ravioli are just some of the delicious stuffed pasta shapes that were first created and are now widely enjoyed throughout this northern region.
Tortellini: This adorable pasta has many nicknames relating to its shape, from "navel" to "love knot." Typically, it's filled with either meat (prosciutto) or cheese and can be served in a simple broth or covered in a variety of sauces. Learn more in our Journal entry, "A Taste of Northern Italy: Tortellini."
Tortelloni: You can think of tortelloni as the larger brother of tortellini. Tortelloni has the same "navel" shape, yet is considerably bigger and is usually filled with ricotta cheese and vegetables like mushrooms or spinach.
Casoncelli: This stuffed pasta comes from north-central Italy in the region of Lombardy. Shaped like candy in a wrapper, this delicious pasta can be stuffed with a variety of ingredients like salami, sausage, spinach, cheese, and flavored with nutmeg or garlic. Traditionally, casoncelli are served in a sauce of melted butter and sage leaves.
Ravioli: These dumplings are frequently square, but can also come in circles or half-circles. Their fillings vary widely between cities, ranging from meat to lemon rind and ricotta.
4. Ragu Bolognese
The first published recipe for Ragu Bolognese dates back to 1891 in Pellegrino Artusi's cookbook La scienza in cucina e l'arte di mangiar bene, meaning The Science of Cooking and the Art of Fine dining. Ragu Bolognese is a flavorful meat sauce, cooked over a long period of time to become thick and tender. Ingredients are simple — just onion, celery, carrot, beef, lamb, red wine, and tomatoes. In Bologna, the home of Ragu Bolognese, the only accepted way to eat this sauce is on top of tagliatelle noodles.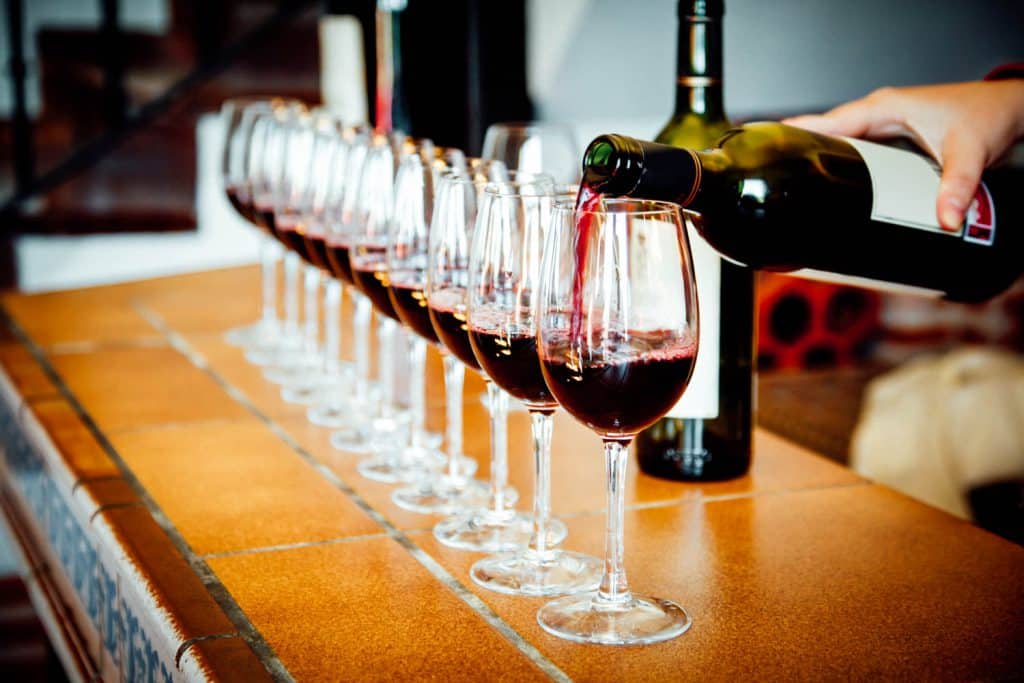 5. Amarone Wine
Amarone della Valpolicella is a dry red wine from the vineyards of Valpolicella in the province of Verona. The name "Amarone" means "the Great bitter," a name that was given to the wine to set it apart from the area's other sweeter wines. Amarone wine is made from partially-dried Corvina and Rondinella grapes, combined with 25% of other approved varietals of red grapes. The drying of the grapes usually lasts four months, increasing the flavor and color.