Venice is a Must-See in Italy: How to Spend a Day There
Venice is a city situated on a lagoon in northeastern Italy. Known as the "Queen of the Adriatic," Venice uses a canal-based transportation system, and as such, gondola boats have come to represent the inescapable romance of the city. Whether you're a foodie, photographer, history or architecture buff, Venice is a must-see in Italy.
If you only have a day to explore Venice, here are our top picks:
Rialto Bridge
Begin your day by walking towards St. Mark's Square over the Rialto Bridge, the oldest of Venice's four bridges that cross its famous canals.
Stop at the apex of the bridge and watch as water taxis pass beneath. If you have time, make sure to explore the markets on both the entrance and the exit of the bridge.
Ponte dell'Accademia, one of the other bridges that cross the canals, is right by the Gallerie dell'Accademia, and it's also worth stopping by for the view.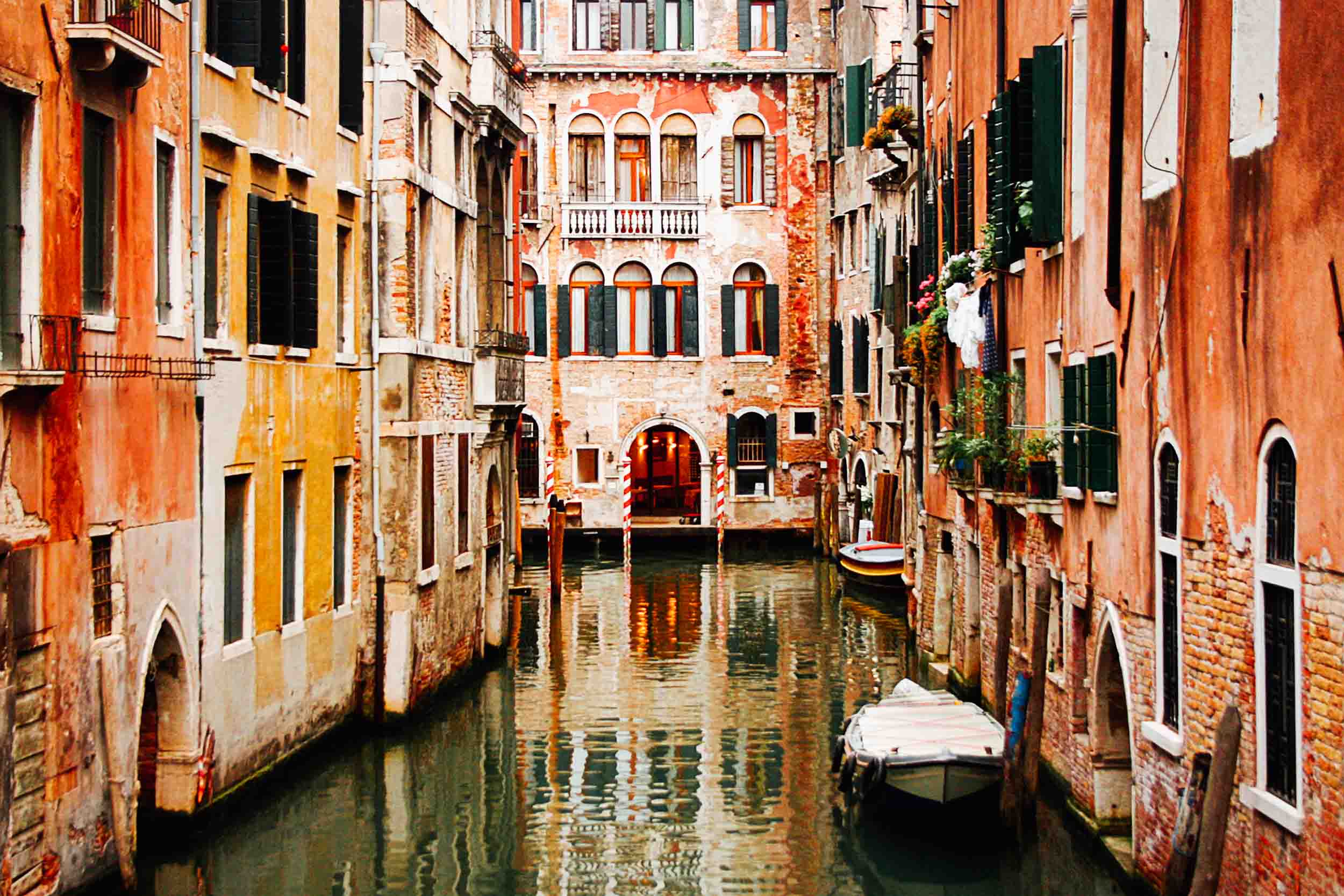 St. Mark's Square (Piazza San Marco)
St. Mark's Square, or "Piazza San Marco," is a good place to start the day in Venice since you can check off several stops at once.
Known by Napoleon as "the drawing room of Europe," St. Mark's Square is open 24/7 and free of charge. It's surrounded by cafes and restaurants, the most famous of which are Cafe Florian, Gran Coffee Quadri, and Harry's Bar. Make sure to get a Bellini at Harry's Bar. Sitting on the square is expensive, so prepare to pay for the opportunity. When eating, make sure to try cichetti (Venetian tapas).
Feeding pigeons used to be common practice until the Venetian government forbade grain vendors from selling in the square, but some people still come out and feed pigeons. St. Mark's Basilica, the San Marco Campanile, a library, and several museums surround the pedestrian square.
St. Mark's Basilica is a giant, ornate church with Islamic, Western European, and Byzantine architecture. Gold mosaics cover the interior walls, and religious artifacts are available for viewing.
The San Marco Campanile is a 323-foot-tall bell tower with 5 bells and offers a stunning bird's-eye view of Venice. Galileo used it as a makeshift observatory in 1609.
If you want to do some further exploration, buy a San Marco Square Museum Pass and you'll be able to visit Doge's Palace, Museo Correr, Archaeological Museum, and the Biblioteca Nazionale Marciana.
Scala Contarini del Bovolo
Also nearby in the San Marco sestiere is the Scala Contarini del Bovolo, or "Contarini Snail Stairs." The circular Contarini Stairs made a winding shape like a snail's shell. The imagery became so entwined with the stairs that they became known as the Contarini Snail Stairs. "Del bovolo" ("of the snail") became synonymous with the Contarini name.
Riva degli Schiavoni
Riva degli Schiavoni is a walkway that extends along the Venetian waterfront and is a wonderful place to take in the sunrise or sunset after exploring St Mark's Square. Many tourists disembark from ferries and cruise ships here, which removes a bit of the romance, so you have to time your stroll.
Following the path past Doge's Palace (Palazzo Ducale) and you'll find the Bridge of Sighs. It is a small arch made of white limestone suspended above the canal used to transport prisoners in previous centuries.
Legend has it that the view through the barred windows of the arch was the last view the convicted would have of Venice before entering their cells, which is why Lord Byron coined it the Bridge of Sighs.
Gondola ride
This is a very touristy thing to do, but gondola rides are an iconic part of the Venice experience. Gondolas are long, thin, flat-bottomed boats owned, built, and maintained by their uniformed gondolier, who is usually the person steering the boat. Families pass down the trade patrilineally.
Locals take vaporetti, or water taxis, when navigating the Venetian canals, so a true Venetian experience might be to pay €7.50 for a vaporetto ride to get where you need to go ("Vaporetto" is the singular form of "vaporetti"). However, a wooden gondola ride is a good investment at least once to experience how elite Venetians commuted throughout the city for centuries.
Once the main mode of transportation, the number of gondolas has dwindled from 10,000 to 500 in the present day. Tourism has kept gondola usage alive. Prices depend on the time of day, the length of the ride, and the number of people in your party, so be sure to check online before you go. Rides usually range between a €80 – €100 flat fee for a 40-minute ride for up to six people.
Island Hopping
Islands surround Venice, and three outstanding options worth visiting are Murano, Torcello, and Burano. If you have a short amount of time to explore, stay in Venice, but if you're less concerned with museums and more concerned with experiences, visiting the lagoon islands is a surefire way to dive into Venetian culture.
Catch a vaporetto to Murano, the glass making island outside of Venice. For centuries, Venice has been a nexus for artists, especially glassblowers. After several very damaging fires caused by glassmaking studios, the city of Venice relocated the glassmakers to the island of Murano, which is full of glassmakers to this day.
When you exit the boat, you'll have two options: one is to partake in a factory tour, where you can watch glassmakers create their art and buy to your heart's content, and the other is to travel down the main street and explore more of the island.
Once you've satiated your curiosity, travel back and ride a vaporetto to Torcello, where you can view outstanding mosaics at Cathedral of Santa Maria Dell'Assunta. Particularly popular is the mosaic known as The Last Judgement.
This is a good stop for ghost enthusiasts, as a bad case of malaria swept through the city and decimated or forced out much of the population. Much of the infrastructure fell into disrepair in the following years, but there's still a lot to see.
From there, catch another vaporetto to Burano, an island filled with bright, painted houses and winding canals packed with fishing boats. Snag some Venetian butter cookies (Bussolai Buranei) and get lost in the vivid alleyways.
This island is perfect for amateur and professional photographers alike. Burano subsists on fishing and lace handicrafts, so once you're done taking photos you can wander the markets looking for food and souvenirs. If you're so inclined, arrange a tour of a lace-making workshop.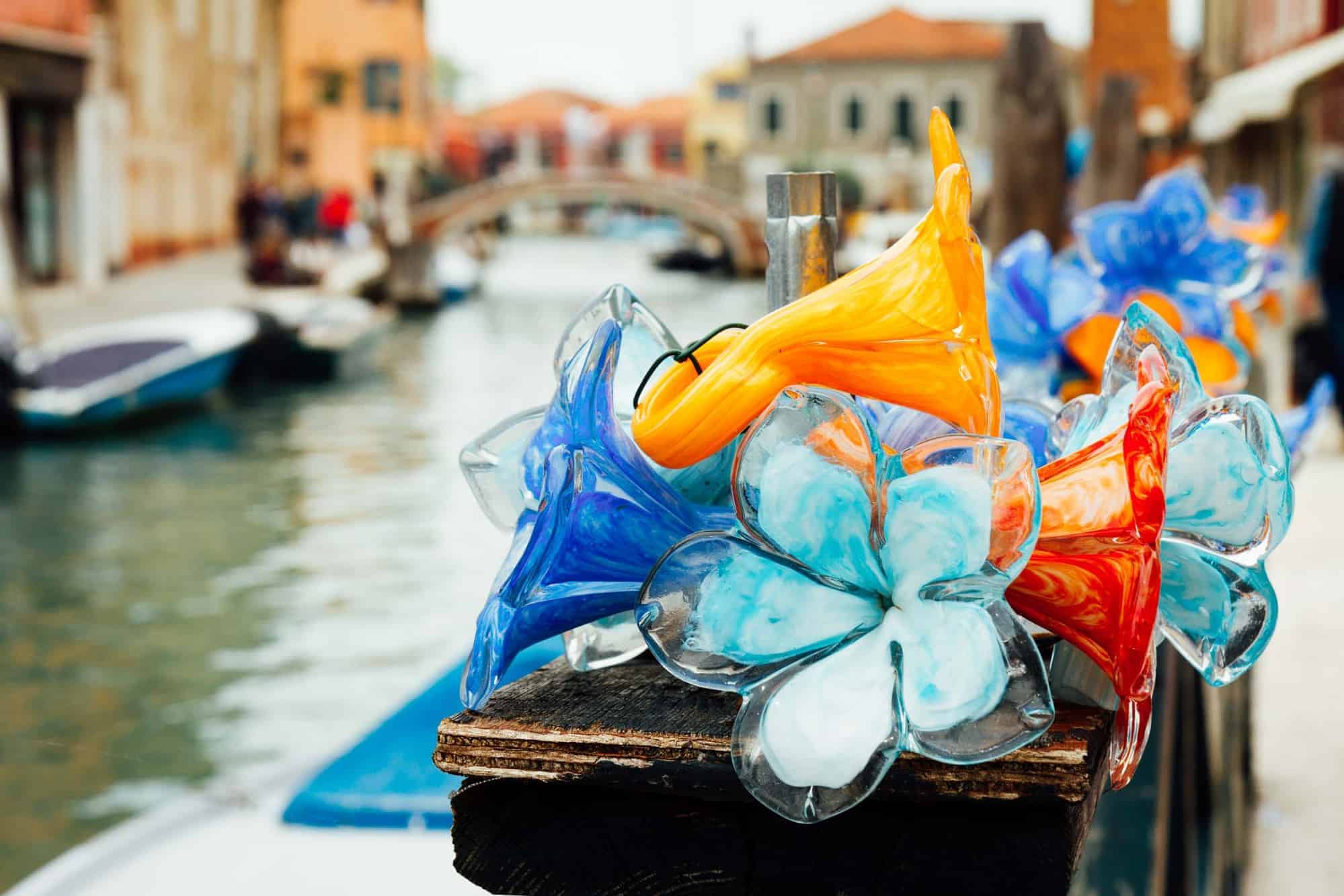 Learn more about trips with Experi