Visit Colmar – The Capital of Alsatian Wine
What do you think when you hear "capitale des vins d'Alsace," meaning the capital of Alsatian wine? You might guess we're talking about charming Strasbourg, or perhaps even Mulhouse to the south. But in the eastern France region of Alsace, only Colmar holds this unofficial yet respected title. Although Colmar has only one-fourth the population of Strasbourg and has the feel of a country-city, its influence and excellence in the wine world are famous. With its many fruitful vineyards, world-renowned winemakers, authority in wine-regulating organizations, and plenty of Alsatian wine events and festivals, it's no wonder why Colmar is considered the capital of Alsatian wines.
And on top of Colmar's viticulture, the 25 square miles of Colmar are packed with signs of its long history. Colmar has seen many battles and wars since it was founded in the ninth century, yet the Old Town has remained surprisingly well-preserved. Whether you're concentrating on Alsatian wine education (and tasting) or visiting to view the many fountains, stately churches, and Renaissance-era houses, there is plenty to see, do, taste, and learn while in Colmar, France. Read on to learn more about why Colmar is a powerhouse in the Alsatian wine world and what local wines you shouldn't miss on your tasting!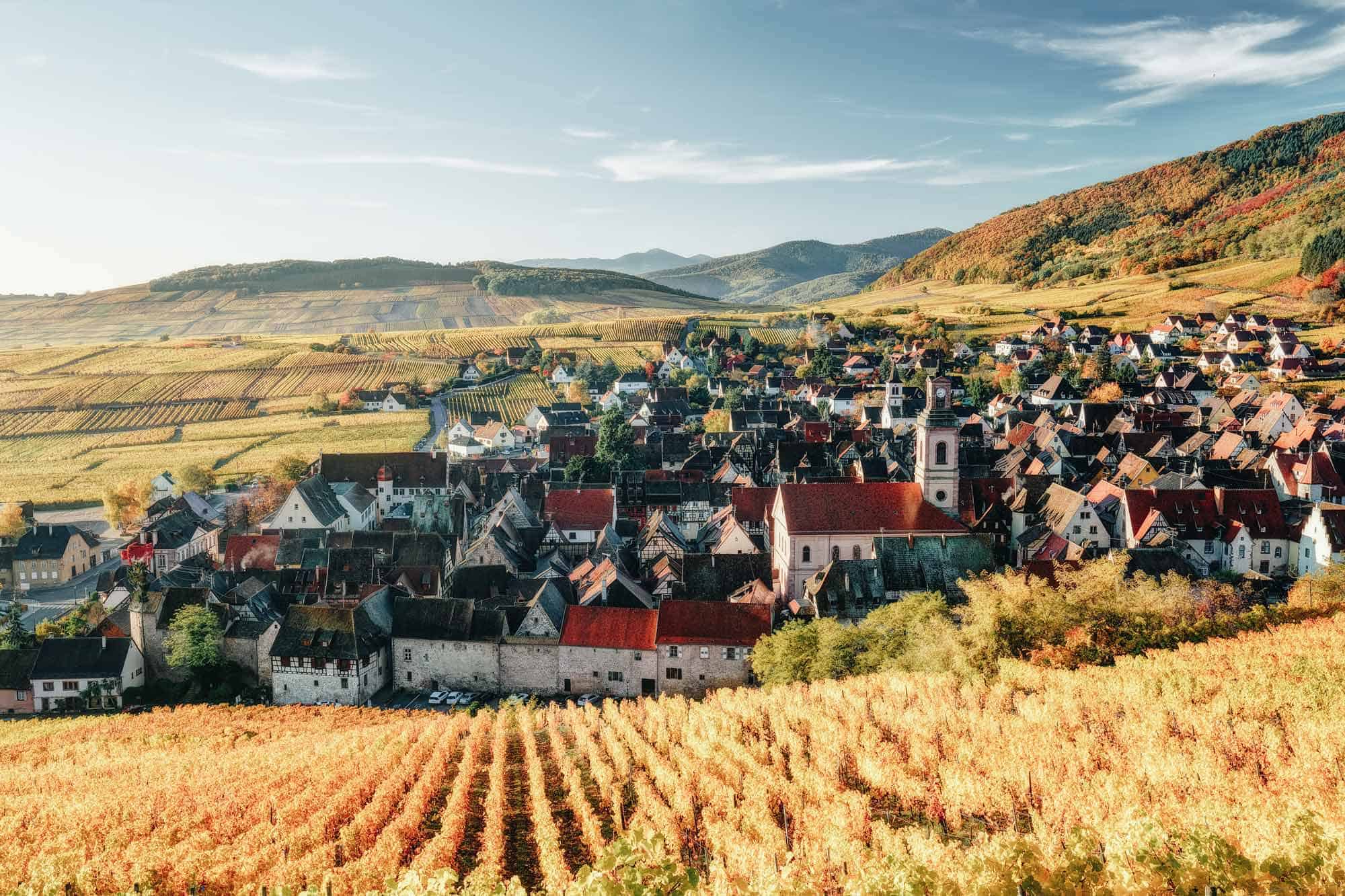 Power and influence in the wine world
Colmar's excellence and involvement in the Alsatian wine world is varied, and there are many reasons why this smaller city has overtaken the region's largest when it comes to influence. Colmar gets its grand title from a confluence of lucky circumstances. As Alsatian winemaker Pierre Bouard puts it, "Colmar assumed this role because of its history, geographic position, and its central yet border location. It is just a natural consequence that all of the institutions are in Colmar."
Colmar has a long history of wine production and export. Since the Middle Ages, the city shipped its famous white wines from the Horbourg-Wihr port to other cities all throughout Europe and gained popularity and prestige along the way. And within France, Colmar is situated on the Alsatian Wine Route, or "Route des Vins d'Alsace," which is the oldest wine trail in France that passes through 67 wine producing communes, towns, and cities. With so many visitors following the Alsatian trail every year and stopping to taste the extra special varietals produced in centrally located Colmar, it only made sense for several wine-regulating organizations to call it home.
The National Institute of Appellations d'Origine (INAO) in Alsace makes decisions about trading and marketing laws in the wine business and is based in Colmar. The same is true for the Alsatian Wine Commission (CIVA), an organization that unifies the many individual winegrowers and traders throughout the whole region. That the INAO and CIVA are located in Colmar means the city plays a huge role in making decisions about the future of Alsatian winemaking as well as  setting new trends, such as the more recent shift from producing sweeter wines to the the drier ones produced several decades ago. If you want to learn about the history and future of Alsatian wine, you really have to head to Colmar.
The seven Alsatian grapes
Why are grapes grown in Colmar extra special? The climate! Colmar has an especially dry, sunny microclimate. With yearly rain averaging just 23 inches, it's one of the driest places in all of France and therefore perfect for growing Alsatian wine grapes.
When it comes to the wines of Alsace, expect white because 91 percent of the more than 150 million bottles produced annually in the region are just that. You won't ever be confused about whether or not a bottle comes from Alsace because Alsatian wines are required by AOC rules to be bottled in an exclusive tapered bottle shape called the "flûtes d'Alsace."
The AOC, or "Appellation d'Origine Contrôlée," divides Alsace into its varying wine regions. Of the nearly 38,000 acres of vineyards spread across 119 villages in the region, there are only three major AOCs: AOC Alsace, AOC Alsace Grand Cru, and AOC Crémant d'Alsace. Of these three, a staggering 78 percent of wine is produced in the AOC Alsace wine region, which are mainly white still wines.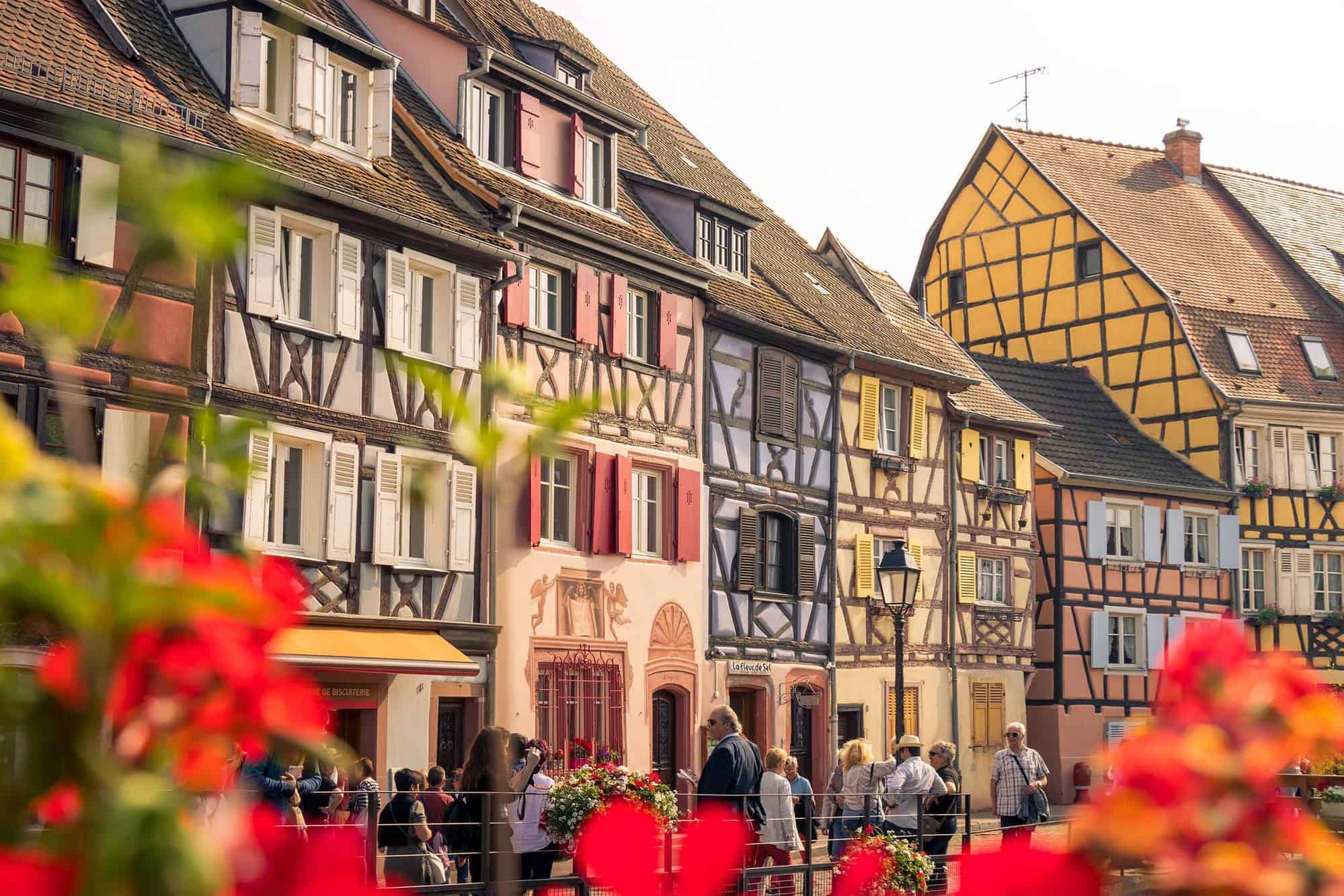 So what are the special grape varietals used to make these delicious Alsatian wines? There are seven main grapes grown here: Riesling, Pinot Blanc, Gewurztraminer, Pinot Gris, Pinot Noir (the only red), Sylvaner, and Muscat d'Alsace. In Colmar, there are plenty of opportunities to enjoy tastings, whether you're touring a local winery, hopping between winstubs, or attending one of the city's wine events, such as the largest Alsatian wine fair called "Foire aux vins d'Alsace" that Colmar has hosted annually 1947. 
Other highlights in Colmar
While it's easy to get drawn into the world of Alsatian wine, there are also many other famous and historical monuments, architectural marvels, and museums worth taking a break from wine tasting to see. Here are a few of our favorites:
Old Town and St. Martin's Church: It's surprising just how well-preserved the architecture and cobblestone streets of Colmar's Old Town are considering the number of battles and wars it's seen, including the French Revolution and both World Wars. When you journey into the Old Town, you'll be able to feel the passage of time as you walk the narrow streets amid quintessential Alsatian half-timbered houses. When the streets finally open onto a large square, the Place de la Cathedrale, you'll be able to see the Eglise Saint-Martin. This is the largest church in Colmar, dating back to the 13th century.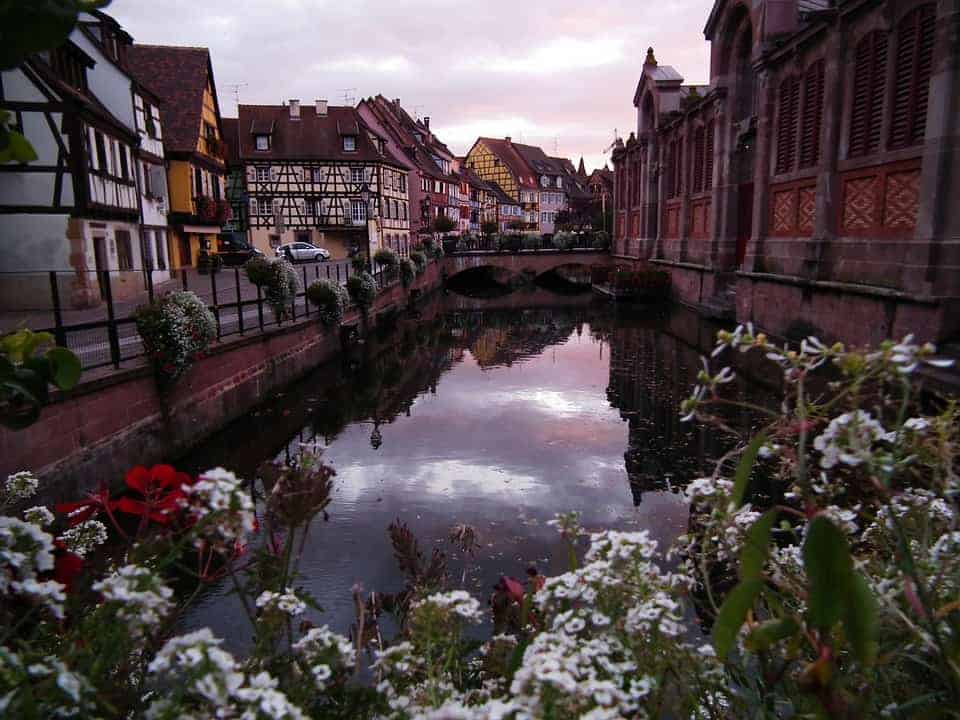 La Petite Venise: The neighborhood called "Quartier de la Krutenau" goes by another name as well, "La Petite Venise," or Little Venice. If you're picturing canals, you'd have the right idea. Colmar's Little Venice is bisected by the Lauch River canal where travelers take in canal-adjacent restaurants and willow trees as they enjoy a ride down the water. Plenty of foot bridges along the canal provide the perfect views for photo-taking.
Bartholdi Museum: You probably know of Frederic-Auguste Bartholdi's most famous sculpture: the Statue of Liberty. So why not visit the Bartholdi Museum to learn more about the life and work of this famous Colmar resident. In the three-story museum, you'll find sketches for the Statue of Liberty as well as many large-scale sculptures and fountains. There's plenty to see from this prolific sculptor's 50 years of work.