Discover Sicily's Ancient City of Naxos
Sicily screams summer travel, with its hours and hours of sun, nearly 1,000 miles of coastline along the Tyrrhenian, Mediterranean, and Ionian Seas, groves of plump lemons, and delicious street food to keep you satiated while wandering the sundrenched cities and towns. Chances are you're more familiar with Sicily's western side of the island, home to Palermo (Sicily's largest city and capital). But there's so much to see, do, taste, and learn about on the eastern coast of Sicily — a place that has enchanted us. 
Here you'll find the active stratovolcano of Mt. Etna, large cities like Catania, and smaller ones like the ancient city of Naxos that has lived a more recent life as a quiet fishing village and is a bustling seaside resort town today. We love this eastern stretch of coastal Sicily and can't wait to share it with you. Read on to learn why we love Naxos, some Greek mythology surrounding its name, and where you can eat while taking in views of the Ionian Sea. 
Need more Sicily inspiration? Don't forget to check out our guide to Sicilian wine. Now, onto Naxos.
Ancient City of Naxos
Naxos was an ancient city and actually the very first Greek settlement on the island of Sicily. The city dates back to the 700s BC, when the Chalcidians founded it under the leadership of Theocles. It was located about 30 miles north of modern day Catania and only 5 miles south of Taormina, then called Tauromenium. It's believed some native Naxians (from the Greek island in the Aegean Sea) were involved in its founding and used their homeland's name as inspiration for their new Sicilian colony. But we'll get into the mythology of the name later.
Founders of the Sicilian Naxos also created other settlements on the island, including Catana and Leontini. However, the city of Naxos and their leaders were later destroyed in the year 403 by Dionysius I of Syracuse, a major enemy of Naxos, after decades of feuding. Today, only small traces of the ancient Naxos city walls can be found in Sicily, but you can learn even more by visiting the Museum and Archaeological Area of ​​Naxos.
The city's namesake: a mythic island
The ancient city of Naxos in Sicily takes its name from the Greek island of Naxos, located within the Aegean Sea. This island is deeply rooted in Greek mythology and cited often. Different versions of its mythic history exist, but all point to Zeus. Some accounts cite the island of Naxos as the birthplace of Zeus, king of the Greek gods, while others describe Naxos as the place where Zeus was raised as a boy. Some myth versions say the inhabitants of Naxos named the tallest mountain on the island after Zeus, calling it Mt. Zas. And while some stories say Cyclopes gave Zeus his famous thunderbolt, others describe an eagle, living on the very top of Mt. Zas, as the gifter of Zeus' thunderbolt. As you can see, the name Naxos is steeped in historical myth, and only adds to the intrigue of Sicily's early Greek colony.
The modern seaside resort of Giardini Naxos
Today, the town of Giardini Naxos can be found nearly on top of the ancient city of Naxos. Giardini Naxos has a lucky location, situated right on the Ionian Sea with a little bay between Cape Schisò and Cape Taormina. For many decades, Giardini Naxos was a quaint and peaceful fishing village, and while it's still on the sleepy side, it's been a seaside resort town since the 1970s. With pristine beaches, pizzerias, local history, and Mt. Etna nearby, it's no wonder why it's become an east Sicily travel destination.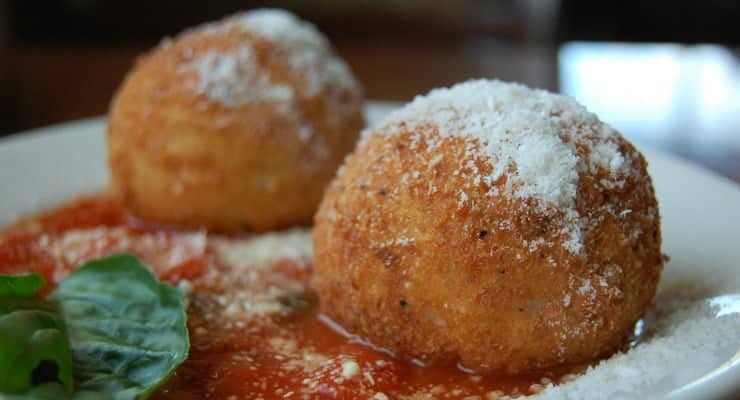 Where to eat
For the most delicious fried dish you've ever had, head over to the unassuming Al Vicolo Dei Capricci. Here you'll find the famous arancini — rice balls filled with mozzarella cheese, peas, and tomato sauce, coated in breadcrumbs and deep fried. We also love the local wine bar 'A Putia, known for their fresh seafood, traditional pizza, and Sicilian wines. To satisfy your sweet tooth, don't forget about Antica Pasticceria Salamone, a local cafe with amazing cannoli. 
What to do and see
A trip to Giardini Naxos would be incomplete without a stop at the Museum and Archaeological Area of ​​Naxos to learn all about the area's ancient past. Other monuments of note are the gorgeous local church called Chiesa di Santa Maria Raccomandata, the fortress of Castello di Schisò, as well as the Vignazza Tower, which helped protect the bay from pirates.
Other nearby landmarks
One of the advantages of traveling to Giardini Naxos is it's proximity to so many other amazing Sicialian sites. From visiting other quaint cities and towns, viewing archaeological landmarks, and taking in the natural beauty of the land and sea, plan on having some full days. Here are some of our favorite spots in the area.
Mt. Etna
The famous Sicilian active stratovolcano of Mt. Etna can certainly lend you some grand views. Even when its erupting, expert guides can take you on tours. Helicopter rides are another option for seeing this giant in action. And don't forget to explore the local wineries such as Planeta Winery which grows Nerello and Carricante vines on Mt. Etna's northern slope.
Taormina
With a population of just over 10,000, Taormina is small while still being full of amazing culture, history, and restaurants. This pretty hilltop town is close to plenty of beaches, but its most famous destination is the Teatro Antico di Taormina. Believed to be built by the Greeks, the ancient theater was later renovated by the Romans, and today, holds an international film, theater, and art festival called Taormina Arte.
Riposto
If you think you'll love Giardini Naxos, we think you'll enjoy Riposto too. Just 15 miles to the south, Riposto is another seaside town with an important history. The name of the town comes from the Italian word for "storage" or "ripostiglio," because Riposto was such an important importing and exporting location. The Riposto waterfront was historically dominated by warehouses full of wine and other Sicilian products, ready to be shipped to other parts of the world.