The Best of Barcelona — A Food and Wine Lover's Guide
Spain's Catalonia region in the northeast is one of the most culturally rich areas to visit, and amid this diversity is colorful Barcelona. As Catalonia's capital city, Barcelona is overflowing with artistic and creative importance and known for its vibrant and eclectic energy. This city is truly a treat for all your senses, whether its viewing iconic Gaudi-designed modernist architecture, tasting wine and small bites on a tapas bar crawl or in high-end gastronomic restaurants, touching and smelling the varied produce and herbs for sale at one of the many dozens of markets, or listening to snippets of conversations and street performers as you stroll down La Rambla, Barcelona's famous tree-lined boulevard.
Barcelona is loud with inspiration and is an exciting destination for food and wine lovers looking for the intersection of traditional cuisine and gourmet innovation. We love one of the local Spanish sayings, "La comida reposada y la cena paseada," which means after a quiet meal, go for a good long walk. We honestly couldn't think of better advice for what to do in Barcelona: eat well and explore on foot. Here are some of our suggestions for exactly what to taste while going on your flavor adventure.
Where to find the best food
Eating, drinking, and socializing are so closely tied together in the Barcelona culture that you can't really have one without the other two. And when a city is so defined by its appetite as Barcelona, you can bet there is just as much of a variety of places to eat as there are dishes. That means snacking on bites from one of the many markets, popping into staple traditional restaurants with a long history, or sitting down in newer, gastronomic restaurants with inventive young chefs. This is a place to fit any mood.
Markets
If you start counting the number of markets (and we mean big, extensive, huge food markets) there are in Barcelona, you can guess how important food is to the local community. Today, there are 39 food and four non-food markets in the city. We think this contributes so much to the atmosphere of Barcelona, making nearly every neighborhood feel indulgent and fresh.
Markets have a history dating back two thousand years in this city, but the idea of markets in permanent buildings, rather than temporary stalls, goes back to the middle of the 20th century. Since then, they have become not only a staple of the culture but a point of architectural pride. Many of the markets have recently gone through extensive renovations to pay homage to the architectural importance of the city. The Mercat de Sant Antoni, for example, was refurbished with an astonishing eighty million Euro budget. It's newly opened and features 52 food stalls with every local fruit, vegetable, meat, cheese, and seafood option imaginable, as well as something called the Encants, which is a market for clothes and flea market treasures. Learn more about the markets of Barcelona in our post, A Taste of Catalonia: Barcelona Mercat.
Neighborhood exploring
Don't let the epic variety of Barcelona's food scene overwhelm you. Instead, use the neighborhoods to your advantage. Exploring food trends by neighborhood is a great way to really get to know a large city in small bites. Many of Barcelona's neighborhoods have reputations for catering to specific tastes or speciality dishes. Take Barceloneta, a maritime district that has plenty of options if you're craving paella more than anything else. Or if you're seeking more traditional Catalan fare, we'd say the neighborhoods of Barri Gòtic or Gràcia will give you plenty of options. The Eixample area has a particularly interesting mixture of traditional restaurants and avant-garde dining, where young chefs are pushing forward with gourmet innovation and fusion.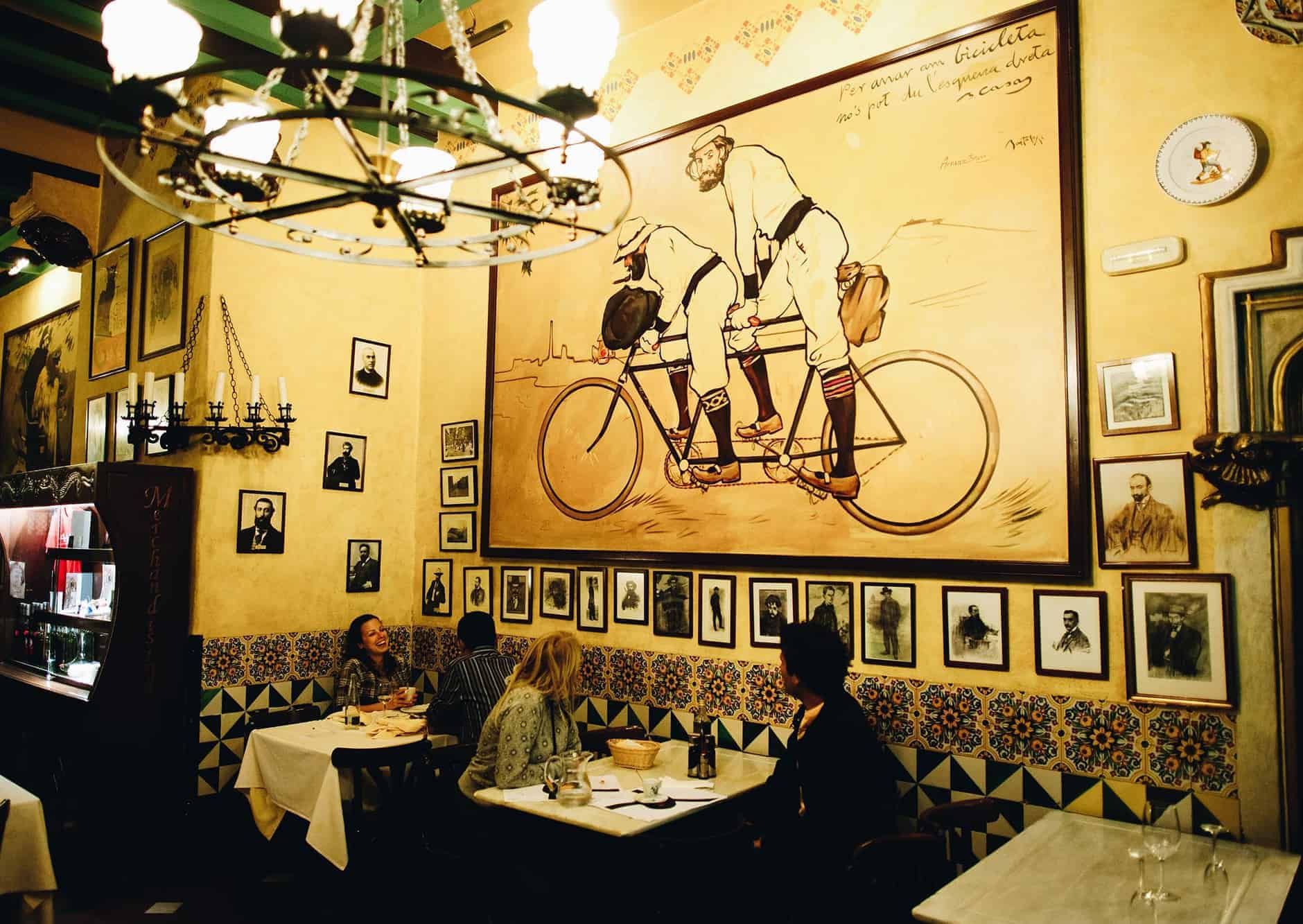 Traditional versus experiential dining
When it comes to choosing restaurants, you'll find just as much choice. You can't miss out on the authentic Catalan experience at one of the more traditional institutions. Can Culleretes (meaning "House of Spoons") is the oldest restaurant in Barcelona, open since 1786. They serve traditional regional fare like Catalan stuffed pasta called canelons and a generations-old meat and vegetable stew called escudella.
But then there's the other side to the Barcelona food scene — the creative, innovative, often fusion-based side. There are gourmet cereal cafes like El Flako and other restaurants with almost performance-like atmospheres. At SOFIA Be So, you can take part in a unique wine experience. Your sommelier will offer you several perfume bottles to choose from, and based on your favorite, will choose a wine recommendation tailored for your senses. Why not try this little bit of theater during your next tasting?
What to eat and drink
The Plates: fish, pork, tapas, and more
While there's certainly a lot of playful fusion and gastronomic invention happening in the Barcelona food scene, there are also plenty of staple ingredients and dishes that are definitive of the city and region. In Catalonia, you can't escape the presence of seafood, pork, and tapas in the everyday diet.
Being a coastal region, Catalan cuisine is very inspired by the Mediterranean Sea and flavors. Think lots of boiled fish, olive oil, hearty vegetables, legumes, and, when it comes to pork, ham, ham, and more ham. The Spanish Jamón ibérico and Jamón serrano are two variations on a very popular cured ham made from black Iberian pigs. There are many places in Barcelona that will offer you a ham and wine pairing, which we would recommend so you can have the chance to taste many of the pork options you may come across in the local markets.
When it comes to full meals, remember this local saying: "Desayuna mucho, come más, cena poco y vivirás." Paraphrased, it means you should eat a big breakfast, a bigger lunch, and a light dinner to live a long life. In Barcelona, lunch is definitely the largest meal of the day, involving several courses. Don't miss out on some of the most classic plates like pa amb tomàquet, a rustic bread covered in olive oil and tomato pulp or the iconic stew escudella i carn d'olla. When it comes to the evening, make sure you try a tapas bar or two for some small, flavorful bites.
Catalan wine and cocktails
To pair with all the amazing plates, snacks, bites, and flavors, you can't miss out on the sumptuous wines of Catalonia (and some cocktails, too). When it comes to wine, the sparkling cava is a must and is produced plentifully in the region. Another standout is Priorat, a dark red, almost black wine produced in southwest Catalonia. Don't forget to taste a few Tempranillo and Monastrell varietals too. Among the bounty of wine choices, you'll also find many sangria options, light beers, and cocktails. While it may surprise you, gin and tonics are super popular in Barcelona, especially interesting takes on the old classic.
Want more stories like this delivered straight to your inbox? Sign up for Experi's Food & Wine Travel newsletter to stay informed on the latest food and wine travel news and information, upcoming departures with Experi, and more. Sign up here.