A Journey Through Historic La Petite France
Amid the visual romance of Strasbourg and the greater Alsace region in northeastern France, La Petite France is a charming focal point. This historic quarter is located on the western end of Strasbourg's center island called The Grande Île. Meaning "Large Island," The Grande Île is separated from the rest of Strasbourg by the Ill River and Canal du Faux-Rempart. The entirety of the island is a UNESCO World Heritage Site and that includes the western end of La Petite France, which was historically home to tanners, millers, and fishermen back in the Middle Ages.
The vestiges of these craftspeople and workmen still remain in many of the preserved buildings, such as the Tanner's House, but today La Petite France is also a thriving destination for travelers seeking that interesting mix of French and German culture that is so indicative of Strasbourg and the Alsace region. Add in romantic canal walkways, charming half-timbered houses, Alsatian wine and cuisine, and Romanesque, Medieval, and Baroque architecture, and you have a recipe for enriching fun. Read on to get more of a taste of just how much there is to see, do, and learn about in the storied quarter of La Petite France.
A history of tanners and millers
La Petite France is an energetic tourist hub today, and it has always been a well-traveled area. This neighborhood is also called the Quartier des Tanneurs and Gerberviertel in German, both meaning "The Tanner's Quarter." In the Middle Ages, La Petite France was the neighborhood where working-class tanners, millers, and fishermen lived, making use of the canals to export their leather goods, grains, and seafood. Today you can still visit the famous Tanner's House (Maison des Tanneurs), which was the old tanner's guildhall and has been preserved since being listed as a historical monument in 1927. But this area has long been inhabited, even before tanners gave rise to the quarter's name. Proof of human development dates back to Paleolithic times, and the first textual evidence of a city is from the 12th century BC. This beautiful area of France has passed through many hands over the ages: Celts, Romans, Alemanni, Huns, and Clovis, the first king of the Franks. It certainly is one desirable spot.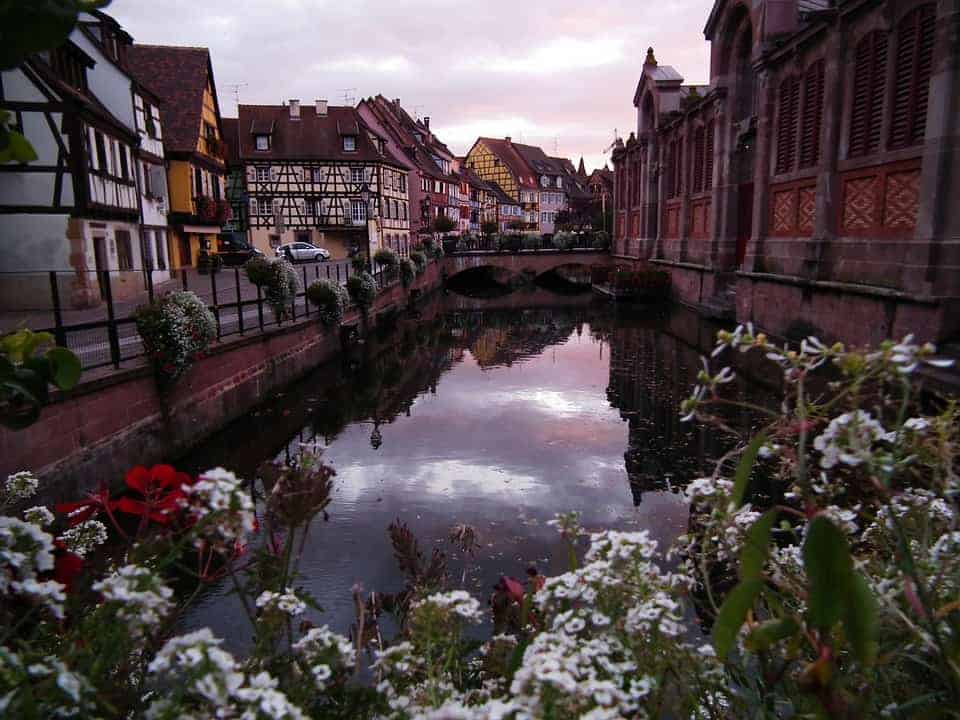 Romantic canals and half-timbered houses
The icons of La Petite France are the canals and half-timbered houses lining the water like brightly colored gingerbread houses. It's no wonder so many describe this quarter as fairytale-like and romantic, especially when the lights of the houses illuminate the canal waters at night. The steep-roofed, half-timbered houses date back to the 16th and 17th centuries when they were used as tannery shops and slaughterhouses. Now they are having a more luxurious second life as boutiques and speciality restaurants featuring Alsatian dishes. It's a joy to walk by these chalet-like buildings, whether on one of the many cobblestone streets, walking along the canals, or while on the water during a guided boat tour. The Rue du Bain-aux-Plantes is an especially picturesque street lined with many of the best examples of these half-timbered houses. As for the waters that so famously surround the Grande Île, they are the Ill River and Canal du Faux-Rempart, also called Fossé du Faux-Rempart. This canal wraps all the way around the historic center island to meet the Ill River with both ends. Thirteen bridges cross the one-mile long canal, creating perfect viewpoints for travelers and some of the best spots for photo-taking.
Must-see historic sites
In addition to the streets of half-timbered houses, there are dozens of other architecturally significant and just plain charming buildings, churches, dams, and bridges to gaze upon in La Petite France. You shouldn't miss Saint Thomas' Church, also known as Église Saint-Thomas in French and Thomaskirche in German. This five-naved hall church is nicknamed the "Protestant Cathedral" as it's the main Lutheran church in Strasbourg. There are so many aspects of Saint Thomas' Church to be impressed by, including an organ played by Mozart, tombs dating back to 1130, medieval stained glass windows, and Gothic frescoes from Jost Haller. Of course no visit to Le Petite France would be complete without viewing Le Barrage Vauban, also known as the Vauban Dam. The dam was constructed in 1690 from plans drawn by the military engineer Marshal Vauban. Le Barrage Vauban spans the width of the Ill River and, today, showcases sculptures and features a rooftop panoramic terrace for locals and travelers to look out onto La Petite France and many of the covered bridges. These covered bridges or Les Ponts Couverts have not donned their wooden roofs since the 18th century, yet their name has remained. Les Ponts Couverts are comprised of three linked bridges spanning the Ill River as well as three towers, all from the 14th century. They are truly a symbol of La Petite France and one of the most recognizable landmarks.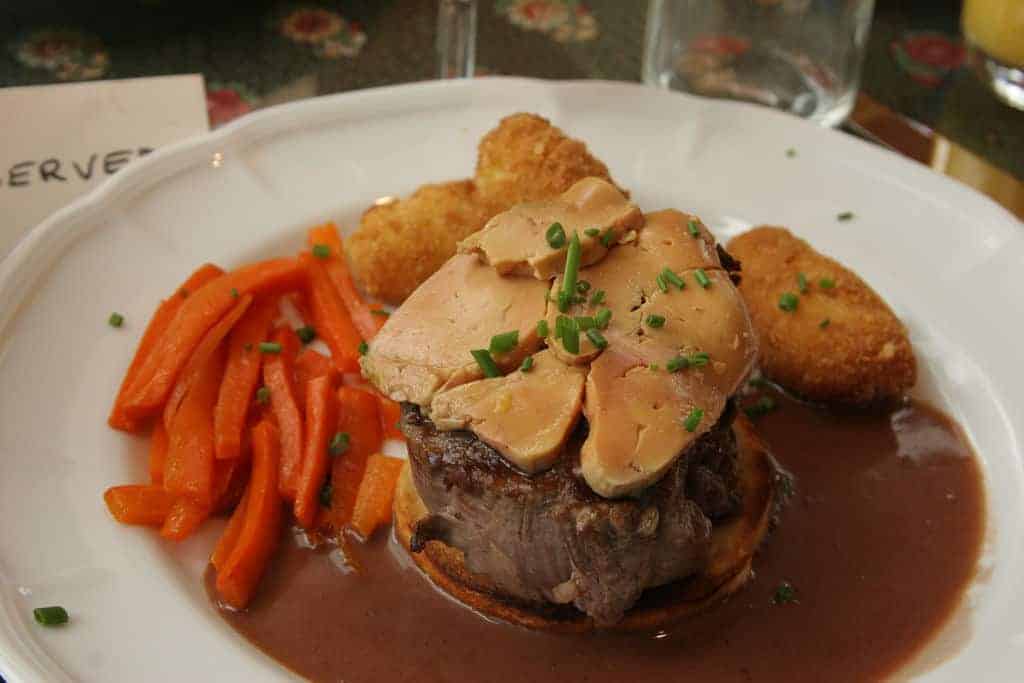 Alsatian Cuisine at local eateries
The blending of French and German cultures isn't just seen in the architecture, but also in the food you'll find throughout Strasbourg and in La Petite France. When it comes to Alsatian cuisine, think comforting, rustic ingredients, like eggs, potatoes, smoked meats, sausages, and cabbage. Cozy up with these hearty meals in a traditional winstub, or venture to one of the area's numerous Michelin-starred restaurants. There's also quite an emphasis on wine and beer. When it comes to traditional dishes, you might as well start with Choucroute garnie. The Alsatian version of German sauerkraut, Choucroute garnie is made by adding salt and juniper to shredded cabbage and fermenting it in wooden barrels. Of course there's the delicious and crispy Tarte flambee, also called Flammekueche in German. This is essentially a thin-crust flatbread topped with creme fraiche, sliced onions, and bacon. Baeckeoffe is another hearty speciality. Meaning "baker's oven," this casserole is made from white wine-marinated mutton, beef, pork, potatoes, onions, and other seasonings like leeks, thyme, and garlic. After marinating overnight, the Baeckeoffe is then slowly cooked to increase flavor and tenderness. It's often reserved as a dish for special occasions and especially for Christmas, but you can find it on the menu at local eateries. To pair with these delicious dishes, you'll probably want an Alsatian wine. Most wine you'll find available will be white, because most wines produced in the region are white (except for Pinot Noir). Riesling, Gewürztraminer, and Pinot gris will give you just a taste of the variety you could find while exploring the Alsace Wine Route, one of the most famous wine trails in France, should you venture beyond into the greater Alsace region.
Want more stories like this delivered straight to your inbox? Sign up for Experi's Food & Wine Travel newsletter to stay informed on the latest food and wine travel news and information, upcoming departures with Experi, and more. Sign up here.