5 Experiences in Puglia for Food and Wine Lovers
Some have called Puglia (or Apulia) Italy's most overlooked food and wine destination, and we think that needs to change. We're so enthusiastic about Puglia, that we want — need — to tell you about the wealth of gastronomic experiences available in this sun-bleached, beach-lined heel of Italy's boot. The region of Puglia has long been a summer vacation spot for Italians, probably because of its more than 400 miles of coastline running along the Ionian and Adriatic Seas and more than 300 days of sun each year. Here, white sand beaches are never far and are always ready for sunbathers and alfresco picnickers seated under colorful umbrellas. It's a region for the senses; salty sea breezes, tomatoes drying in the hot sun, the sound of olive harvesting in groves, the taste of full-bodied red wines, and chatter at the outdoor market in Lecce. You don't need to be Italian to enjoy this paradise, but if you are looking to experience the land, the food, the wine, and the culture like a local, you definitely can. Taking part in Puglia's long-lasting food traditions, like olive oil-making, wine-making, pasta-making, and more, can give you that tactile feel of what it means to be Pugliese.
Watch a local baker make "the best bread in the world"
Fans of bread rejoice for Puglia is home to some very famous and delicious kinds, namely Pane di Altamura and focaccia. They're so different, yet so emblematic of this region. Many Italians call Pane di Altamura the world's best bread, and we'll have to let you judge for yourself. The southeast town of Altamura is the namesake for this crusty knot, and it's been made here for centuries using the same four ingredients: just Semola di grano duro flour, natural yeast, water, and marine salt. It's the locally produced Semola di grano duro flour that really gives Pane di Altamura its famed thick crust, chewy center, yellow color, and nutty and mildly sour flavor. While watching a demonstration of how it's made, take note of how the bakers form the bread into its iconic "Priest's hat" shape. To do this, the dough is rolled into a large sphere, generously sliced with an "x" on the top, and baked to produced four high peaks.
Explore Lecce's impressive food market
Lecce is arguably one of the most important cities in Puglia because of its ancient history, location, and abundant Baroque architectural monuments that have led to its nickname: "The Florence of the South." While there's so much to see and do in Lecce, like the Church of Santa Croce and Teatro Romano di Lecce, you shouldn't pass on its impressive covered food market. While wandering through the stalls, you can chat with local farmers and producers to learn more about speciality ingredients and harvesting practices, all while taking in the colors and scents of the fruits and vegetables, regional cheeses, herbed olives, and plenty of baked goods. Lecce is the capital of the Salento region of Puglia, so you may also find some delicious Salento street snacks in and near the food market. Try Scapece Gallipolina, which are fried fish coated in breadcrumbs and saffron, or Rustico Leccese, a mozzarella and tomato pastry.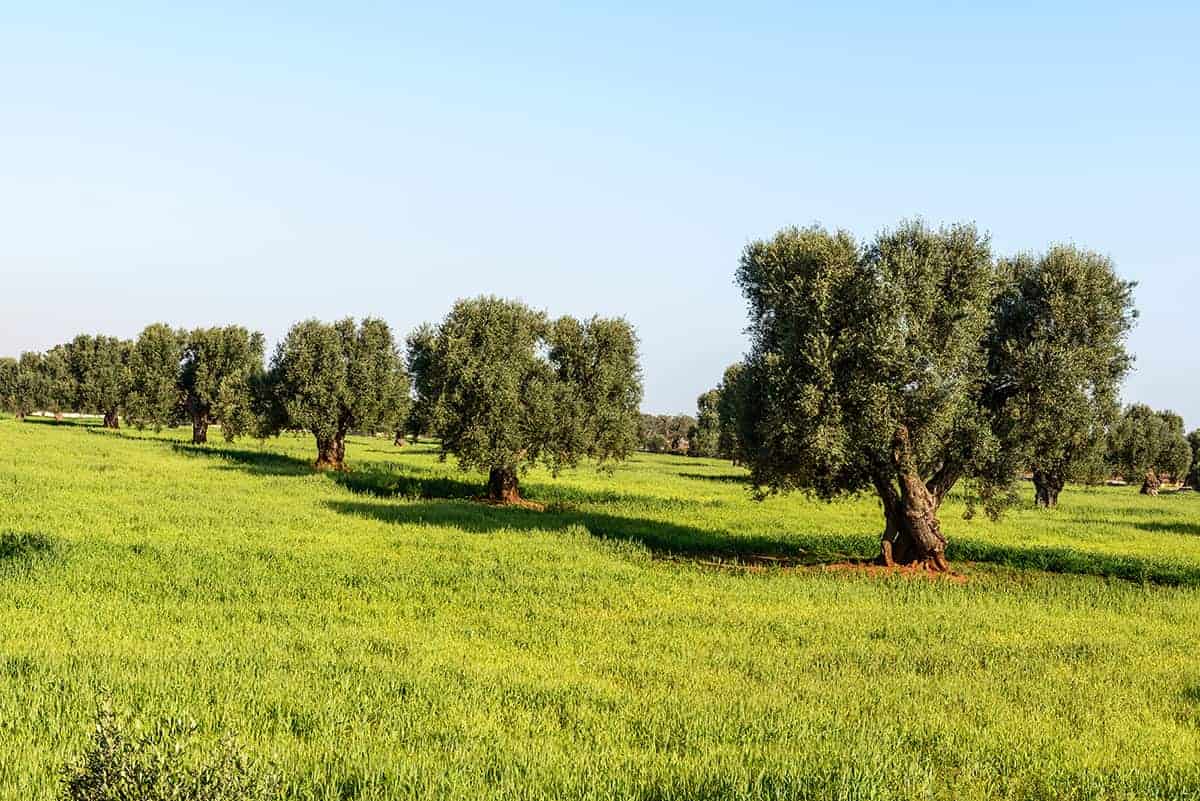 Tour an olive oil farm in Otranto
Olive oil is important in every region, city, and town in Italy, right? Of course! But it's especially significant in Puglia where the 60 million olive trees produce 40 percent of the country's olive oil. Puglia's olive oil road or La Strada dell'Olio di Puglia stretches for more than 80 miles in the province of Brindisi, winding its way through generations-owned olive groves. There are also many museum stops along the way, like Museo dell'Olio in San Vito dei Normanni and the
Olive Oil Museum in Fasano, for you to learn even more about the history and processes involved in making some of the world's best olive oils. We especially love Ostuni's oil production, where they focus on making Olio di Collina di Brindisi mostly out of fruity Ogliarola olives that have grown in Ostuni groves since Roman times. While touring one or many of these olive oil farms, you'll discover the differences between handpicked "tree" olives and "ground olives," learn about the ancient and modern presses, and have the chance to taste the oils for yourself.
Taste wine made in the heart of Valle d'Itria
Though Puglia has had a history of producing high quantities of lower-quality table wines, this is no longer the case. Now the region has a strong reputation that continues to grow. It also has a climate perfect for producing dozens of varietals and currently contains two dozen wine DOCs or Denominazione di Origine Controllata (a quality assurance label). Puglia produces 17 percent of all wine in Italy — the most of any region — so touring wineries here is a must. We love the high-quality white wines produced in the Itria Valley (or Valle d'Itria). Here, the Locorontondo DOC and Martina Franca DOC are the showstoppers. Both Loconorontondo and Martina Franca are made from a blend of Verdeca and Bianco d'Alessano grapes, creating bright and fresh wines. Locorontondo can be either still or sparkling. Why not stop in one of the many Itria Valley wineries, enjoy a tour of the ancient vineyards, meet the vintners, and taste their wines paired with fresh fish and focaccia?
Enjoy dinner inside the ancient cave city of Matera
Have you ever enjoyed a subterranean meal? You could in Matera where you'll find the Sassi di Matera, two districts that are famous for their ancient cave dwellings.The two districts are called Sasso Caveoso and Sasso Barisano, and their caves were dug out of the rock a very, very long time ago. Evidence points to humans living in the chambers around 7000 BC. These caves were built on top of each other, giving the rock an outward appearance of honeycomb. Today, many have been turned into shops, hotels, bed and breakfasts, bars, and restaurants. They're incredible to look upon and totally worth the trip as there aren't many who can say they've slept in a luxury hotel room inside a cave with limestone walls or eaten local orecchiette pasta inside the earth. When it comes to amazing dining, there are plenty of options like Osteria al Casale, which offers inventive takes on pizzas as well as simple dishes in the style of "Cucina Povera" or "peasant food." And for dessert, there's I Vizi degli Angeli, a gelateria housed in a former carpenter's studio. Owned by a husband and wife, I Vizi degli Angeli makes gelato fresh every morning and flavors them with seasonal ingredients, like lavender in the summer months. There's always room for dessert.
This just scratches the surface of the abundance of attractions and sensory delights available in Puglia. From making authentic orecchiette pasta by hand in Polignano a Mare, to touring the iconic trulli architecture of Alberobello, there are countless ways to experience Puglia.