Food lovers rejoice, Peru is finally getting the attention it deserves as a culinary powerhouse. I have a special place in my heart for Peruvian cuisine. The history, passion, land, and flavors of Peru combine to create a unique culinary story. Read on for our list of Top 5 Tastes.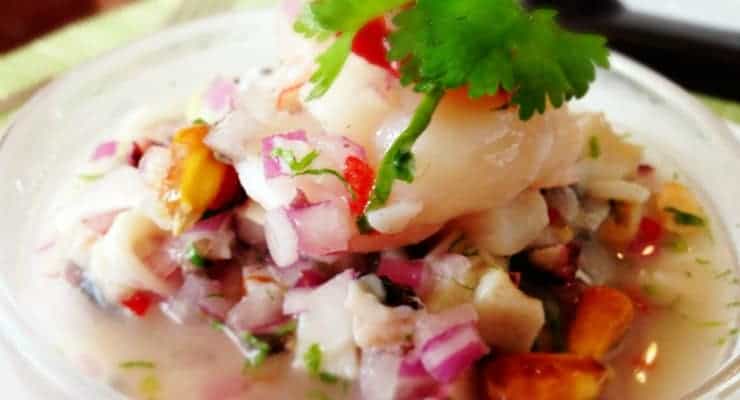 You say ceviche, I say cebiche
A simple dish packed full of flavor, cebiche is quite possibly my favorite bite from all of Peru. Made from fresh, raw fish (such as fluke, flounder or sole), red onion, aji peppers, cooked sweet potato, salt, fresh lime juice, and toasted cancha corn. There are variations beyond this, but these are the base ingredients for the cebiche clasico dish. The key to a delicious cebiche is that it MUST be made-to-order. Many people may assume that ceviches are pre-made, allowing the fish to be marinated in lime juice, but this assumption is incorrect! Go to any of the hundreds of cevicherias in Peru and you'll see for yourself the orders of cebiche being made a la minut. Read here to learn more about the history of cebiche and its origination in Peru.
Head to La Mar in Peru for the freshest and tastiest ceviche in Lima. To make at home, follow this simple recipe.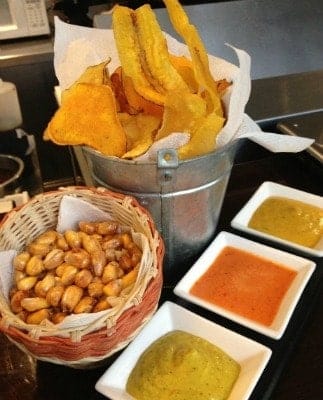 Peruvian Snacks
It may not sound like much, but Peruvian snacks are addictive! Upon sitting down in most restaurants in Peru, you'll be immediately greeted by a small bowl of cancha. These tiny morsels are a special variety of corn called maiz chulpe that have been roasted or deep-fried and tossed with salt. Reminiscent to corn nuts, they are crunchy and salty, and the perfect bar snack. I've been known to consume a few small bowls by myself while sipping pisco sours.
Chifle are fried banana chips that are topped with salt. You can find them served in restaurants along side savory aji sauces, or in markets served in plastic bags. Depending on the ripeness of the banana, the chips can take on a sweeter flavor.
Read here for a listing of more Peruvian snacks.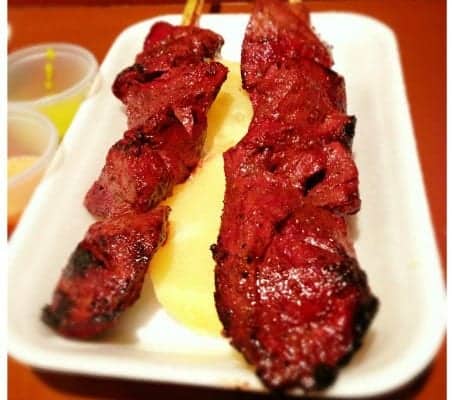 Anticuchos
Grilled, skewered meat. Need I say more? The best anticuchos are made by Grimanesa Vargas. She originally had a cult following selling the skewered beef hearts out of a sidewalk cart. These days you can find her in her own storefront. The location may have changed, but the line is still just as long. I recommend grabbing anticuchos de corazon late in the evening with a glass of beer.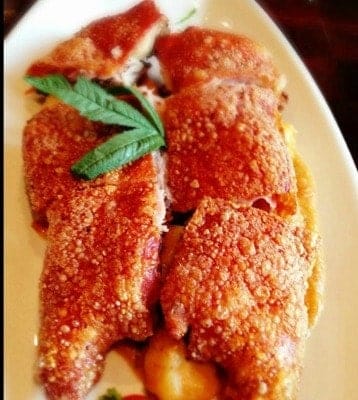 Cuy (yea, that's guinea pig)
Every country has a somewhat shocking delicacy, right? I get it, the idea of eating guinea pig may not appeal to everybody, but IF you have an adventurous palate, then I highly recommend trying it. Originally found in Peru's Andean diet, cuy has found its place on the menu of many restaurants all over Peru.
Pro-tip: Eat the deep-fried version!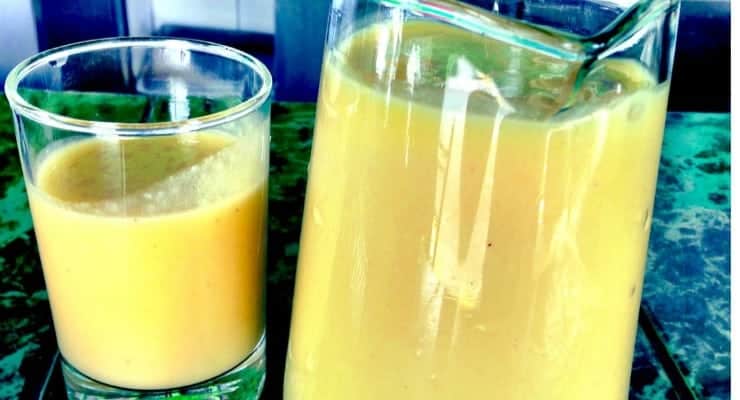 Amazonian Fruits
Chirimoya, Lucuma, Camu Camu (pictured above), and Tumbo are just a few of the interesting and exotic sound fruits that can be found in Peru's gourmet dining scene. Expertly and creatively incorporated into cocktails, juices, desserts, and sauces, Amazonian fruits cover a variety of flavor profiles. Sweet, acidic, tart, refreshing, and bitter are just some of the characteristics to experience. It's quite the treat to enjoy a freshly made Tumbo juice, knowing you are enjoying a taste of the jungle.
Learn about these exotic fruits here.
Read more about Peru's dynamic culinary scene in our Whet Your Appetite journal entry or try these Top 5 Tastes for yourself by joining us in Peru.