7 Things to See and Do in Alsace
Home to the oldest wine trail in France, cathedrals with exceptional heights, and a cuisine that melds French and German flavors, Alsace is a region of variety and charm. This region in eastern France has strong ties to Christmas (trees were first decorated for the holy holiday here), but Alsace is truly a year-long destination. Read on to learn which seven things we love to see and do while in Alsace.
View Strasbourg's breathtaking Cathédrale Notre-Dame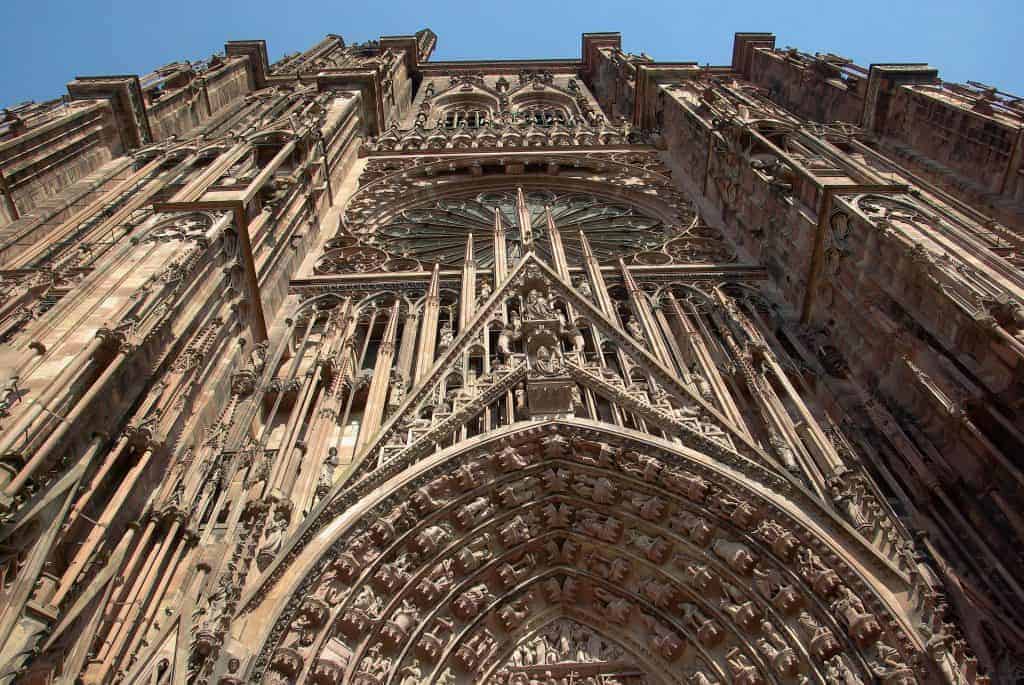 Known more commonly as the Strasbourg Cathedral, the Cathédrale Notre-Dame de Strasbourg is so iconic it can't be missed on any journey to Alsace. With a height of over 450 feet, the Strasbourg Cathedral held the title of the world's tallest building for 227 years, from 1647 to 1874. Today it's the sixth tallest church in the world and is well known for being the epitome of late Gothic architecture. The cathedral was first erected in 1015, but much of that original Romanesque-styled structure was destroyed in a fire. Reconstruction began in the 12th century as the Gothic style emerged. To tour this grand cathedral is to experience much of France's history, viewing various architectural styles and learning about the confluence of politics and religion that played such a part in France's evolution. In fact, during the Reformation in 1521 the cathedral shifted into Protestantism before turning back into a Catholic church 160 years later. There is so much history to take in within the walls of the Strasbourg Cathedral, but one of the main points of interest is the astronomical clock that was created by skilled mathematicians and technicians. The clock includes the famous orrery, which is a mechanical model of the solar system, decorated and gilded in gold.
Explore the ancient Alsatian Wine Route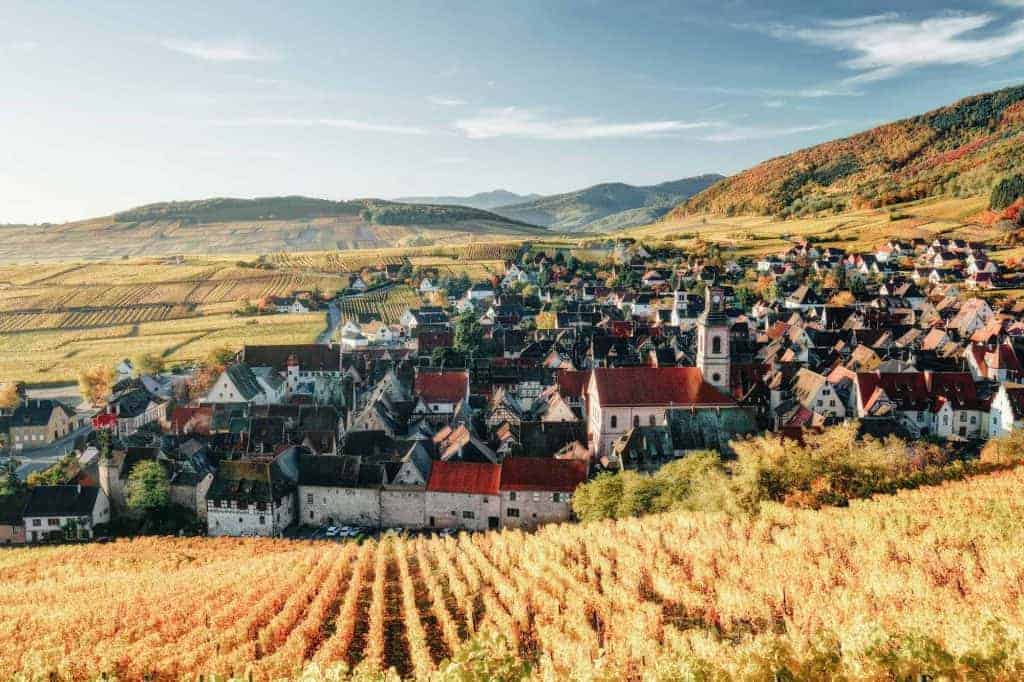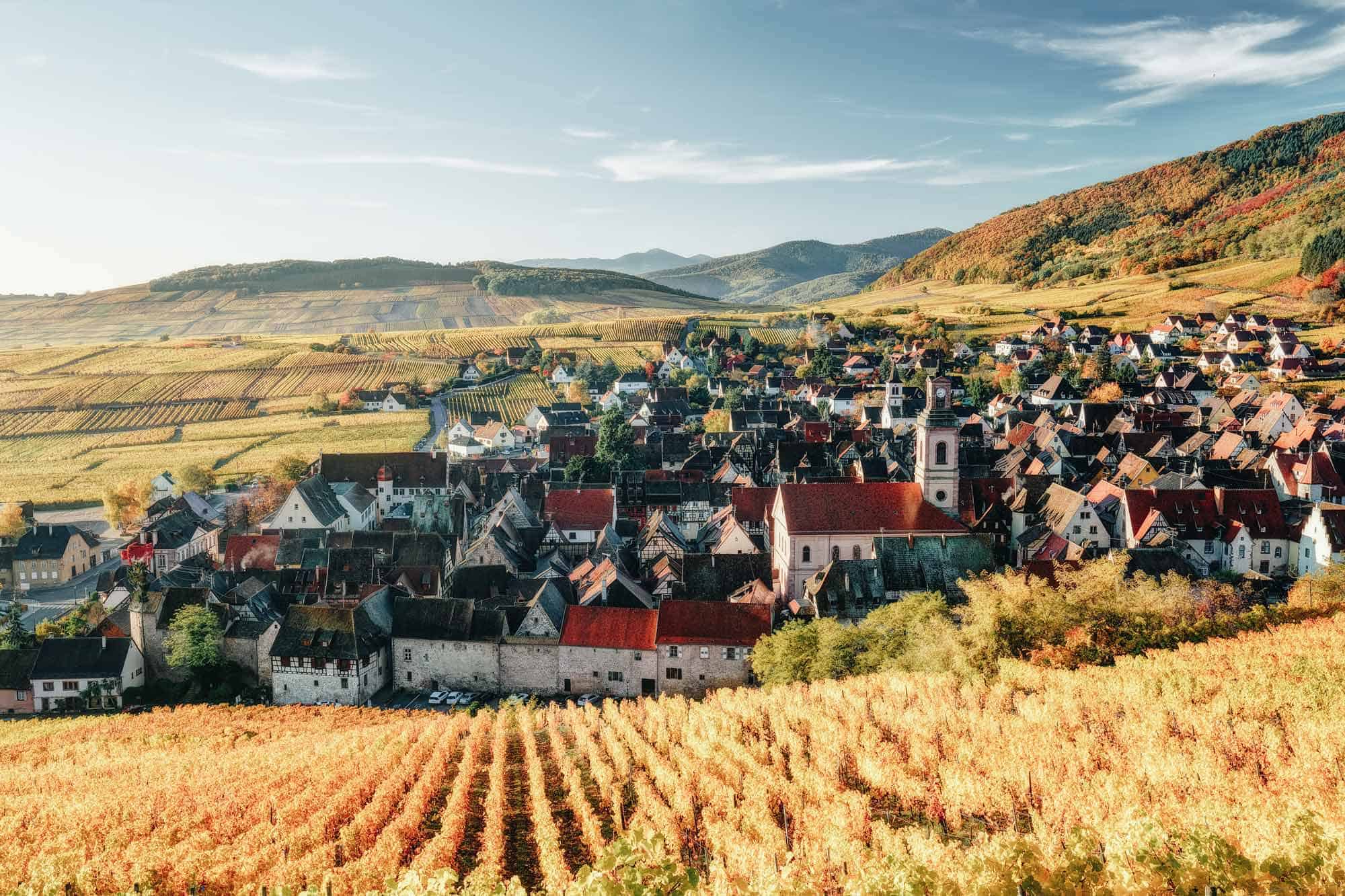 The Alsatian Wine Route, or Route des Vins d'Alsace, is the oldest wine trail in all of France and popular among grape-seeking travelers. The route is over 100 miles long and traverses 67 communes that make up the region's prolific wine-producing areas. Stops along the trail include the wine towns of Colmar, Ribeauvillé, and Obernai as well as natural views of the Rhine River and the Vosges mountains. Check out our in-depth look into what a Journey Along the Alsace Wine Route looks like, including more about its history, what season is best for a visit, and which high-quality wines you can expect to taste at vineyards along the way.
Go back in time in Écomusée d'Alsace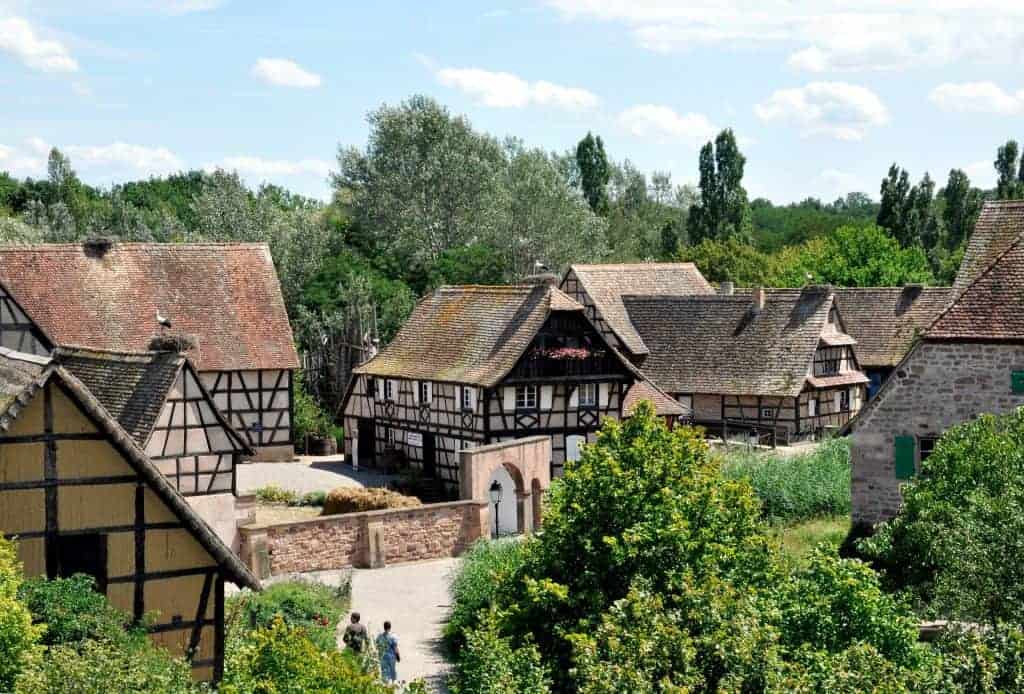 For an experience in time traveling, we'd recommend visiting Écomusée d'Alsace, an open air village museum featuring authentic Alsatian buildings like the famous half-timbered houses, a town hall, fortified tower, schoolhouse, workshops, chapel, sawmill, barns, gardens, and more. Known as an "eco-museum," the Ecomusée d'Alsace was created in 1984 on nearly 250 acres. To recreate an authentic village, 70 rural houses—that were slated for demolition—were painstakingly disassembled then put back together. Visitors find the Écomusée d'Alsace to be a living museum, where costumed actors reenact scenes from daily life in the late 19th and early 20th centuries in Alsace, including crafts and trades like weaving, carpentry, and pottery.
Learn to cook traditional tarte flambée
We certainly understand wanting to taste the traditional dishes of Alsace, but we think taking it one step further is even better. Learning to cook from a local Alsatian chef can give you that extra experience and knowledge so you can recreate the dishes at home! In Alsace, the dish not to miss is tarte flambée. So what is it? Pizza, kind of. Tarte flambée is actually inspired by a German dish called flammekueche, and is a wood-fired flatbread topped with fromage blanc, sliced onions, and smoked bacon. Learn more about the interesting blend of influences in Alsatian cuisine in our post, "Unlocking the Flavors of Alsace: A Marriage of German and French Cuisine."
Eat heartily at a winstub in Sélestat
Winstubs are the pubs of Alsace, serving rich dishes in a cozy atmosphere. Meaning "wine rooms," Winstubs are filled with wood-burning stoves, rustic tables, colorful tablecloths, and plenty of wood accents, not to mention the lively and sociable atmosphere. Winstubs are situated all throughout the region, and serve only the most traditional of Alsatian fare. Try choucroute garnie, an Alsatian version of sauerkraut, or baeckeoffe, a slow-cooked casserole with potatoes, onions, various meats, wine, and juniper berries. And in addition to these hearty meals, Winstubs offer up an array of delicious local wines. It's the perfect stop for a homey meal.
Discover glass art in Musée Lalique
One of the more unique museums in Alsace can be found in the small town of Wingen-sur-Moder. Sometimes the best museums are hyper-specific and the Musée Lalique is exactly that, dedicated to the famous master glassmaker René Lalique, as well as his successors. The museum features an impressive collection of glass and crystal art, perfume bottles, jewelry, and drawings, spanning many art styles from Art Nouveau to Art Deco to contemporary works.
Walk along the canals of La Petite France
The historic quarter of La Petite France is located on the Strasbourg's charming center island, the Grande Île, all of which is a designated UNESCO World Heritage Site. Originally home to the city's tanners, millers, and fishermen in the Middle Ages, La Petite France is now a popular destination for travelers seeking romantic canal walks, architecture spanning Romanesque to Baroque, as well as traditional Alsatian wine and cuisine. Make sure you take a guided boat tour along the Ill River and view the stately Vauban Dam on your next visit to Strasbourg.