A Food and Wine Lover's Guide to Lyon Gastronomy
Gastronomic fame, Roman architecture, rivers, parks, cinematic history, festivals, and wine — these are what you'll find in Lyon. This third-largest city in France is located just east of center, where the Rhône and Saône rivers meet. It's packed full of culture, nature, and history, and that's exactly why so many are calling it their favorite French city (even surpassing Paris for some). It's the city where cinema was born, by way of the Lumière brothers' invention of the cinematograph. It's a city called the Capital of Lights because of its four-day light festival called Fête des Lumières that is held every December. And it's a city of historic landmarks. Of its many architectural monuments are UNESCO World Heritage Sites like the Vieux Lyon (a Renaissance-era historic district), as well as the Ancient Theatre of Fourvière and the Basilica of Notre-Dame de Fourvière. There's no shortage of things to see, do, and learn about in Lyon. With plenty to see, do, and learn about in Lyon, it's no surprise the city is a popular destination. However, one of its biggest draws is its cuisine.
Lyon has been long regarded as one of the main gastronomic capitals of the world. One of the many noteworthy things about Lyon gastronomy is how its creative young chefs are helping to shape modern French foods while still cherishing traditional methods of cooking local specialities. What we see with Lyonnaise cuisine are contrasts of heavy and light meals and traditions and innovations. Special to Lyon are the bouchons, which are special kinds of restaurants, serving heavier meat-centric dishes amid jovial atmospheres. As a contrast, there are a whole slew of newer restaurants, often owned by younger chefs, that are defined more by the Nouvelle cuisine movement, where there's more of an emphasis on lighter, delicate, artful, and innovative dishes. The contrast and the confluence of these two approaches to Lyon gastronomy make it one of the most exciting and varied places to eat right now. Read on to learn more about some quintessential dishes and wines to try when exploring the culinary landscape of Lyon gastronomy.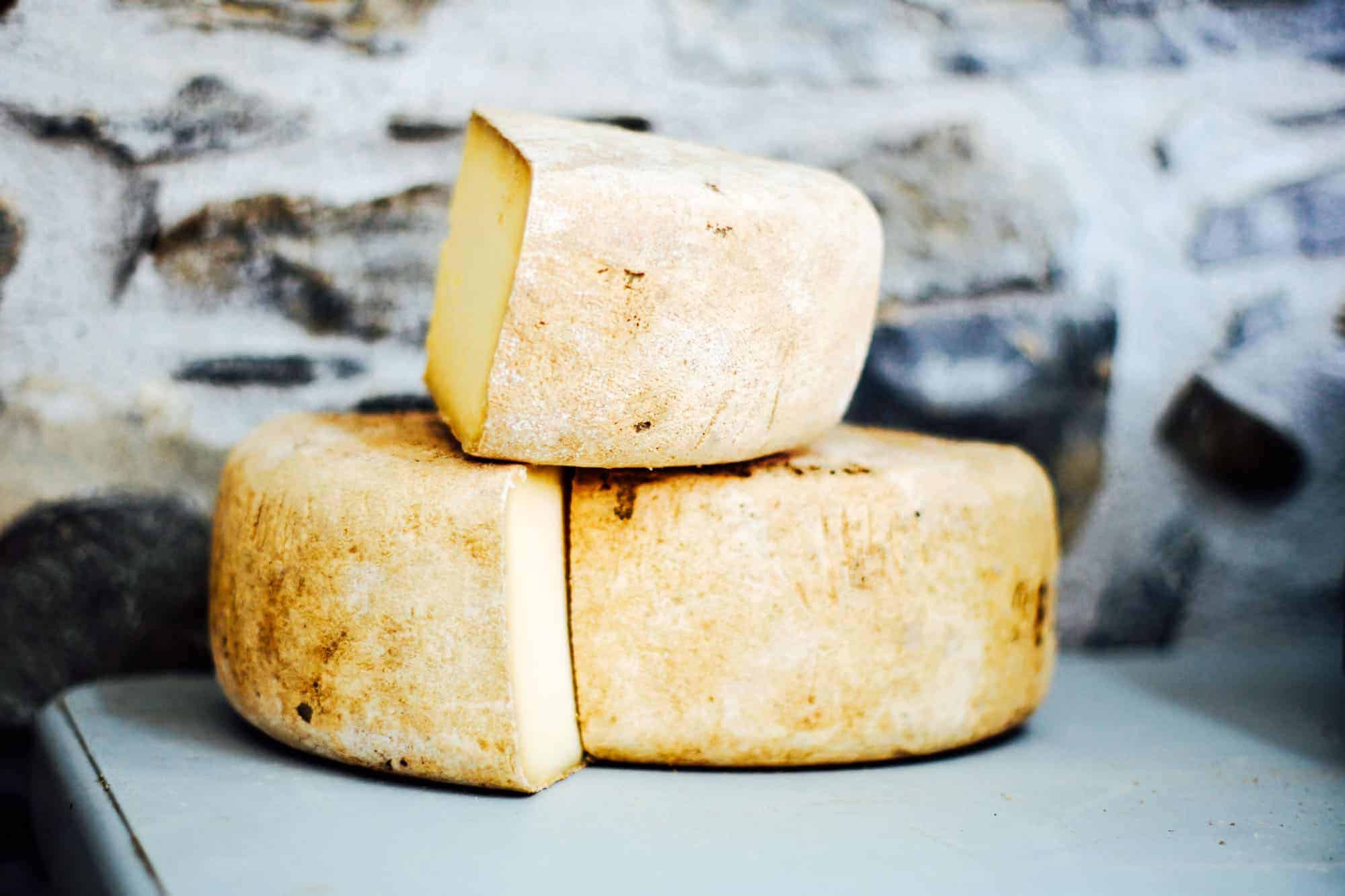 Meats and Cheeses
Charcuterie meat spreads in Lyon are often called Cochonaille and are a common first course to a meal. In fact, there are a number of sausage specialities found in Lyon. Rosette de Lyon and Jesus de Lyon are two of the most famous sausages. Both are made from cured pork, but you can tell the difference between them quite easily. Rosette is a longer and thinner sausage with a much finer minced interior compared to the Jesus de Lyon. And while Jesus de Lyon is dried for several weeks, the drying process for Rosette de Lyon can take up to six months, making it distinctly stronger in flavor.
As for cheeses, you can't miss the opportunity to try Saint-Marcellin. Named after the small town just outside of Lyon, this cow's milk cheese is small and soft. It's aged for about a month, during which it takes on a mushroom-like flavor. Saint-Marcellin cheese has been popular in the region since the time of Louis XI in the 15th century. Before he was king, the prince was attacked by a bear while hunting and was saved by local woodcutters who fed him their local cheese to help him recover. After this event, Saint-Marcellin became famous and various versions emerged. When cured in marc brandy, the cheese is referred to as Aromes au Gene de Marc, and when cured in white wine, it's called Aromes de Lyon.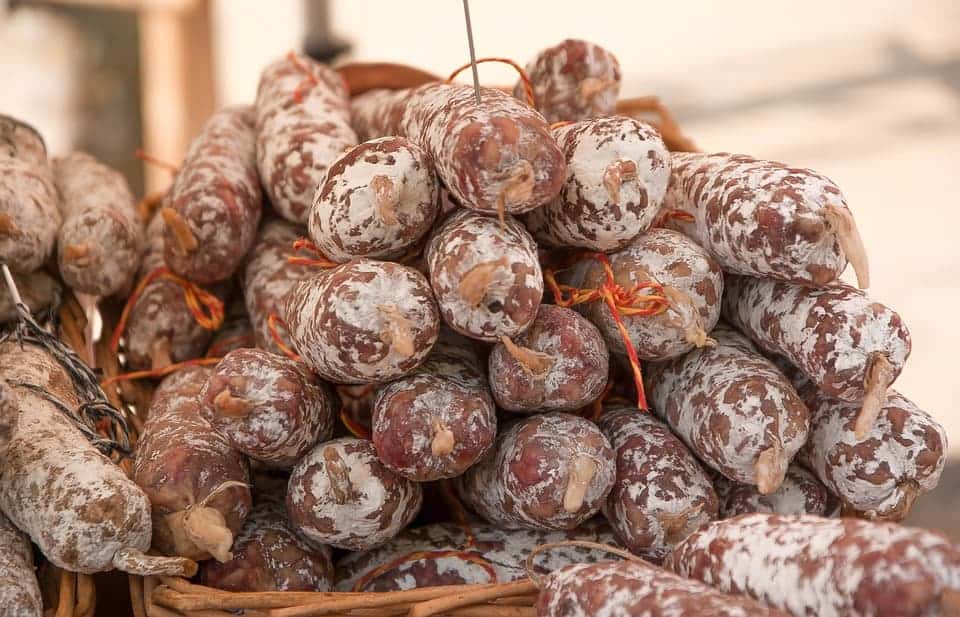 Main Courses
Tablier de Sapeur is a must-try Lyonnaise main course. The preparation for this dish ensures flavor is infused at each level. First, beef stomach called tripe is boiled in a court-bouillon broth, then soaked in white wine, pressed with breadcrumbs, and fried until crispy, crunchy, salty and mouthwatering. Most commonly, Tablier de Sapeur is dressed with Sauce Gribiche, a French egg salad, and it can also be served with Lyonnaise potatoes seasoned with onions and parsley that have been sauteed in butter.
Poultry dishes are also very popular and common in the region around Lyon because poultry farming is so common. If you're looking to try one of these local specialities, we suggest Poularde Demi-Deuil, which translates to "half-mourning chicken." Created by the famous chef "la Mere Filloux," the dish is comprised of chicken cooked with truffles, potatoes, carrots, leeks, and fresh herbs like thyme.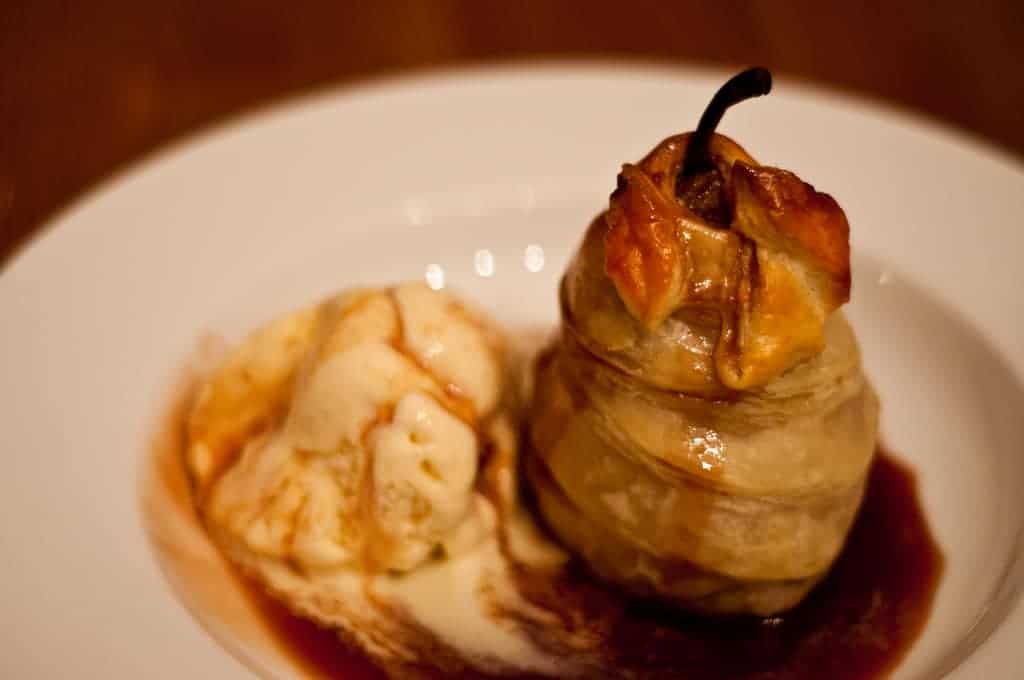 Desserts and Sweets
We've already written about and sung the praises of Coussin de Lyon in our Ultimate Guide to Rhône Valley Gastronomy, but we'll say it again. These little treats are delicious. Green marzipan is filled with chocolate ganache and flavored with the orange liqueur curacao. Amazing!
Another dessert speciality from Lyon is a pear dish called Poire à la Beaujolaise. To sweeten and soften the pears, they are poached in Beaujolais red wine, sugar, orange peel, vanilla, cinnamon, and cloves for several minutes. The pears are then peeled and returned to the syrup where blackcurrant liqueur is also added. The pears then stew in this mixture for an additional 20 minutes and are then served.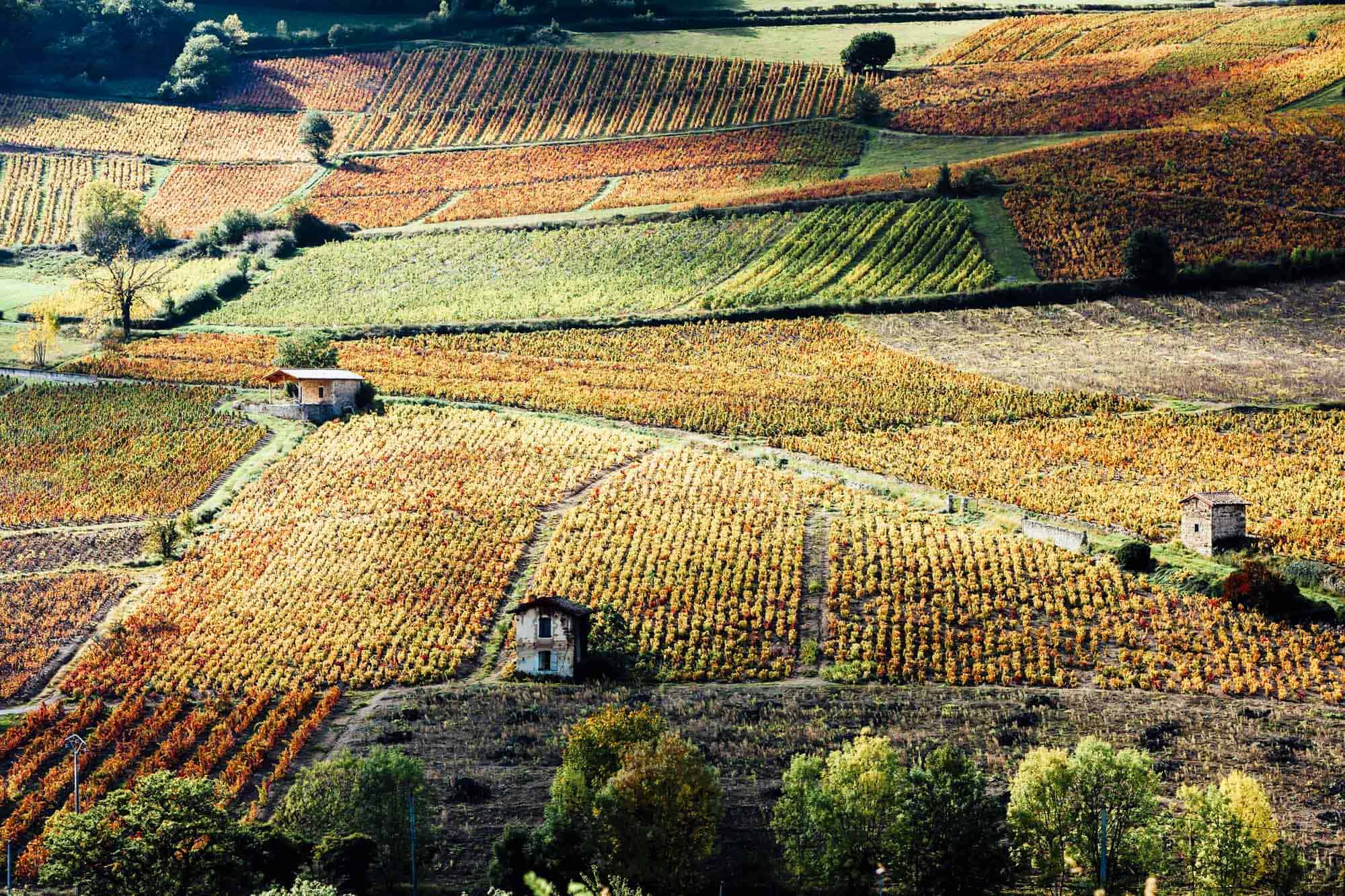 Wines
The French writer Leon Daudet once said, "Lyon is watered by three major rivers: the Rhône, the Saône, and the Beaujolais, which is never loamy or dry." Beaujolais wine reigns in Lyon, probably because the wine-producing region of Beaujolais is found just north of the city. Made with Gamay grapes, you'll find Beaujolais wine paired with nearly every dish within a bouchon or with chocolate desserts. This highly acidic, low tannin wine has fruity notes of raspberry, tart cherry, and cranberry. These Beaujolais vineyards were first planted by Romans and then tended by monks in the Middle Ages, so there's a long history of this wine being enjoyed around Lyon. Wines produced in the southern end of this wine-producing region are called just Beaujolais, whereas, wines produced in the ten villages in the north have further classifications, or Grand Crus, and are generally considered to be of a higher quality. Of these ten crus, Moulin-a-Vent and Fleurie are some of the more famous. But who says you shouldn't try all ten?
For a broader look at other famous dishes from Lyon and the surrounding Rhône Valley region, take a look at our Ultimate Guide to Rhône Valley Gastronomy.
Want more stories like this delivered straight to your inbox? Sign up for Experi's Food & Wine Travel newsletter to stay informed on the latest food and wine travel news and information, upcoming departures with Experi, and more. Sign up here.