Rhône Valley — A Culture Shaped by Wine
Along with its breathtaking natural beauty, a constant feature of Southern France's Rhône Valley has to be its tie to all things viticulture. This is definitely wine country and it has been for thousands of years. Within these thousands of years came many shifts — changes in what grapes were being grown, how they were tended and blended, and even, who was growing the vineyards. The Rhône Valley is the perfect example of how history and wine can influence each other and lead to some incredible highs and plummeting lows. 
Read on to take a journey from the beginning of Rhône Valley grape growing by the ancient Greeks, all the way to the formation of the modern-day appellations and the rise of the famous Syrah and Viognier grapes. It's truly an adventure through time, cultures, civilizations, and flavors. 
Need even more Rhône Valley reading? Don't forget to check out our past features on Rhône wine, Rhône gastronomy, and even, our favorite Rhône Valley medieval villages! 
And once your appetite has been whetted, click here to plan an unforgettable journey to the Rhône Valley.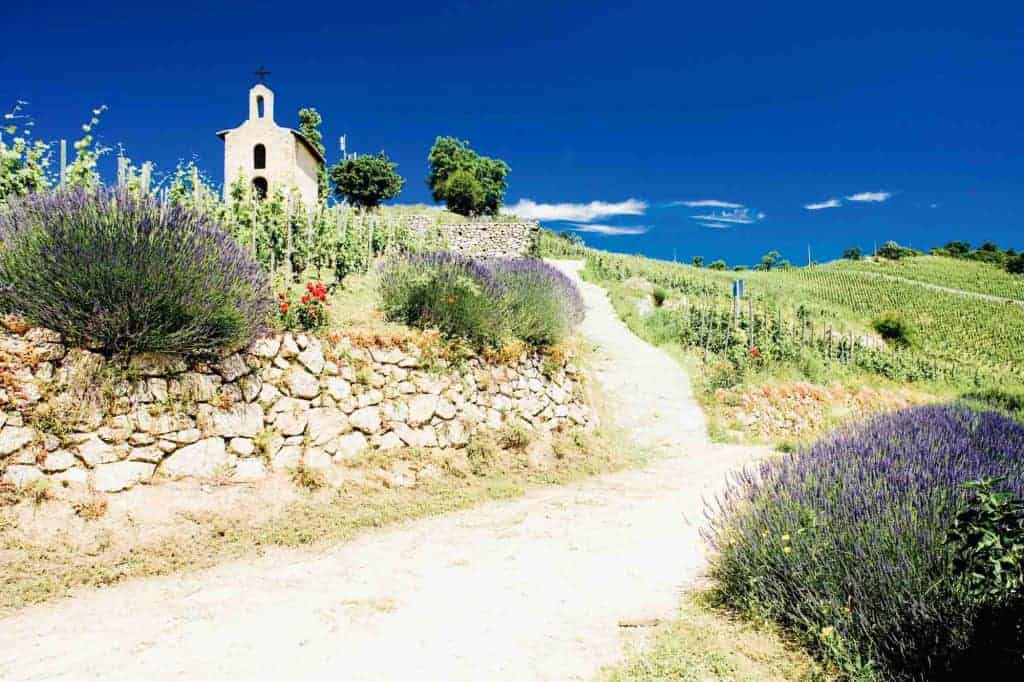 The first Rhone vineyards: from the ancient Greeks to the Romans  
Surprisingly, the origin of Rhône wine is not very French. It's actually the ancient Greeks of pre-Roman France who we have to thank for introducing vineyards into this part of modern-day France. These early plantings occurred in the 4th century BC surrounding Marseille. In fact, the Rhône Valley, as well as the Rhône River, received their names from the Greeks. Rhodians from the Greek island of Rhodes named the river Rodanos after themselves, and this became the etymological base for the modern name. 
When visiting Marseille today, you'll find many remnants of its Greek history, from ancient buildings to a metal plate at the Marseille port that translates to, "Here, around 600 BC, Greek sailors from Phocea of Asia Minor landed. They founded Marseille from where civilization shone to the West."
While the ancient Greeks introduced the first grapes, it was the ancient Romans who refined the plants, wine production, and storing. Much of this Roman influence on Rhône wine began in the first century AD. The Romans built villas and wineries, like the famous villa of Molard, and they also refined their processes for storing wine in earthenware vessels called amphorae, even offering workshops on how to make them. These vessels were used for storing and transporting wine and oil and are an excellent way for archaeologists and wine historians to study the long history of wine here. It's proof that the vineyards in the Rhône Valley are some of the oldest on the planet.
Continuing to use the Rhône River as a mode of transportation, the Romans headed north where they founded the town of Vienne — an area that is now under the Côte-Rôtie AOC. Here, they advanced viticultural methods and expanded their wine production and trade. But with all this progress, there was no doubt a major setback coming — the fall of the Roman Empire. The viticultural development of the Rhône Valley came to a halt for many hundreds of years.
The Avignon Papacy reshapes the wine world
Wine in the Rhône Valley was shifted back into the spotlight when the papacy moved from Rome to Avignon in the 14th century. Successive popes disliked the local wine that had gone without refinement for a very long time. And so the succession of Avignon popes spent a lot of time and money investing in revitalizing and transforming Rhône wine into exquisite, high-quality libations. They planted far-reaching vineyards around Avignon and the nearby town of Châteauneuf-du-Pape and placed importance back on French wine.
It was actually Pope John XXII who built a summer palace in Châteauneuf-du-Pape. During this time, the wine produced here was called "Vin du Pape" or "Papal Wine." This later transitioned into the modern-day moniker of Châteauneuf-du-Pape, a famous AOC today which is well-known for producing bold and brooding wine that is called the "wine-lovers wine." You'll be able to spot these bottles easily as they're embellished with the decorative papal tiara and keys.
Saving the Rhone Valley from vineyard devastation
In the late 19th century, the world of wine almost ended due to a teeny, tiny aphid with the formal name of Phylloxera vastatrix. As transportation between countries and continents became easier and everything was spread throughout the corners of the world, connecting cultures that had previously been unlinked, diseases and invasive species were also spread to new lands.
Phylloxera, which are native to Mississippi, made their way to Europe accidentally, and had a devastating impact on vineyards throughout the continent. France was hit particularly hard, and this pest was actually first noticed in Europe in 1866 by a Rhône Valley farmer located between the cities of Avignon and Orange. It took many years to determine the solution to the infestation, attempting everything from mass flooding, prayer, burning, using garlic and sand, and carbon disulfide insecticides. 
In the end, the lasting solution was to graft European grape varieties onto American rootstock, but this process took years to put into practice. By the year 1900, it's estimated that two-thirds of all French grape vines were grafted to American roots, and this ultimately saved them.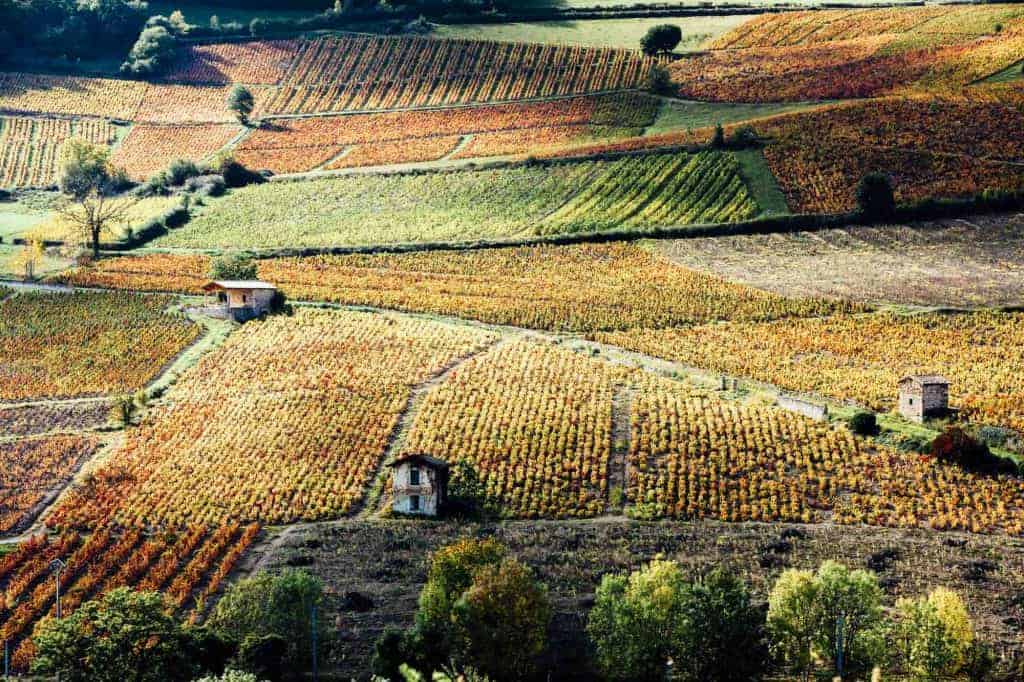 Forming the famous Northern and Southern Rhone appellations
Baron Le Roy is largely responsible for the prominence Rhône wine holds today. A wine-grower in Châteauneuf-du-Pape, Baron Le Roy wanted to do what he could to protect and regulate the wine produced in his region as fraudulent wine was being sold throughout the country under the Châteauneuf-du-Pape name.
In the 1930s, Châteauneuf-du-Pape was granted AOC status (Appellation d'Origine Contrôlée), and it was Baron Le Roy's presented constraints that became the basis for future AOC rules (i.e. minimum alcohol level, harvesting period, limits on yields, grape varieties, and more). Today, only Bordeaux has more vines than the Rhône Valley. There are over 70,000 hectares of vineyards in this region — an astonishing figure. These thousands of hectares of land are divided among more than 30 AOC appellations. 
Another classification is the division between the Northern Rhône and the Southern Rhône. The northern subregion is best known for its small size and for its Syrah-based red wines and white wine blends featuring Viognier, Marsanne, and Roussanne grapes. In the large southern subregion, you'll find Grenache is king, and often blended with Syrah, and Mourvèdre grapes. The differences between these two subregions is evidence of just how rich, varied, and productive the Rhône Valley is and why its wine history stretches back so far in time.